NEW STORIES FOR BRUSSELS. STRATEGIES FOR A DISSIDENT READING OF THE CITY. ON THE IMAGE OF THE BELGIAN CAPITAL IN RECENT VIDEO ART.
SCREENING
On the occasion of the
Brussels Arts Weekend
, held from 25 to 27 February, the four-part program, composed by Sven Sterken, is screened at the Cinéma Arenberg. This program presents various alternative readings generated by a metropolis with a number of video artists and documentary makers who are working in Belgium. Taking the surreal nature of the capital as a starting point, the result is truly a highly kaleidoscopic, and yet not any less subtle approach on the Belgian capital.
Saturday the 26th of February
PART I: INTUITIVE ANALYSES/ SUBJECTIVE ACCOUNTS, 11:00 - 13:30
Jef Cornelis,
Brussel Scherven van Geluk
(1995), 57'
Alexandra Dementieva,
Few Royal Moments (2000), 5'
Frédéric Mercier, Alors quoi? (2001), 3'
Frédéric Guillaume, Heron City (2002), 31'
Sven Augustijnen, Mission Mont des arts (2002), 53'
PART II: CONCEPTUAL APPROACHES TO THE BUILT ENVIRONMENT, 14:00 - 16:00
LUM Tôme 1 (2000), 6'
Peter Downsbrough, Occupied (2000), 18'
Michel Jakar, Injonction III (2003), 15'
Marie-Françoise Plissart, L'Occupation des sols (2002), 28'
Simona Denicolai & Ivo Provoost, No Ice (2002), 14'
Joëlle Tuerlinckx, L'Homme qui compte (1999), 38'
Sunday the 27th of February
PART III: MENTAL TOPOGRAPHIES OF THE CITY, 11:00 - 14:00
Manu Riche, Brussels, 25 November, 1995 (1996), 52'
Peter Krüger, The Danse of Roberte (1998), 23'
Philippe de Pierpont, La Ville invisible (2001), 55'
Katleen Vermeir, Cadavre exquis, Brusselle Part 1 (2003), 42'
PART IV: CREATING NEW MYTHS FOR BRUSSELS, 14:30 - 16:00
Sven Augustijnen, Le Guide du Parc (2001), 44'
Sarah Vanagt, Little Figures (2003), 16'
Bram van Paesschen, Rookgordijn boven Brussel (het inno-dossier heropent) (2002), 35'
A collaboration with the Cinéma Arenberg www.arenberg.be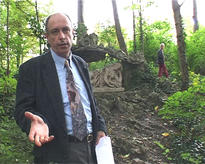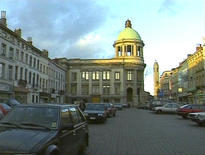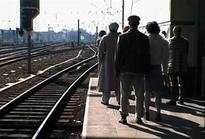 Sat 26.2.2005 - Fri 27.5.2005

Practical info

Location:
Cinéma Arenberg
Koninginnegalerij 26
1000 Brussel


Artists
Works