FIGURES OF THE BODY @ LAZNIA
SCREENING
with Emilio López-Menchero, Cel Crabeels, Messieurs Delmotte, Michel François, Charley Case, Claude Cattelain, Ana Torfs & Jana Sterbak, Frank Theys and Pascal Baes
argos compiled a program with films and videos made by Belgian visual artists over the last decade, for Centrum Sztuki Wspolczesnej Laznia. This centre for contemporary art, located in the historical 1905 Neo-Romanesque buildings of the city baths of Gdansk, is a non-profit institution, founded in 1998 thanks to the initiative of the group of artists of the so-called 'New School of Gdansk'. It organizes theme oriented contemporary art exhibitions, film and video-presentations, and experimental music performances. The argos-program Figures of the Body gathers different approaches to the body, in many cases with the artist featuring before the camera: physical effort, instability, stop motion, absurd action, 'self-portrayal' and more. Nine corporeal explorations, nine mental stances. All the works selected are non spoken.










Emilio López Menchero. Trying to be Balzac , 2002, b/w, 6'31"
Video that is part of a larger project in which the artist incorporated different characters like Pablo Picasso or Che Guevara. Incorporating Balzac López-Menchero refers to Rodin, author of a monument to the writer, which was made to an order by the Literary Society (Société des Gens de Lettres) and to some extent, at Nadar's request, as he was the owner of the renowned Daguerreotype, made by Louis-Auguste Bisson in 1842, which depicts Balzac holding his hand to his chest. With regards to the history of photography and the history of sculpture, one can also evoke the famous series of photographs by Edward J. Steichen, which shows Rodin's monument under a nocturnal light.











Cel Crabeels. Topologic, 2002, color, 12'39"
Topologic records the prolonged contortions of a man attempting to put on, and to take off again, a piece of clothing. Here the body is used both as a terrain of experiment, and as a metaphor for artist's labour of inhabiting space in general. The struggle between artist and material, in this case a three-piece suit, illustrates the creating process of an artist in a metaphorical way. A man is seen performing different movements against a neutral background. The man clumsily attempts to remove his waistcoat while keeping his jacket on. Because neither the man himself nor the background give an indication of any kind of narrative structure the viewer is lead to read the image as a 'conductor' or catalyst of certain emotions.

Messieurs Delmotte - selected works
The Deadpanning, Buster Keaton-like mystery artist Messieurs Delmotte (formerly Monsieur Delmotte poses as a real dandy: he is irresistibly charming and elusive as ether. His dedication gives way to what he cannot suppress. His actions are so blatantly topical, so banally urgent they can't be postponed. They have to take place, here and now.

Delmotte translates his unbridled naughtiness, his liking for danger, his sneering at the institutionalised art world into singular actions that result in one narrative image. Coarse and crude, his videos make a mockery of just about everything. They stand aloof from smooth perfection and are realised with the simplest of audio-visual means and a unity of time, place and action. The results are straightforward and rude but also pure; the videos of Messieurs Delmotte are absurd one-acters in the best Belgian surrealistic tradition.

Pas en Arrière [Steps Backwards], 2000, color, 1'32"
Mssrs Delmotte dashes forward and then backwards again in order to throw himself into a pond.

Les Feuilles Mortes [The Dead Leaves] , 1999, color, 35"
The protagonist is cycling in the street. He slows down with his right foot, scraping on the dead leaves along the kerb. Collecting a small heap of leaves he comes to a halt.

SAPIN ! [PINE !], 1999, color, 1'16"
In a public park the protagonist approaches a pine with a small ladder. He unfolds it, takes a run up, and jumps into a tree, desperately trying to clench on to it.

Le Ballon [The Ball], 1999, color, 1'16"
The protagonist tries to keep his balance standing on a beach ball. After several falls without any success the exploding of the ball ends the sequence.

L'Echelle [The Ladder], 2000, color, 1'10"
With his head between two rungs Mssrs Delmotte tries to balance a ladder.

Tête de Seau [Buckethead], 2000, color, 1'55"
Mssrs Delmotte makes a somersault, tumbles in a bucket of water with his head, and ends up on his behind, totally soaked, with a bucket for headwear.

Vélo [Bike], 2000, color, 1'25"
Mssrs Delmotte jumps onto his riding bike. The bicycle rolls on for a couple of more meters (without a cyclist), and ends up on the road.

Arbre-Front [Tree-Forehead], 2000, color, 2'00"
Mssrs Delmotte balances stiff as a rod, on the tips of his toes, with his forehead leaned into a tree.

Michel François. Autoportrait contre nature [Self Portrait against Nature], 2001, color, 11'52"
François' videos reveal themselves as paintings with restrained or openly expressed sculptural qualities. No matter how they are defined they are qualities of his physical and emotional life that confront the qualities of the spectator's physical and emotional life. Art for François is life that is being sculpted. In his Autoportrait contre nature a character is filmed from above. Around the person it rains green glass bottles. They fall to pieces with a deafening noise, without ever hitting the man.

Charley Case. Nemawashi Cacahuète, 2003-2004, color, 6' excerpt of 15'21"
The work of Charley Case is often based on a binary notion. In this case it is constituted by a two-part form, modelled after a peanut. It is the biotope of pairs of organisms, uprooted bodies evolving around each other, cherishing each other ephemerally or ultimately melting into an intangible unity. 'Nemawashi' is a Japanese botanical term, which points out the phase of uprooting and preparing for the transplant/rediscovery. Nemawashi Cacahuète follows the poetical transformations of isolation to symbiosis.

Claude Cattelain. Echelle et adhésif / Patatras / Variations avec bois, tabourets et adhésif quelques fois. [Ladder and adhesive Tape / Wham / Variations with Wood, Tabourets and adhesive Tape], 2002, color, 6'07"
A short sequence of videos that have the 'fall' and its consequences as a main theme. These experiences, sometimes amusing, are most often achieved from unsteady wood-made armatures. Some of those are organized around the human body, making up different types of heavy and fragile exoskeletons. The falls are either accidental or voluntary.

Ana Torfs & Jana Sterbak. Condition, 1995, b/w, 7'53"
On a deserted airfield a young man walks around in circles. The metal frame (a sculpture by Jana Sterbak) he drags along hampers his physical effort. With discrete emphasis, the architectural structure in the patterns of the road surface and the symmetrical warehouses in the background are shown. We are confronted with a radical simplicity of the planned sequence, although the panoramic camera movements convey exceptional dynamism. Even more important is the playing with the indirect experience of time. Torfs gives her images a shaky, implicitly fragmentary character by means of the simple handling of the camera, without influencing the real duration of the film. Combined with the shadow play resulting from the camera's circular movements this creates an effect of a very unusual time scale.

Frank Theys. Self-Portrait, 2002, color, 3'16"
A man keeps walking up and down from his computer to his window. He does not have a head. Blood is rhythmically gushing from the gaping wound, a hilarious and metaphoric self-portrait of the author.

Pascal Baes. Tsumi (The Mis-step), 1993-1998, color, 10'50"
Experimenting with the use of a stop motion technique that freezes movement through the use of long exposures and slow shutter speed, Baes filmed during three months his intimate family live. A soft-porn autobiographical documentary: the axing of wood, a performance by Baes' life companion Aï Suzuki, love-making and birth-giving and the philosophy that no pleasure can be without crime.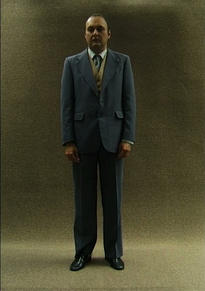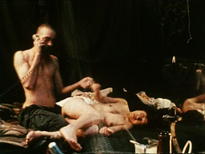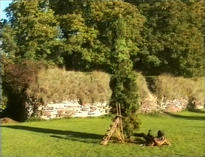 Sat 14.5.2005

Practical info

Location:
Centrum Sztuki Wspolczesnej Laznia
Laznia Centre for Contemporary Art
Gdansk, Poland

Artists
Works