JOURNAL
"Journal" follows the production of narratives while piercing through points of view and lenses of three photographers. The film reflects upon the way spectatorship is performed, and how positions are taken in front of images, historical documents and the production of collective memory.
"Journal" is a collection of one-shot sequences, filmed in a photography exhibition. The cinematographer, who followed a set parcours in the exhibition space, produced a multiplicity of visual Journals, from a dual point-of-view of a visitor and a documenter.
The work received the Special Mention of the International Jury at Oberhausen Film Festival, May 2013.
Full Credits:
Journal
HD video, color, 16:9, stereo sound, BE, 2013, 16" / Multi-channel video installation, stereo sound, BE, 2013, 16"
Cinematography Mathias Windelberg
Sound Laszlo Umbreit
Filmed at Wiels, Contemporary Art Center, Brussels, January 2013.
Photographs taken by André Brutmann in "Yad Vashem", Holocaust Memorial Museum, Jerusalem, Israel, between the years 1986-2000.
The photograph, exhibited in "Yad Vashem", was taken by US Army Signal Corps
Private H. Miller, upon the liberation of Nazi Concentration Camp – Buchenwald, April 14th 1945.
Produced by Argos, Centre for Art and Media, Brussels
With the support of the Vlaamse Gemeenschapscommissie; Beursschouwburg and Atelier Graphoui.
Filmed with Ikonoskop thanks to Joachim Vansteelant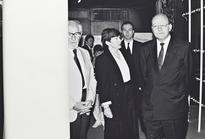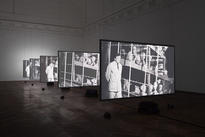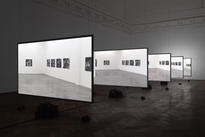 Format DIGITAL FILE(DIGITAL FILE)
Color col.
Year 2013
Duration 00:16:44
Artists

EVENTS