SIRAH FOIGHEL BRUTMANN & EITAN EFRAT - JOURNAL & PRINTED MATTER
PREMIERE SCREENING
Beursschouwburg is showing two of the video works created by the young artists Sirah Foighel Brutmann and Eitan Efrat: 'Journal' and 'Printed Matter'. The five-screen installation version of 'Journal' will be exhibited at Argos from November 9th through December 22nd 2013.
The underlying theme of both the works involves historical photographs taken by Sirah's father, André Brutmann (1947-2002), who worked as a freelance press photographer in the Middle East. 'Printed Matter' consists of contact prints and negatives of the first and second intifadas and the murder of Yitzhak Rabin, followed by images of family members reading or his daughter's birth. The voice-over is provided by Sirah's mother, Hanne Foighel, who travels through in time on the back of her memories, covering not only the political history of the region but also the intimacy of family life. Geopolitics and the photographer's home life become one on a roll of film. 'Journal' meanwhile focuses on a series of photos capturing a moment in time. Brutmann was tasked with photographing official visits to Yad Vashem, snapping dignitaries standing beside the iconic image that summed up the entire Holocaust – a hut in Buchenwald jammed with emaciated prisoners staring straight into the camera lens. Efrat and Brutmann have selected a number of shots from the series and exhibited them in the Wiels art center in Brussels. The video contains footage taken using a camera that wandered around the exhibition at various stages.
Sirah Foighel Brutmann and Eitan Efrat were both born in Israel but are today residents of Brussels. Sirah studied at the P.A.R.T.S. school of performing arts while Eitan studied audiovisual art at the Rietveld Academy in Amsterdam.
Related events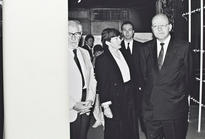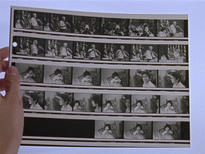 Thu 24.10.2013
20:30 - 22:00
Practical info

Location:
Beursschouwburg
Auguste Ortsstraat 20-28 Rue Auguste Orts
1000 Brussels
www.beursschouwburg.be

Entrance Fee:
7 / 5 euros

Artists
Works