THE STONE ROAD (ON TRACK. OFF TRACK. MEMORISING THE MID-WORLD. WALKING THE FIFTH-SPACE.)
EXHIBITION
The Stone Road. (On Track. Off Track. Memorising the Mid-World. Walking the Fifth-Space.) offers a unique look at the N6, better known as the 'Bergense Steenweg' or the 'Chaussée de Mons'. This busy road connects Brussels with Mons: the city with the periphery. This linear artery cuts unpredictably through the landscape: giving a rapidly alternating view of outlandish architecture, traces of industrial decline, desolate pieces of no-man's-land, discotheques and cheap megastores. Sometimes tired and lonely then suddenly full of energy, it winds through Brussels, Flanders and Wallonia and cuts through the language barrier.
This trunk road is a kind of symbol of failed urbanism, a forgotten space. The immediate surroundings comprise of places that belong to everyone and no one at the same moment, a reflection of the divisions and scars of our urbanised society. Firefly Projects brought Els Dietvorst, Orla Barry, Wim Cuyvers, Johanna Kirsch and Nikolaus Gansterer together to form a temporary artists' collective for this in progress experiment.
For some months the artists made their way along the N6. On foot and by bike. Over day and at night. Each at his or her own pace. Each with their own box of tools: video camera, photo camera, notebook, eyes, feet. One made an inventory of the bus stops; another tried to integrate her body into the urbanized landscape. Still another sought-out the hinterland and attempted to avoid the road by all possible means. The Stone Road is the catalyst for their experiences; an assemblage of photos, video images, fictions and models. The underlying stories that the artists processed in their creations override the banality of this urbanistic phenomenon. They are universal, evoking the loneliness, lack of communication, and increasing aggressivity in our society.
The N6 collective already produced a newspaper called 'Bienvenue' at a mid way stage of the project. Now along with the exhibition, Firefly and KunstenFestivaldesArts present "Night Shop". In this lecture/performance the members of the N6 group will share their last reactions to a project they submitted themselves to for two years and they will give a testimony of the stories they found and invented along the N6.
This exhibition is coproduced with
Firefly
,
Kunstenfestivaldesarts
,
Jan van Eyck Academie
,
Kunsthalle Exnergasse/Wuk
.
NIGHTSHOP. Readings. Performances. Screenings. Streamings.
Performance 20:30 // 09.05.2009
Beursschouwburg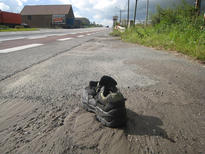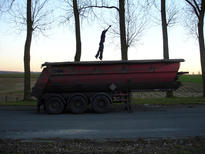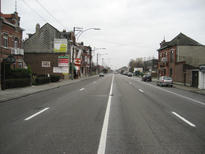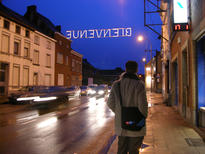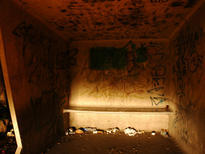 Tue 05.5.2009 - Sat 27.6.2009

Practical info

Exhibition brochures are available for download:
English version
Dutch version
French version

Location:
Argos
Werfstraat 13 rue du Chantier
1000 Brussels
info@argosarts.org
+32 2 229 00 03

Opening hours:
Tuesday to Saturday, 12:00 to 19:00

Entrance Fee:
3 euros

Artists