ORLA BARRY - THE BASTARDSTOWN BLOGGER
PREMIERE SCREENING
Bastardstown, located in 'sunny' southeast Ireland, County Wexford (N 52° 11' 15'' W 6° 32 36") is an existing little town, or rather townland. At the same time, it's a fictive notion, a concept that figures in the work of Orla Barry, now as well as in previous work (e.g. Stoney Scrabble at Bastardstown, 2000-2006). And as before, Barry uses her writings as a source, in a work that reflects the word/image relationship, dialogue clash. Her works try to expresst he way we humans are, as language. This video's paradox already starts with its title: we get to see a so-called blogger, describing or blogging one day in his life, a day in which he retreats from city to countryside. But instead of being a blog, the work is a black-and-white video: we hear a man declaiming his interiorthoughts in a deep, speedy voice, while we see a close-up of the man's sturdy face: a declaimed text as blog.
2007, 17', video, colour, English spoken
Orla Barry's (IE, 1969) work is about language. She works in many forms including video, text, sound, and photographic installations. Her work moves between portrait, monologue and short story and draws on the rhythms of Irish poetry or song. Being born in Ireland, Barry's life in Brussels has intensified the relationshipto her native culture and language. She researches her mothertongue, its semantics and cultural roots. The rhythm of Barry's phraseologies, the pictorial and narrative languages from which she draws, at times evokes the topography of her home country, its mental climate and its literary heritage. Barry has exhibited at the Irish Museum of Modern Art (Dublin), SMAK (Ghent) and Camden Arts Centre (London). In 1999, she was nominated for theThe Glen Dimplex New Writers Awards and in 2003 she won the Young Belgian Painting Prize.
Introduced by Paul Willemsen
Part of Open Archive #1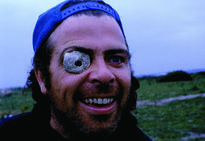 Wed 03.10.2007
20:30 - 20:30
Practical info

Location:
argos

Entrance fee:
free

Artists
Works