ARGOS @ MOBILE INSTITUTE, BRUSSELS
SCREENING
The Mobile Institute was born in August 2006 as an artist's initiative to investigate the possibilities of site-specific work, collaborations and work in progress. The Mobile Institute, which takes place several times a year, each time in a different city, using its existing infrastructures, will be moving to Brussels in August 2007. The project intends to put forward, in a short period of time, an artist's residency disseminated by multiple events and performances. Every Friday of the month the Mobile Institute will be organizing a series of events (performances, screenings, lectures ...) in collaboration with the participating institutions. Within that framework Argos will present a screening program at the Styx cinema. Inspired by the Institute's geographically mobile structure, liberated from belonging to any specific space, Argos will present a program featuring works equally "mobile", where walking is at the very heart of the narrative. Different approaches to walking, different walking strategies. Walking in order to explore one's body and physical effort, as self-portrayal, as an absurd action, but also as part of an artist intervention in public space, or as the means to question cinematic strategies and techniques. The works featured in the Argos program reveal walking both as a tool for the artists involved and as an art practice in itself.
Joëlle de la Casinière, So Happy
1973, 4'30", 16mm to video, colour, French & English spoken.
Vincent Meessen, The Intruder
2005, 7'26", video, colour, Mooré, Bissa and French spoken, English subtitled.
Messieurs Delmotte, Human Traffic Light
2005, 2'45", video, colour, sound.
Messieurs Delmotte, Fountain
2000, 1'36", video, colour, sound.
Messieurs Delmotte, Under the cars
2001, 1'05", video, colour, sound.
Messieurs Delmotte, Turn around
2001, 2'O7", video, colour, sound.
Jacques Lizène, Filmer le bas des murs au cours d'une longue promenade urbaine
1971, 5'00", 8mm, b&w, silent.
Jacques Lizène, Tentative d'échapper à la surveillance d'une camera
1971, 1'50", 8mm, b&w, silent.
Jacques Lizène, Caméra à la hauteur des yeux, du sexe et des pieds
1971, 4'40", 8mm, b&w, silent.
Michel François, Auto-portrait contre nature
2001, 11'52", video, colour, sound.
Ana Torfs & Jana Sterbak, Condition
1995, 7'53", video, b&w, sound.
Charley Case, (Man walking)
2004, 2'43", video, colour, sound.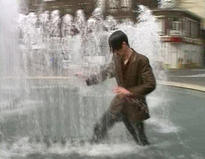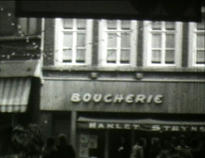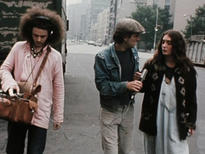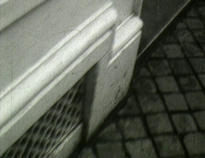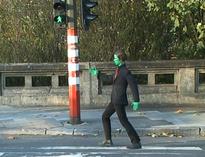 Fri 31.8.2007
20:00 - 20:00
Practical info

Location:
Cinema Styx
Gewijde Boomstraat 72
1050 Brussel

Artists
Works