ANOUK DE CLERCQ - THE ODD HOUR CINEMA
BLACK BOX - SCREENING
Opening: 23.09.2017 // 18:00 - 21:00
After a first presentation at Gallery Sofie Van de Velde (Antwerp) in the autumn of 2016, The Odd Hour Cinema by Anouk De Clercq is now on view at Argos. This programme features a selection of her most fascinating single-channel works that are screened in Argos Black Box (variable schedule). Like in her multidisciplinary work, The Odd Hour Cinema explores the audiovisual potential of computer generated and manipulated images to create possible worlds, many of which have a strongly architectonic character.
Check out the schedule here!
Screened works:
Thing (2013)
An architect talks about the city he has built. Gradually we realise that the city is imaginary. His account is an attempt to give his ideas a fixed shape.
Swan Song (2013)
The metaphorical phrase Swan Song refers to an ancient belief that the swan is completely silent during its lifetime until the moment just before death, when it sings one beautiful song. What song does a pixel sing before it fades?
Oh (2010)
Inspired by the architect Etienne-Louis Boullée (1728-1799), this richly textured video investigates the allegorical tension between inside and outside, real and imaginary, two- and three-dimensional, analogue and digital, immensity and intimacy.
Oops wrong planet (2009)
A grope in the dark beyond time and space, an attempt is made to establish contact with a different planet, but clear contact appears impossible.
Me+ (2004)
A small white cross moves against an otherwise black, empty screen, then multiplies itself to become two crosses that dance around the screen together, only to then disappear together.
Conductor (2004)
A lightning conductor appears as a musical conductor for the cloud cover. At the core of an increasingly threatening blaze of fire and a whistling wind, a minuscule light has final call, until the violence of heaven discharges abruptly and the lightning conductor throws it all off-screen.
Building (2003)
Building is inspired by the concert hall in Bruges and thereby also pays homage to the work of the Belgian architects Robbrecht and Daem. The building reveals itself as in an architect's dream, as a spatial and atmospheric starting point for users to start leaving their marks on it.
Thanks to Anouk De Clercq, Marie Logie (Auguste Orts) and Sofie Van de Velde (Galerie Sofie Van de Velde).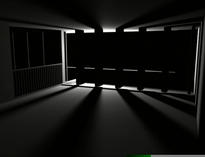 Sun 24.9.2017 - Sun 08.10.2017
11:00 - 11:00
Practical info

Argos
Werfstraat 13 rue du Chantier
1000 Brussels
info@argosarts.org
+32 2 229 00 03

Opening hours:

from Thursday to Sunday, from 11am to 6pm

NOCTURNE: Open late night until 9pm every first Wednesday of the month.

We are always open on public holidays (except Winter holidays).

Entrance Tickets:

6 € Individual visitor

4 € Students, seniors (+60), unemployed

1,25€ Ticket Article 27

2 € Paspartoe aan kansentarief


0 € -18, teacher, ICOM card, press, IKT members, SUBBACULTCHA members and every 1st Wednesday of the month

We are partners with Paspartoe (www.paspartoebrussel.be), dynamoPROJECT & dynamoOPWEG

NB: The entrance ticket is a personal pass that gives you unlimited access to the exhibition.

Artists
Works