POLITIQUE 0 / DEFRAMING
SCREENING - DISTRIBUTION
This three-day event organized by Les Éditions MF, RYbN and Upgrade! Paris (Incident.net) brings together installations, video projections, performances, lectures, with artists, curators, researchers, theoreticians... from local and international scenes, concerning the relationship between politics and media, and the forms its generates: political marketing, propaganda and democracy, national myths, mechanisms of information control,… Politique 0 is designed as a platform for exchange between different approaches for the sharing of experiences and knowledge of the willingness to break with the traditional transmitter-receiver mode of public events. Argos will contribute to the screening programme Deframing. Political economies and artistic strategies of dissent and Visibility vs. Hegemony, a curatorial lecture by artistic director Paul Willemsen.
Deframing. Political economies and artistic strategies of dissent
The political-ideological complex forces us into a particular acceptance of social organisation, defines our place in it and benefits the production of power relations. Existing relations are fixed and congealed. This program, showing three samples from the Argos Collection, compiles works from three artists that deframe political-ideological spaces and reconsider politics of representation. Charley Case raises the issue of globalization and neo-liberalism from the enclave of counter-communities. Ho Tzu Nyen re-enacts a pivotal protest by an artist / performer that took place mid nineties in front of the president of Singapore. Taking imagery of a Giant Pumpkin Contest in Japan as a starting point, Gert Verhoeven allegorically tackles our socio-economical system and how the art world relates to it. These three works also make a stand against the politics of disinformation and invisibility with which the mass media confront us on a daily basis.
Friday, June 18, 1999, City of London.
Charley Case, 1999, super 8 transferred to video, 8'12", b&w, sound.
4 x 4 - Episodes of Singapore Art: Episode 3 – Tang Da Wu.
Ho Tzu Nyen, 2005, 22'52", colour, English spoken.
Bustutai.
Gert Verhoeven, 2003, 13'42", colour, English spoken.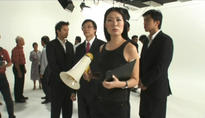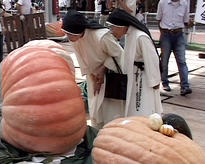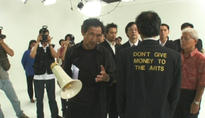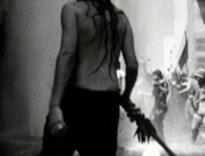 Fri 01.10.2010 - Sun 03.10.2010

Practical info

Location:
Espace Niemeyer / Siège du P.C.F.
Paris, France

Artists
Works