3. TRANSPOSITION
SCREENING
M* of Bethlehem
Ayreen Anastas


video | 00:21:00 | col.
sound
M* ("Map" or "meaning") of Bethlehem is inspired on a city map of Bethlehem from 1973. Anastas tries, thirty years later, to map out the geo-political differences. She does most of her filming after curfew, and she reads out definitions from the Oxford English Dictionary. The video explores issues around nationalism and belonging to the context of Palestine, proposing a relation to the concept of 'home country', lived in under occupation. Anastas creates room for reinterpretation, arranging the meaning of places and symbols into a poetic contemplation on language and image.
Santoral (a Saint for Each Day)
Jose Alejandro Restrepo
video | 00:60:00 | col.
sound
Santoral is put together from unattached fragments of news reports and television programmes. The images illustrate the abuse and torture of the body, albeit as part of a guilt-ridden catholic education, as an act of purification during the celebration of Holy Week or other religious festivities. To others this is a form of spectacle and public masochism.
Operation Double Trouble
Keith Sanborn


video | 00:10:00 | col.
sound
A simple and efficient adaptation of a recent propaganda film, entitled Enduring Freedom: The Opening Chapter. It was made during the aftermath of 9/11 under assignment of the US Marine Corps and the US Navy, for a large-scale screening in cinemas. Sanborn's simple intervention causes the film to stutter, which generates a provocative exposure of the bombast and heroism.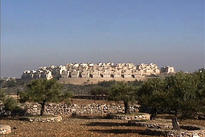 Tue 18.10.2005
18:15 - 19:45
Practical info

Location:
Filmmuseum
Ex Shell-Building
Ravensteinstraat 60
1000 Brussel

Artists