JAMES LEE BYARS 1/2 AUTOBIOGRAPHY
DISTRIBUTION
James Lee Byars at Museo Jumex and PS1
James Lee Byars was one of the most provocative and mythical figures of art history in the latter half of the twentieth century. Byars developed a personal and autonomous body of work that, nevertheless, established a close dialogue with the mainstream movements of his time—e.g. minimalism, performance art or conceptual art—only to broach a series of issues around the role of the artist as a catalyst of aesthetic experience; around the nature of the creative gesture as an agent of change; as well as around the work's historical permanence as it traveled in time from one location to another. It seems as though Byars evaded, in a somewhat deliberate fashion, leaving a personal archive that would allow for a final reconstruction, a chronological or lineal reading of his artistic practice. Instead, he made sure to scatter the traces, remnants and vestiges, of the thoughts and actions.
The fact that, at an early point in his career, he showed, somewhat provocatively, little interest in the historicization of his practice does not mean, however, that he was indifferent to its historical moment and the prevailing concerns of the time. Byars did cultivate oral history by making use of the rumor mill, legends, abstractions and abridged or coded letters as strategies to create atmospheres, symbolic communities and ritual actions outside of the institutional framework in order to have an impact—even if only momentarily—on the social sphere. This exhibition seeks not only to emphasize the performative moment as the decisive structure in Byars's practice by revealing the ephemeral and intangible nature of much of his early work but also, how his later sculptures are infused with the same sense of immanence.
By surveying close to thirty years of Byars's practice and displaying archival documents, letters, photographs, films along some of his sculptures and performable pieces, this exhibition will bring to the fore the significant body of work of a seminal artist that has acquired new relevance within the contemporary art scene.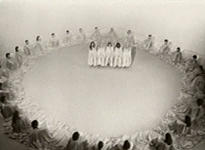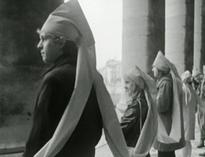 Thu 14.11.2013 - Tue 15.4.2014

Practical info

Jame Lee Byars - ½ an Autobiography

A project curated by Magali Arriola and Peter Eleey

Museo Jumex November 2013 - April 2014

PS1 June - September 2014

Artists
Works