COMPANY: SIRAH FOIGHEL BRUTMANN & EITAN EFRAT, PIETER GEENEN, MEGGY RUSTAMOVA
SCREENING
05.11.2015 - 20.30 - BEURSSCHOUWBURG
€8/5 - Bookings via tickets@beursschouwburg.be
Company is a film programme in which four artists living in Brussels present their work: Sirah Foighel Brutmann and Eitan Efrat, Pieter Geenen, and Meggy Rustamova (who respectively also have exhibitions in Argos and Beursschouwburg). The screening of the films is followed by a debate. What do we mean by such concepts as collectivity and solidarity, and in what way do they impact our viewing habits?
Sirah Foighel Brutmann en Eitan Efrat's Gathering Series (premiere) focuses on three public meeting places: Walter Benjamin's monument in Portbou, a cinema in Saarbrücken, and the public sculpture White Square in Tel Aviv.
Meggy Rustamova presents Waiting for the Secret. She departs from a photograph and reveals all its secrets by zooming in on the details. Gradually, the image comes alive.
Pieter Geenen shows an excerpt from Mirador. In this video he contrasts tourists and asylum seekers: two groups that gather in different ways in the Strait of Gibraltar.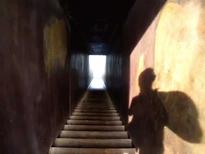 Thu 05.11.2015
20:30 - 22:30
Practical info

05.11.2015 - 20.30 - BEURSSCHOUWBURG

Artists