INFORMATION DAYS CATALOGUE
SCREENING
51N4E space production
by 51N4E space producers (Derf & Doogie, Kneepkens, Lien & Geirnaert, Piet)
1998-1999
Video | 00:18:00 | Dutch spoken
A focus on four architectural projects by space producers: Domicilie Mhi, Appartement Chateau, Zwembad Outgaarden and Self expo. The projects were realised in the period from 1998-1999. During the first project they reduce a house to the residence of the travelling consumer. Then they make optimal use of the space of a Brussels apartment while the neighbours come to have a look. The swimming pool of a farm is domesticated into an outside room. In the last project they simulate a new entryway for the CC Strombeek, reshaping the entire building.
A's for Abstract
by Adriaenssens, Paul
1999-2000
Video | 00:11:00 | non spoken
Sound samples from Baroque music were abstracted into an eight track soundscape. Image samples from (original) Van Dyck paintings were taken out of their context: details turned out to be abstract compositions. These distortions and frame choices alienated image as well as sound. They also sounded and looked more contemporary. Composed for the Van Dyck Year 1999 in Antwerp.
Destroy all planets
by Aerts, Toon
2000
Video | 00:11:00 | English spoken
Destroy all planets is a no-budget science fiction film in which flying saucers visit our capital of Brussels. This short film plays around with well-known SF stereotypes, at the same time trying to combine different genres, styles and techniques. In short, Ed Wood in the year 2000.
Banque de données des usages de la propriété/eigendomsgebruiken databank
by Agence/Agency/Agentschap
1999-
www.agency-computer.com
The agency database gathers the different ways in which we use property in our daily lives. How do people treat with (in)tangible objects like copyright, houses,… ? The users themselves complete the data: a driver describes how he uses his truck and sends these through the web-site. Agency processes the information, so that it can be exchanged. The West makes generalisations about property, and regulates its usage. But the variety of ways in which people make use of one and the same piece of property results in innumerable and unpredictable practices.
'Life on the edge' radio line
by Albers, Beatrijs
2000
Video | 00:05:00 | English spoken
Loop
In 1999 and 2000 Beatrijs Albers travels to the arid American desert on the borders of California, Nevada and Arizona. There she looks for the ways in which man draws out space for himself and takes political, architectural and mental ownership.
The title refers to the name of an American local religious radiostation. The sound recordings of this radio are edited onto images of a near unearthly desert nature.
Death Valley 2000
by Albers, Beatrijs
2000
Video | 00:05:00 | silent
Loop
With reflections on the American myth, natural parks, Indian reserves and military test areas she questions the claiming of a territory. The images enter into a dialogue with the Film 'Zabriskie Point' by Antonioni, in which couples who are making love undermine the tough myth of Death Valley.
Nadine.be
by Alvès, Catherine
2000
Video | 00:26:00 | French spoken
From February to August 2000 asbl Nadine invited various artists to take part in the In Camera project. During a week each artist used a webcam in the cultural space Plateau, as a medium to create or document on their project. On Fridays they met the public with a presentation, a performance or a concert. www.nadine.be presents some of these artists and shows moments of improvisation, work-in-progress, hesitation and reflection.
I miss you
by Alvim, Fernando
2000
Video | 00:20:00 | non spoken
This installation is based on a real life situation, from the year 1995 to 2000. This film is an emotionally charged narrative of Alvim's personal experience in Angola (1995 & 1997), Belgium (1999) and South Africa (1999). The soundtrack consists of industrial noise and two compositions by Milton Nascimento and Make Marty.
Rame, rameurs, ramer
by Antonio Bonsangue, Sylvie
2000
Video | 00:21:00 | French spoken
Some people meet in a centre for professional reintegration. Their aim is to follow a training which will allow them to exact new opportunities on the job market. At the end of the training the protagonists discover that an inescapable bond came into being.
Vaporetto
by Arthuis, Isabelle & Mahéo, Erwan
1999
Video | 00:25:00 | non spoken
Vaporetto aims to touch on a specific kind of Venetian reality, which is experienced simultaneously as a melting pot and an echo. Situating itself halfway between a documentary and a director's movie, Vaporetto (haze, mist, condensation, immersion, locomotive power) mingles images of the city of Doges with images of artists preparing the Venice Biennale: editing sequences, unfinished propositions, peripheral moments.
Mondophrenetic®
by Asselberghs, Herman, Opsomer, Els & Vissers, Rony
2000
www.mondophrenetic.com
Mondophrenetic® has two or three things to say about the temptations of a total lack of orientation. The setting is provided by huge blocks of flats on the fringes of unidentifiable cosmopolitan cities from all over the world: Mondophrenetic® is set everywhere and nowhere, where the familiar and the unknown, here and there, public and private are constantly switching places. Where the visitor/user can never choose the shortest route and certainly cannot go the same way twice.
Ernesto 'C'est difficile de voir l'avenir. Je ne suis pas à demain. Je le verrai petit à petit.'
by Augustijnen, Koen & Augustijnen, Sven
2000
Video | 00:52:00 | French spoken
Dutch or English subtitles available
Ernesto Cortes, a young hiphop dancer, lives in one of the many Toulouse suburbs. The story of the Chilean exile and his family slowly takes shape and meaning through the spontaneous events and interviews. Ernesto's ramblings through Toulouse and the rehearsals for a nearing dance performance run through the documentary like thread. Ernesto's astonishing, moving and sometimes brutal contradictory remarks on himself and his surroundings are reflected in his passion for a variety of contemporary dance forms.
Barbarella
by Augustijnen, Sven
2000
Video | 00:18:00 | Dutch spoken
We see a portrait of Willem Oorebeek, visual artist, who explains why and how he blackouts Barbarella. It's part of Y'er Zero Barbarella, the psychogeographies of sloth, a project by Michael Curran and Paul Domela.
L'école des pickpockets
by Augustijnen, Sven
2000
Video | 00:52:00 | French spoken
The moviemaker focuses on a daily and well-known hassle in public spaces, namely the phenomenon of pickpockets. Two professional thieves give a master-class in the art of pickpocketism in front of the camera. This video, between fiction and reality, is part of the Metropolis exhibition in Brussels.
Laat duizend feesten bloeien
by Augustijnen, Sven & Crabeels, Cel
2000
Video | 00:52:00 | Dutch and French spoken
Augustijnen and Crabeels document on the Feest Beurs (Beurs Feast), a Beursschouwburg project, on the occasion of the Brussels 2000 opening weekend.
De Kunstberg... Stad op de helling
by Augustijnen, Sven & Visser, Barbara
2000
Video | 00:15:00 | non spoken
This video was realised for the exhibition Stad op de helling, laboratorium voor de stad van morgen (City on a slope, laboratory for the city of tomorrow).
Non-Lieux, part I
by Baes, Pascal
2000
16 mm - video | 00:10:00 | non spoken
An attempt to 'desatanise' negativism: the gothic-romantic phantoms, the Eido-Kabuki or Tibetans are creatures that failed to achieve a specific thing in their lives. They keep returning because of this unfinished business. There is the negation of choreographic movement, of tourist scenery and local aesthetic value. A certain amount of chilliness can be perceived as well, immobility, blackness, lemurs and veiled and confused sensualism.
Tokyo-Picnik
by Baes, Pascal
1999
16 mm - video | 00:15:00 | non spoken
Fauna and flora in the end of April 1999 in Tokyo-Shinjuku. The custom of picnicking under the blossoming cherry trees was popularised under Eido (19th decadent in Japan). A biological explosion, rapidly followed by scenting blossoms and decay, was a pretext for a gust of collective purifying madness. This symbolises the short-lived existence of beauty. The toad is symbolic of endurance, of stability.
Nora
by Barrea, Olivier
1999-2000
Video | 00:02:00 | non spoken
This video came about during a stay in 1999 in Chambre de Séjour avec Vue, Saignon en Luberon, France. Nora is probably real. The events are fictious, any similarity to actual events is unintentional.
The pursuit
by Barrea, Olivier
2000
Installation demo | 00:05:45 | non spoken
The pursuit shows a chase with a motorcyclist and was projected for the first time at the Biennale for Contemporary Art in Louvain-La-Neuve in may 2000. There the video installation was presented along with the slide projections of Lise Duclaux. The projectors were placed on empty beer crates.
A tear for a glass of water
by Barry, Orla
1999
Video | 00:26:00 | English spoken
In A Tear for a Glass of Water an actress (Tara Casey) performs a fragmented monologue written by Orla Barry, to a static camera. A life belt is stranded redundant on the wall. Is it a rehearsal, a lecture? The performance is cold at times severe. Interest in religion has revived proclaims the performer authoritatively. So has toast and marmalade. Witty aphorisms are dropped into a swimming sea of comment, odd facts and recollections. Sisters are an endangered species constantly washed away by the rain... In the context of Ireland, we think of nuns their decline in numbers and recent accusations of abuse. The monologue is remarkably lucid yet disconnected, as though the subject's brain has been wrongly assembled. Living in Brussels has intensified Barry's relationship to her native language and displaced her within it. Finally, the character talks of hanging around to hear the truth and at the end of 26 minutes, the joke is on us.
Listen to this
by Barry, Orla
2000
Audio CD | 00:15:39 | English and French spoken
It is somewhere between a speech and a story. A box opens, a voice pours out sometimes melancholic, sometimes absurd sentences, which are ultimately connected but which create disparate images. Each sentence seems to lead off in a different direction but is desperately trying to keep to the point
Bateau Lavoir, promotion & information
by Bateau Lavoir
2000
bateaulavoir.telenet.be
The website contains promotional material and information on Bateau Lavoir, pictures, text, sound...
Example of source material made for performance
by Bateau Lavoir
2000
Video | non spoken
Bateau Lavoir uses material which is combined during performances with sampling from broadcasts T.V. and film made on the spot during live events. They also exploit their own presence, for example shadows on the screen. So the live events combine video images from at least four sources at the same time. This example uses a nineteenth century child's dancing puppet in the form of a black man. Bateau Lavoir added a soundtrack but could also make new sound each time they performed. The intention in this case is an ironic, humorous, critical comment on the historical clichés surrounding popular dance culture.
Au bout de la nuit
by Bay, Didier
1999
Video | 00:03:00 | non spoken
At night, somebody mounts the stairs with a flashlight, passing two images against the wall, then three shelves with keys in the lock, towards a bed where a young naked woman seems in a troubled sleep.
Enfants ouvriers
by Bergman, Marta
1999
Video | 00:52:00 | French spoken
Miners, servants, apprentices, glassmakers, wool graders… They were between 10 and 14 years old when they started their careers as labourers. Now these children, whose childhood was sacrificed to industrial needs, are old. Their memories of the past are strikingly poignant, portraying a world where gruelling work, daily injustice and suppressed revolt intermingle with childhood innocence.
Flowers Serial Killer
by Bernier, Pascal
1999-2000
Video | 00:03:55 | non spoken
Loop
SnuffMovie where the (real) victims are flowers. Eight real murders. Original music: Pierre Bernier
Frankie goes to Brooklyn
by Bianchet, Frédéricq, De Clerck, Benoît, Marly, Pierre & Devresse, Jean-Pierre
2000
Video | 00:25:00 | French spoken
Frank is chasing the American dream ! One day he leaves it all behind and sets a course for Brooklyn, New York. It is important to realise that this perfect employee of a Belgian production corp in Liège shares two passions: cinema and American literature. He will embark on this Great Passage from the harbour of Antwerp. This cosmopolitan city, however, has more than one surprise in stall for him.
James Ensor in Oostende ca 1920
by Bijl, Guillaume
2000
Video | 00:01:50 | silent
Loop
A 'found footage' showing James Ensor with friends in Oostende in the 1920-ties, taking a walk, drinking a glass, walking along the seaside, sitting on the beach.
G(211296)24h
by Blondeel, Maria
1996-2000
Video | 00:10:00 | non spoken
G(211296)24h, built 21 December 1996 at Croxhapox, mimics a realistic daylight situation with artificial light. The artificial light consists of the light beams of computer-manipulated slide projectors. This installation evolves from one night to the next: in the course of 24 hours the real light of day slowly overcomes the artificial light of the projectors.
Klank
by Blondeel, Maria
2000
CD-ROM
Five recordings of audio visual works from 1992 until 1999. In BDT, MOS and G(BAR) the sound is a translation of the image-densities of a project slide series into square waves. Ag(SP)20h and E(stutt) 11.8.99 are recordings made of light interactive sound installations and the outdoors environment. The pitch and intensity of the sound, the colours and density of the image change according to the changing situation, fog, rain, sun, dusk, dawn, day and night. This way the light, in our every-day perception, is being 'visualised' in a sound and light image.
Website
by Blondeel, Maria
users.pandora.be/MariaBlondeel
In her spatial installations and virtual environments Maria Blondeel combines photographic materials, sound, interactive systems and computer applications, confronting matter, people and situations with sound, light and motion. The behaviour of spectators as well as the external conditions, such as time, speed, temperature, changing daylight are determinants for the form of apparition of Blondeel's work. Her concepts are intrinsically connected with the time-course. As in real life, the architecture plays a major role in the transformation process both on-line and off-line.
Ginette
by Bosquet, Léa
2000
Video | 00:21:30 | French spoken
Without a doubt this video is the most important 'event' in the life of Ginette Guigui. This little piece of history is situated at the end of a life without spotlights or recognition, the life of an immigrant among so many others… Ginette left Tunisia during the massive migrations of the Maghreb Jews. When she arrived in Israel in 1951 (Beer' Sheva), along with her husband and children, Ginette was convinced this was the Promised Land. Fifteen years later it turns out more like a country in mourning. A tribute to a grandmother, to her courage, her wealth, her contradictions…
One day in the life of
by Bouvy, Aline & Gillis, John
2000
Video | 00:03:16 | non spoken
Loop
Featuring Charlotte Perriand and Le Corbusier's 1935 project of 'The Bachelor's House', One Day in the Life of presents a fashion shooting, where a man is modelling in front of a blown up view of the ideal interior, as envisaged by the architects for the ideal young man of the time.
incident. a sketch
by Brehmer, Andreas
1999
Video | 00:06:00 | German spoken
Loop | English subtitled
Starting point of incident. a sketch are text, sound and picture fragments, each one of these elements is related to the others. In this way the length of the text determines the image frequencies (details of one and the same picture), the images colour the text and sound, which in its turn interrupts the rhythm of text and image by its volume.
Schrödingers cat
by Bronger, Henning
1999-2000
Video | 00:03:00 | non spoken
The non-scientist Schrödinger put his cat in a box, wherein a radioactive particle released a poisonous gas. Later on he opened the box to find the cat dead or alive. There lies the 'paradox of Schrödinger': according to him, the cat can only be dead or alive after he looked inside the box. The moviemaker was inspired by this story. A bright green box, a nervously rambling woman's voice, a ticking clock and a rather threatening little hammer contrast absurdly with the hilarious attempts to keep the black pet in the box.
De conciërge van het SISA
by Broucke, Koen
2000
Video | 00:07:30 | Dutch spoken
The film is part of a series of imaginary artist's biographies, which appeared in the literary magazine Sampel. A commentary voice reads out a part of the biography which was written by Koen Broucke, in which the caretaker of the Stedelijk Instituut voor Sierkunst en Ambachten (Municipal Institute for Decorative Arts and Crafts) plays the fictitious lead. We take part in the night he was last seen.
But what could Saint Francis have been saying to the birds?
by Burki, Marie-José
2000
Video | 00:25:00 | English spoken
Nine people at the table are eating, chatting away, smoking and drinking. They breathe words and smoke in and out. They devour meat and elaborate on birth.
Guerilla gardening
by Case, Charley
2000
Video | 00:11:00 | non spoken
'Guerilla gardening' 1st of may 2000, Trafalgar Square, London. The peaceful demonstration of the anticapitalist movement 'Reclaim The Streets' turns into a violent destruction of a McDonald's (REAL ACTION). Three months later, the images of the London's protest are 'video projected' on the walls of a McDonald's in Stuttgart (VIRTUAL ACTION) by the 'gratis group'.
Adieu tristesse
by Cash, Robert
1999
16 mm - video | 00:03:30 | non spoken
On the face of it Adieu Tristesse is a black comedy which takes as its subject the act of 'sawing-the-lady-in-half'. We are comforted by our familiarity with this illusion and are sure all will be well in the end. Meanwhile the piece operates on another symbolic level in so far as it alludes to trick effects employed in early cinematography to heighten suspense and theatricality. Finally, there is a 'third meaning', an obtuse meaning characterised by gesture and accent, sometimes comic, sometimes pitiful which exists beyond the narrative and is a signature in much of Robert Cash's work.
Unmastered behaviour
by Catrysse, Wim
2000
Installation demo | non spoken
The video works of Wim Catrysse are relics of performances. Here we look at video projections of performers who constantly try to keep their balance and who are trapped in a spiral of desperate, continuous movement. The compulsive, repetitive nature makes the viewer undergo the sensations of the actions of the performers: as if he too is on moving ground. Catrysse works with the dynamics embedded in situations of unease and turmoil. The images create an illusion and give way to the imagination of the viewer.
Anacronia
by Cepeda, André
2000
Video | 00:04:30 | non spoken
By the end of a trip to Brussels lasting several months, André Cepeda had collected some 2000 shots of the city, a collection bearing witness to the questions and wonderment that marked the stay of the young photographer – a search for reason through the eye of the camera, a journey through the city coupled with a journey through life. The visual result can be found in a series of 4000 other shots, enlargements of the details he has drawn out of the initial images. The photographs have been worked out as a video, at a rate of 15 to 24 frames / second, which prohibits them from been dissociated, from been considered individually. The visual energy prevails over the material.
Mariage
by Cereghetti, Caroline
1999
Video | 00:20:00 | silent
The whole family is ready for a major event: the wedding. 'The here and now, in great haste and for eternity.' The video is a study of gestures, the attitudes, the spaces that make out the human condition, the hierarchical relations within a family.
ERROR ERROR compilation tape, Brugge 2000
by Clinckx, Christine
2000
Installation demo | 00:11:09 | non spoken
Christine Clinckx's images are about power and impotence, and, about the way in which they may affect women. But her involvement and formal language must be situated elsewhere. In her provocative objects, installations, sound interventions, and video works, Clinckx pairs temptation with disgust, innocence with terror and tenderness with violence. In her approach, all of these notions are contaminated by and entangled with their counterparts.
R.I.C.E.R.C.A.R.E
by Cloots, Martine
1999
Video | 00:12:00 | French spoken
1977, two 'Voyager' space-crafts, each with a video disc of their own, are launched in space and time. On each disc 'earth images and sounds' were recorded, among them 27 musical fragments, designated to be welcomed by 'intelligent life-forms'. Martine Cloots selected 'Ricercare' by J.S. Bach as a prelude to her video, which situates the main outlines of this investigation into the extraterrestrial, as well as every day and night here on earth, where men and women are walking around, erring, searching, producing,…
The Philosopher's stone (work title)
by Colinet, André
2000
Video | 01:00:00 | French spoken
First try-out of a work in progress. Two testimonies of the 20th century are interweaved. Filmmaker Henri Storck and anthropologist, art-critique writer, multi-media artist Robert Fischer talk about their life and work.
Problème d'adaptation
by Collard, Sandrine
2000
Video | 00:08:00 | French and Dutch spoken
1. The dog, the rooster, the sheep and the pig are living in Antwerp
2. The rooster's subjective visit
covering #2 PARKING LOTS
by Compernol, Luc
2000
Video | 00:21:12 | non spoken
In the dark of night a camera zooms in on a desolate parking lot. Will a woman, a man, a suitcase and a car start up a story? The camera moves on along busy motorways, empty cars, a city at night… How does one get through the night without a narrative? Second in a series that reveal their content only by suggesting questions, 'couching # 2 PARKING LOTS' is more than a mood piece: it's a carefully orchestrated study.
TWEENS smash the mirror
by Coopman, Johan
2000
Video | 00:50:00
English subtitled
Tweens is a comparative documentary about urban youth culture, filmed in ten cities around the world (Amsterdam, Mumbaï, Beijing, Sao Paolo, Budapest, Frankfurt, Lisboan, Paris).
Game one
by Couderc, Laura
2000
Video | non spoken
Loops
Interlaced projections of people walking and lines drawn on the ground evoking a game of hopscotch, or sport lanes. A hypothetical game begins between the screens and continues in the real space: we try to understand a direction, rapidity, the trail of a crossing. We mock with space and duration, with the idea of a network.
Red tape (Orbis Terarum)
by Crabeels, Cel
2000
Video | 00:15:00 | silent
Red tape stuck in straight lines on the floor, ceiling and walls creates an hermetically closed route through them. Two camera movements follow this line, one as an intact circuit and the other as its dismantling. This marking with tape can be seen as the equatorial contraction of an inner space.
The Leeds Tape 1999
by Crabeels, Cel
2000
Video | 00:30:00 | English spoken
The people that move through Leeds seem to have a purpose, they are going somewhere. The artist chose not to. He carried out interventions at various times and places in the public space of the city. They became slightly disturbing when obstructing the natural flow of people, things and situations. The footage of this interventions is produced into a video installation, showing the interventions and the response they provoke. The work is shown as projection and on several monitors. It's part of Leeds UK, a two month project focussing itself around the question what constitutes a cultural infrastructure in the city of Leeds.
Deux ou trois événements Bruxellois, 15.10.2000
by Curlet, François
2000
Video | 00:30:30 | non spoken
The artist goes on a little urban safari trip through Brussels. His purpose is to observe the gestures of his siblings in their private surroundings. His attitude arose out of the idea of representation. He notices some basic gestures which are quite simple, yet they are contaminated by other sources.
File
by D'Haeseleer, Kurt
2000
Video | 00:28:00 | non spoken
File scrutinises the bandwidth between representation and immersion and shows a world of complexity. The tape is trying to be a lot at the same time: video clip, essay, action movie, sociological study, documentary, soap, commercial, but above all a hermetic collection of sensations. A dated relation goes off the road and two people lose each other in overdrive.
Simon
by D'Hondt, Fabian
1999
Video | 00:02:40 | non spoken
Hantex
by D'Hondt, Fabian
2000
Video | 00:04:15 | non spoken
Out of sync images succeed one another, colours cross with each other. Shrill, faltering sounds resound the rhythms of the codes can be felt. These videos are minimalistic, they functions as 'tableaux vivants.' Connected they would present us with aleatorical music.
DJ la mouche
by D'Hondt, Fabian & Vee, Stephan
2000
Video | 00:07:30 | non spoken
DJ la mouche gives a scratching demonstration. Scratching is a bit like a theatrical situation: it makes the hands into actors. The sound has the upper hand and the background is moving without end, in chaos even. In this manner he represents the spirit of our times and of a generation.
Orage
by D'Hondt, Fabian & Vee, Stephan
2000
Video | 00:06:45 | non spoken
The glimmering blue of lightning illuminates four hands. The lugubrious roaring of a storm announces itself, urging the hands to express it with all their might. The rain is falling down and decomposing the ground. Movement is accelerating, and the clouds are getting thicker. The thunder is frightening, it stirs unrest. It's a desperate masturbation.
Circle of information
by D'hondt, Lieve
2000
CD-ROM
The first part of this work is an alternating travelling shot along the books of a library building. For part two she places three monitors between the books on the first floor. They show the travelling two times over, once in a real-time view of the first floor, hereby creating a different perspective on the situation. The possibility to borrow these books breaks open the space. Nevertheless the information is interpreted differently by everyone, and the abundance makes all knowledge incomplete.
Close Area, portrait
by D'hondt, Lieve
2000
CD-ROM
-sounds enter the head-images become colour-seeing through sounds-sometimes recognition-the photographer MH-inside and outside-the painter LB hidden behind the red curtain-the shifts-stepped-up registration and delayed rendering-the grips of a climber JO-mixed sounds-reading the blurry filter flag TC-permission is been given-the horizontal and vertical divided in between space-the coloured track-LR silver blond as a sculpture-the smell of water-experience of space
G of de afstand tot het nabije
by D'hondt, Lieve
1999
CD-ROM
The story that this production would like to tell is in fact the postponement of a story. Lieve D'hondt realises this by bringing together various viewpoints of a seventies' facade and part of its surroundings into a single image. People's presence is evoked by nothing more than some scraps of a telephone conversation. Time and again the succession of static and dynamic scenes is repeated, the rhythm slows down unnoticeably by maintaining the static images for a longer time.
The taste of water
by D'hondt, Lieve
1999
CD-ROM
' DO YOU KNOW THE TASTE OF WATER ' MEMORY ' HIDDEN FORMS PRESENT ' I WILL TRY TO GIVE A DESCRIPTION OF WHAT HAPPENED ' WHAT DID YOU EXPECT ' CLOSE ONE EYE - CLOSE BOTH - OPEN ONE EYE - OPEN BOTH ' THERE ARE MANY STORIES ' TO TRANSFORM - TO WRITE - TO ERASE ' THE VOICE IS SOUND ' TO REMEMBER FACTS TO CHANGE FACTS ' WHAT ABOUT TIME ' TO WANDER IN THE DARK ' THE FACE DIRECTED TO THE WINDOW ' TO RESIST ' IT IS ADDRESSED TO YOU ' MAKE A SEA IN THE ROOM ' YELLOW SEA ' TO STAND ON A TABLE ' BECAUSE OF THE DISTANCE ' THE IMAGE OF LIFE ' I WOULD LIKE TO SHOW YOU SOMETHING ' WHAT ABOUT SILENCE ' VISION OF REALITY ' TO FORMULATE A QUESTION ' PLACES IN BETWEEN ' DECONSTRUCTION AND RECONSTRUCTION '
V prenez garde à la réalité
by D'hondt, Lieve
2000
CD-ROM
A fireplace by night, lighted in order to burn waste and pruning, is perceived in a continuous, linear sequence. This element is re-recorded by Lieve D'hondt, recording the film on the screen in a searching, fluid motion. The colour is touched up, aiming at a heightened contrast. The quality of the image implicitly refers to digitalisation, the screen, and a doubled distance.
What about time
by D'hondt, Lieve
2000
CD-ROM
what about time - what about time - what about time - what about silence - what about time - what about time - take some time - what about time - what about time - what about distance - what about time - it is time - what about time - what about silence - what about time
Off-lines
by D'hondt, Lieve & Martín Saura, Leónidas
1999
Video | 00:01:00 | English spoken
One minute television. 'What is seen through the media becomes to a certain extent unreal, and it loses its power. On the other hand that which is unseen retains its reality, rooted in everyday life and so in the possibility of what is marvellous' Hakim Bey
'YOU MAY USE MY PICTURE', Sherpa Shangram
by d'O, Honoré
2000
Video | 01:02:16 | English spokenPart of an installation 'Under the Hihimalayan Top Project 2000', shown as
participation in a group exhibition 'Tasapainoilua/Delicate Balance, Six routes
to the Himalayas' (22 June - 10 September, Kiasma Museum for Contemporary Art,
Helsinki). Six artists (Xu Bing, Honoré d'O, Simryn Gill, Jussi Heikkilä, Hans
Hamid Rasmussen, Lisa Roberts) were invited to take a trip together to the tops
of the world and make up an artistic account of their experiences.
An analysis of this weird concept. Nepal as a disaster as well as in its
beauty; the trip, profits and losses in alternating shapes of polluting
velocity or mythological inertia, or more or less perceivable shapes of
levitating sadness next to ecological humour. The chaos of this project is
shaped in a musical rhythm.
Openbare veilingen / Vente publique
by Daems, Anne
1999
Video | 00:02:30 | non spoken
Loop
Men and women among the exclusive goods on show at an auction hall, during the preliminary view days of an auction. Elaborately they scrutinise and fondle the carpets, paintings, china services and vases.
Rotonde (Trafic circle)
by Daems, Anne
1999
Video | 00:05:41 | non spoken
Loop
Two women are chatting in the street at a roundabout. Cars keep driving through the image, which hampers our view of this spectacle.
SCRUB SOLO 2: DISOLOCATION
by De Bemels, Antonin
2000
Video | 00:10:20 | non spoken
First step was a series of slow motion improvisations filmed in semi-obscurity with a super 8 camera. An interaction occurred between the dancer and the camera, between movement and light, leading to a kinetic transformation of the body itself. The second 'working of time' took place after digitalisation when the material was manipulated like the record 'scratching' of DJ's, to transform and recreate the movements of the choreography. Scrub solo 2 is a search for ubiquity, knowing that being two may be a remedy to loneliness, but being three or more can lead to self-dislocation…
The collected works of the End 'a short film for long winter evenings'
by De Boe, Rik
1999
Video | 00:44:16 | silent
A fireplace for a long winter's evening, starting from the cinematic image 'The End.' A variety of The End's are taken over from television and edited together. We can stare at a compilation of 400 End stills, gradually overflowing into each other.
Shift of Attention
by de Boer, Manon
1999
Video | 00:52:00 | English spoken
A woman is listening to the sound recording of the voice of an American actor. He retells her own stories and recollections about the city of Los Angeles. Here we are confronted with a single, continuous take, without cutting. Because of this the spectator and the woman on screen share the same experience of time; the spectator will project his thoughts onto the woman.
Dream
by De Bondt, Sara
2000
Video | 00:02:30 | non spoken
Dream is all about sleeping, tossing and turning, who knows, about dreaming. Repetitive images show a sleeping girl in tangled sheets.
Brözl
by de Castillon, Emanuelle
2000
CD-ROM
Brözl is about subjective human memory, about the versatile memory of computers, and about the traces we leave in information systems. Discover Brussels in the year 2000 by browsing into the fragmented memory of a computer. Throw your digital spanner in the machine.
eyez00m
by De Coninck, Franky
2000
www.eyezoom.com
Franky De Coninck tinkers with things. During the CONTinENT exposition he created a number of 'TransfigurationObjects', and sold their physical entity at an auction performance. The production process of these objects was recorded by a web-cam, and could be followed on-line, which acquired these objects a virtual identity as well. These were then sold as screensavers.
'Allo'
by De Decker, Koen
1999
Video | 00:13:00 | non spoken
During a blue moon Koen De Decker is studying the objects around him in his living room. His eye is drawn towards a round mirror, a red bathing cap and a mask. He links up his camera to the TV-set and films himself with the mask and cap in the mirror. He comes way to close to the microphone and asks: 'Aaallooo.' He experiments with sounds and moves the mirror around with the TV-set in the background. He ends up in a surreal world behind the mirror. The acceleration of his movements are supported by some kind of screaming of somebody who is looking for an answer.
Collision 1
by De Gelas, Anne
2000
Super 8 - video | 00:11:00 | non spoken
Collision 2
by De Gelas, Anne & Berleur Thierry
2000
Super 8 - video | 00:11:00 | silent
This super 8 was shot on 2 locations: the North Sea and a park in Copenhagen. The film is part of a larger work with the same name, but it also leads a life of its own. A game is played with the rhythms of collision. Children in the grass and seagulls in the sky are shown in a loop with repetitions. These games and calm and innocent situations are electrified creating a nervous atmosphere.
Phantom
by De Grazia, Yvonne
1999-2000
CD-ROM
A CD-ROM as a storage device for an extendible picture catalogue - especially as a projection on a large surface it achieves a resolution that totally shifts from its original state: stereotyped paper folded planes. The storing activity as a framework releases extensibility and determines the scale- dimension and volume of this work (mitteilungsform). It can be seen as an investigation on boredom and fiction. The transitory and mobile character seems to carry the event on.
The KH-4 system
by De Grazia, Yvonne
1999
Video | 00:12:00 | English spoken
Loop
How to reinvent time and memory? The succession of images and discontinued text on continued imagery, continued text on discontinued imagery outlines the complexity and attempt to visualise memory. Human events turn into goods of confusion. Memory is like an extension of consciousness. It splits the ability to model the world or to determinate it. The project is split into endless tape and recording with a duration of 12 minutes.
Worldstripmovie
by De Grazia, Yvonne
1999
Video | 00:27:00 | English spoken
Loop
We see command lines only (text on black background) about the world's artefact, thus retrieving another worldview. The text strips originate from printed comics that have been used for this project's elaboration and concept. The artist dicovered to be somewhere where nobody does expect to have ever been. And suddenly she found all recording devices a fatal invention of the human.
Delon versus Gabin (uit de reeks 'New Footage' by Jess De Gruyter)
by De Gruyter, Jess
2000
Video | 00:00:07 | non spoken
Loop
The focus is on the ambiguous relations between human beings. Delon versus Gabin shows rivalling men, who are fighting each other with a doubtful yet undaunted gaze. The lead characters embark on a tug-of-war, but without ever arriving at a confrontation. Jess de Gruyter used footage from feature films, that played an important role in his own life as well as in cinematic history. The title is derived from Le Clan des Siciliens by Henri Verneuil.
36 choses à faire avant an 2000 - kuma konda
by De Hasque, Jean-Frédéric
2000
Video | 00:52:00 | French and Ewe spoken
English subtitles available
Between the noisy preparations of Western self-glorification and the silence of the African continent a simple Togolese village is found at the eve of the year 2000. The film shows some every-day actions, among them a butterfly hunt and the construction of a library.
A video
by de la Fontaine, Jean
1993-1999
Video | 00:03:45 | non spoken
We view a selection of possible uses of colored and sound producing objects.
The Self is the Door
by De Leener, Stefaan
2000
Video | 01:10:00 | non spoken
Stefaan De Leener investigates on 'accidental' encounters occurring in daily life and on the hidden psychical and physical changes which occur when our thoughts are linked to the outside world. 'The Self' is the door between language and thoughts. Here lies his goal: to reveal this closed world.
21 Etudes à Danser (21 Studies for Dance)
by De Mey, Thierry
1999
35 mm - video | 00:22:00 | French spoken
The question here is how to merge dancing footage with elements of fiction. What is the right tone, the golden proportion to tell and dance the stories without resorting to techniques of a musical or a ballet? New ways of telling a story: this is, without a doubt, a critical challenge for dance today. Twenty-one micro fictions by four dancers in which the educational aspect of experimenting soon gives way to the pleasure of joyful poetics: an original blend of tender insolence and strict elegance.
55 barbes bleues
by De Mey, Thierry
1999
Video | French spoken
55 men, of different ages and accents recount a fragment of 'Blue Beard,' the tale by Perrault. Through a fast editing process, one of the most beautiful tales ever written in French, passes through several narrators and is finally completely restored.
'Hart Core'
by De Strooper, Pedro
2000
CD-ROM
Pedro De Strooper collects things and stores them. He cuts, sticks, cuts up, moves and remixes into something new: a collage. With 'Hart Core' he collated a scrapbook of image, text and sound. It is more than a collage: the texts exist in themselves, as do images and sounds. One could call it an interactive album of verses.
Signaal
by Dedobbeleer, Koenraad
2000
Video | 00:15:00 | non spoken
An endlessly flickering registration lamp. The work is shown as an installation on three monitors on the floor, and is set up in such a way that one can't possibly see the three screens at the same time. The spectator is forced to move around the monitors. This renders the asynchronous sound as three-dimensional.
Blue mist
by Defize, Stanislas
2000
Super 8 - video | 01:01:44 | French spoken
The account of a sailing trip from the Antilles to Polynesia, the second stage of a trip around the world which started 18 years ago. This is the film of a painter, a particular viewpoint on the sea, on the confinement of a limited space imposed on three travellers for the duration of a trip. This film of visual and auditory sensations is an introspection on the gradual progression of the sailer. The image translates the unpredictability of the sea, the fluctuations of the light. Objects make swaying motions, waves follow one after the other. The shadows of Bounty, Melville and Gauguin hover over the trip.
Le zizi sous clôture inaugure la culture (Free Willy)
by Dehoux, Robert
1999
Video | 00:12:15 | French spoken
English version available
Considering, firstly, that we are now billions on earth who must constantly hide our bums and, secondly, that nature did not provide us with means to do it, this short film shows: in its first part, the practical repercussions on the health of the planet arising from this prohibition, in its second part, the extent of the consequent damage on our brains, and in its third part, the hilarious way to put an end to this incredible absurdity.
Instructions for use
by Dekyndt, Edith
1997-2000
Video | 01:00:00 | non spoken
Loops
Animated drawing created out of manuals for consumption objects for public or private use.
Program for a cold place
by Dekyndt, Edith
2000
CD-ROM
Program for a cold place took place in February 2000. People who never met participated in this temporary experience. The purpose was to film in the open air a domestic phenomenon: the explosion in low temperature conditions of containers filled with a liquid. The team went out from Winnipeg to install a laboratory up in the Canadian North, in minus 30°C weather. The project in itself (the staging of cold explosions) had little chance of success, yet the conditions under which it exists had been carefully worked for months.
Second hand experience 2
by Dekyndt, Edith
1999
Video | 00:05:00 | non spoken
The Second hand experiences are an uncompleted series of film installations, reinterpreting movements from childhood.
Few royal moments
by Dementieva, Alexandra
2000
Video | 00:05:00 | French and Dutch spoken
A documentary shot during a guided tour for the visitors of the Royal Palace in Brussels.
Une promenade dans Bruxelles
by Dementieva, Alexandra
2000
CD-ROM
Today's information systems present us with an overflow of data for processing and analysis. How we interpret the data is largely defined through conventions of representation and interface design. Alexandra Dementieva's information kiosk seems to guide us through Brussels... Text by Eugène Savitskaya, sound design by Arnaud Jacobs.
errOr
by Dementieva, Alexandra & Misfit
2000
Video | 00:03:00 | non spoken
The video clip err0r is the collaboration between the artist, who uses the 'accidental' video, which was the result of computer crash and the composer, who interprets it in the soundtrack. The residue material of this computer crash was restored as a normal video file and used to make the first version for the musical composition. Afterwards a new edit was created for the video clip according to the music. In the meantime the music was refined and reworked for the final video clip.
QUICK 'n DEAD
by Denicolai, Simona, Derrien, Gaël, De Sterk, Anne & Provoost, Ivo
2000
Video | 00:07:02 | non spoken
Four young people spend five days in a Nantes museum depot. There they live between and with rigid sculptures. They eat, sleep, laugh and hang in between the statues. With Quick 'n Dead they make a compilation of their stay. The video is part of an installation, along with a monitor, an amplifier and two speakers, spreading the sound through the surrounding space.
CLIP-CLAP 1/ CLIP-CLAP 2
by Deridder, Jean-Paul & Vandenberghe, Peter
2000
Video | 00:04:30 | non spoken
CLIP-CLAP 1 and CLIP-CLAP 2 were realised starting from the same sound material and a short video sequence. The sound material was previously used for the composition or MOBILE, a radio work that was broadcast during its development.
'Cathy dont on ne connaît pas l'histoire'
by Dervaux, Laurence
1999-2000
Video | 00:15:00 | silent
This video shows five minutes of a young woman's allowing smile, life size. The screen is placed on a stele so that the young woman's eyes are at the same height as the viewer's eyes. During an exhibition, the video is played continuously, so that the smile is present from the beginning to the end of the exhibition.
diAL 'Die all'
by diAL (TineZ, Sexion 28, Stoav, J. Seph Mangrove)
2000
Video | 00:07:30 | non spoken
The film consists out of three separate movies. The first piece is a dynamical video montage of the graphical works of the four members of diAL: their work is put together in three different themes; Web , print , logo's. The second movie is a representation of the awarenes of one of the four members of diAL. This part is made by Stoav. The third piece is a nostalgic blink at the arcade-design that is getting hyped in pop-world. This part is made by TineZ .
Etude 2 C – extrait du catalogue (The Hat)
by Dialogist-Kantor (Montalvo, Carlos & Geirlandt, Toni)
2000
Video | 00:10:00 | French, Dutch, English and Spanish spoken
Since 1992 Carlos Montalvo and Toni Geirlandt make out Dialogist Kantor together. As the name would have it their main goal is to enter into a dialogue, with the public as well as the other artists. Amongst others they translate this into their actions: on exhibitions they hand out texts, inciting the spectator to engage into a conversation. Etude 2C is a collage and an overview of their work: texts, posters, typography…
Interview
by Dierckx, Ben
1999
Video | 00:04:00 | silent
Where a photograph is a slice of life, a piece of video is sequence of such slices. A sequence may originally be continuous but get regrouped in separate intervals. On the opposite side different intervals may be regrouped in a continuous sequence. That's how two or three seconds of video are moulded into one or two minute loops, resulting in an almost still image. Interview consists of four short one-and-a-half minute loops mixed down to a single movement. Four partials of bodies, distilled from a dance performance, bear the motive: the celebration of time. One to three seconds are stretched to one-and-a-half minutes. Repetitions, hitches, restraints reshape continuous space into discontinuity. Subsequent moments are shown on top of each other. Identical times reoccur several times. The loops and the constant echo make it seem as if nothing is happening.
Thirteen Silent Movies
by Dierckx, Ben
2000
CD-ROM
With this medium the user can decide the proper rhythm of on sequence to the other. For this reason the loops stay individual. The images process time in a similar way, but they have a different visual framework. The black-and-white images were taken from old films: because of this they already contain a double processing of time. The colour images come from the daily association with the environment. The moment when our perception lights up is recorded. These small and rare gems of the day are celebrated, along with the time in which they take place.
Konstruktion
by Dizzasterr versus gERb-O-rAmA
2000
Video | 00:07:00 | English spoken
A multimedia montage of a factory going under and the resulting unemployment. While three fictitious persons are dealing with these facts we are at the same time confronted with a quest for substitution.
02.03.2000 181
by Dosch, Kevin
2000
Video | 00:05:00
English subtitled
Kevin Dosch made a video letter to his parents about his knee operation.
7/8 (0/8 indique un ciel dégagé)
by Dosch, Kevin
2000
Video | 00:32:00 | French spoken
A young couple is planning a ride through the country by car. Along the way the conversation between man and woman takes a drastic turn. She would like to have a baby. He absolutely refuses. To her a child is a wish-come-true. To him, it's a real nightmare. Tensions are rising between them when the Renault 4 won't start any longer…
Occupied
by Downsbrough, Peter
2000
35 mm - video | 00:18:37 | English spoken
The film is shot entirely within the site of the Cité Administrative in Brussels. In an interview during the early stages of this project, Peter Downsbrough said : 'I use film to introduce time within my observation. Its very unfolding makes film the ideal means to do this.' Rosselini underlined that 'something happens in film because of time, of the specific duration constructed by the film itself'. In his work 'Going Around The Corner Piece' Bruce Nauman, inspired by camera surveillance systems, produced a delayed image of the spectator going through the work. Peter Downsbrough's image reflects and leads us to construct a simultaneous recollection of the past, present and / or future existence of a multitude of successive propositions.
Quand on est amoureux, c'est merveilleux
by du Welz, Fabrice
1999
35 mm - video | 00:23:00 | French spoken
English subtitles available
Lara is a mentally and physically damaged woman. She lives on the top floor of a slum, hidden in the heart of a humid town. On the occasion of her 39th birthday, and to accommodate her loneliness she has a surprise in stall for herself: Joe, a stripper, comes to dance for her.
'Et c'est tout' répéta-t-elle
by Duclaux, Lise
1999-2000
CD-ROM
This CD-rom was realised after a stay in 'Chambre de séjour avec vue' in Saignon en Luberon, France. It contains four different sequences, the most important of which is the landscape. Furthermore: the pursuit, the car and the kiss. The images are shot in the environment of the village.
Personal Audience
by Eeman, Ezra
2000
Video | 00:07:00 | non spoken
Loop
This loop was based on a series of individually filmed video portraits, put together to resemble a fictional audience for real spaces (the side of the road, at the coast, …). Combining these independently filmed people generates a group that can hardly be called natural. Sometimes they seem to move and react together, at other times they revert to individual actions or engage themselves in apparent dialogues.
Underwood
by Evrard, David
1999
Super 8 - video | 00:03:00 | silent
Underwood was shot in France at the site of Caudies-de-Fenouilledes, where the artist developed (in collaboration with Simona Denicolai and Ivo Provoost) over a period of more than three years a project of architecture, urbanism and cinema. This film, made for the exhibition 'Underwood' at the Palais des Beaux Arts in Brussels, functions as the announcement of the ongoing interventions. The relation to S8mm and the black and white footage might recall the imaginary of colonial films, early ethnographic adventures. Evrard lies emphasis on the work that deals with 'the effect of announcement', the enunciation of a structure as part of a system of description.
Experimental Intermedia vzw
by Experimental Intermedia vzw
2000
www.experimentalintermedia.be
Since 1993 EI profiles itself as an artist's residence and a window gallery. At specific times the founders and co-ordinating artists - Phill Niblock, Maria Blondeel, Zjuul Devens, Ludo Engels and Lieve D'hondt – engage themselves to a wide variety of exhibition projects with national and international artists, often in collaboration with international artist's initiatives. The attention goes to art experiments in contemporary technology.
Plaisent aux dieux ces taciturnes qui serrent la vie entre leurs dents
by Eycken, Pieter
2000
Video | 00:11:40 | non spoken
A room. A man and a woman are eating silently at a table. This silence seems to hide an unspeakable desire. Slowly fissures come in to this ordinary ritual. Out their small hesitating gestures a dance arises. Sometimes we hear the broken voice of Alessandro Moreschi, an old record of 1910, the last castrato at the end of his career. This is a story without words about the impossibility to speak. How to escape out of this calm room? It's a silent film in a surreal visual language.
Compilatie-00
by Factor 44
2000
Video | 00:30:00 | Dutch spoken
An overview of Factor 44 activities - some limited elements of larger projects can be found. The intention is to keep this operation somewhat experimental, without overlooking the essence. This is not always as easy: the technical limitations shape these activities in a certain way.
Danse/ Dance dans F44
by Factor 44
2000
Video | 00:30:00 | Dutch spoken
Contemporary dance was not paid much attention until now in Factor 44. That's why a suggestion by Karin Vyncke fell in fertile ground. Along with Pè Vermeersch and VLK M? she brought a dance performance: three dancers working simultaneously in three different areas. This caused some confusion, but the element of surprise was even bigger because of it. It overruled the Factor prejudice that dance was something distant and unreachable. Out of pure enthusiasm the factorians joined in with these improvised 'essays', appropriate for later elaboration…
BruMM
by Feyfer, Frederick
1999-2000
CD-ROM
BruMM is a navigation interface of the city of Brussels, where the user can walk through the streets by keyboard navigation ('Pac man' style). While doing this, the user can observe his position in Brussels in a corresponding video-footage. On some locations the user can stop and watch video 'night-interface' and 'day –interface'.
Actions
by François, Michel
2000
CD-ROM
100 short moments, 100 video clips of human or natural actions, 100 instants of poetry, humour and beauty, celebrated in an interactive experience.
S.T.
by Gaillard, Frédéric
2000
Video | 00:05:44 | silent
Gaillard makes installations in which mechanical elements take up a central position. In doing this his videos enter into a dynamic dialogue. A porous stone is soaked with soap and brought to the mouth. With every sigh a beard starts to develop from the source.
S.T. (Parapluie fermé)
by Gaillard, Frédéric
2000
Video | 00:02:04 | non spoken
A closed umbrella in steel wool is hung up in space and lit. The glass wool consumes itself, stirred up by a hair-blower.
S.T. (Parapluie ouvert)
by Gaillard, Frédéric
2000
Video | 00:05:15 | non spoken
An open umbrella draped in steel wool is lying on the ground. The metal cloth is lit with the fire and slowly consumes itself. The fire spreads out over the whole surface, leaving a glowing constellation.
SLEEP (CLOSE-UP)
by Garcia, Dora
2000
Video | 00:15:00 | non spoken
Choreography of Sleep presents the contradiction of choreographing the unconscious, those movements realised while sleeping and therefore impossible to remember nor to repeat. By placing the camera at such a short distance of the performer, the viewer is confronted with an embarrassing proximity (breathing almost together with the female dancer) and nevertheless the impossibility to penetrate her thoughts or dreams at that moment, the same way as the dancer can't penetrate the white square on which she dances, falling repeatedly and violently on it. The work is presented as a video-projection, with a minimum projection width of 2 m., and a loud stereo sound.
The Tunnel People
by Garcia, Dora
2000
www.aleph-arts.org/art/tunnelpeople
In a space conquered by anatomical and geographical certainty, there is no room left for the souls. Souls have gone underground, one floor under reality. The internet site presents the fiction of The Tunnel People, the mysterious inhabitants of the city underground. It's a journey through dark windows, every path ultimately leading to a white exit, presenting an underground situation. Performances in Brussels, played twice a week by three actors in Tram 23 from North to South Station, aim at casting the shadow of a doubt among travellers: is the situation created by the three actors acceptable as reality? Or have passengers been caught unaware in a play of fiction?
New Wave
by Gélisse, Patricia, Deschuyteneer, Nicolas, Munos, Delphine & Stampfli, David
2000
Video | 00:09:00 | non spoken
Slow infiltration of an allotment.
Essayiste/Humain/Jésus et le premier ciel volant/Nomades/Su
by Gérard, Pierre
1999-2000
Audio CD
Bombyx
by Gérard, Pierre
2000
Video | 00:02:42 | non spoken
Loop
L'autre mois
by Gérard, Pierre
2000
Video | 00:03:13 | silent
The video and audio works of Pierre Gérard (aka Bob Clarisse for the audio works) are, just like his sculptures and paintings, an important part of his research. They're a bit like a remarkable conjugation of that research, and, at least as far as the videos are concerned, they are fully integrated in the surroundings and installations created by the artist. Shifts, manipulations of reality and fiction, weirdness: Pierre Gérard looks for subjective images that surpass their subject matter.
Leçon sur le son (sounding off about sound)
by Géronnez, Alain
2000
CD-ROM
101 sentences, texts or sound aphorisms: the voice, sounds, instruments, music, films, texts, languages, hi-fi,… These texts were written in French between 1996 and 2000, subsequently there affinities were translated into German, English, Spanish, Finnish, Italian, Dutch, Portuguese or Russian. They are pronounced in various languages, fragmentary in all of them. They are illustrated by image sequences, and a couple of soundtracks.
Plans fixes (Several Experiences)
by Gigounon, Bernard
2000
Video | 00:15:07 | French spoken
Several small histories, in which everyday gestures and situations are put on scene, linked together with pieces of string and wood. A vision of sculpture through images and the 'deceit' of images (magic?). A game on the visual and music, colour, depression, shape and foolishness.
Within my hand
by Gilboa, Michal
1999
Video | 00:05:00 | non spoken
Loop
Within my hand is a superposition of two images. First image is a person (a torso) dressed in a white skirt who makes gestures with the hands. The hands move, touch one another but never separate. The background image consists of branches of a tree, gently moving. The branches are superimposed on the body parts but not on the moving hands. There are city sounds in the background.
Man vs Concrete
by Gobyn, Luk
2000
Video | 00:13:00 | non spoken
For the opening of the SMAK in Ghent the artist Rik Soenen created the performance Man vs Concrete. He made a concrete pedestal and attacked it with a sledgehammer. In doing so he wanted to destroy the 'traditional', and also his own foundations (sometimes he stands on this pedestal). The film starts out with the stereotype of decelerating video images on classical music ('Stabat Mater' by Pergolesi) of Rik Soenen's act. The action is stopped by the ferocious sound of 'Body Count's in the house' by ICE-T. The stereotype is now ruptured and Rik Soenen can move freely through the masses of the museum.
Monsieur Jef Geys qui rit
by Godelaine, Inge
2000
Video | 00:18:00 | Dutch spoken
While the headstrong plastic artist Jef Geys is delivering a speech on the Belgian museum and arts policy, a small TV-set next to him shows close-ups of his artworks, his workshop, his kitchen… Part of a series 'LE PETIT MUSEE', showing national and international artists in their normal working environment.
Si j'avais 10 trous de cul
by Godin, Noel
2000
Video | 00:05:00 | French spoken
Because a seventy-year-old rebel mistakenly set free the great genie from Aladin's lamp, he is allowed to make ten wishes. He is located at the Place du Jeu De Balle in the Brussels' Marolles.
Anatomies
by Graeffly, Rohan
1999
Video | 00:09:35 | French spoken
The film is the itinerary of a camera over two quite different bodies, one of a woman (in herself she is life) and the other is lifeless. A discussion of time and non-time, which alone expresses life and its absence. This is where the camera shows its usefulness, it is impossible to express the time factor without it, unless in photography.
Les pas perdus
by Grandjean, Marjolaine
2000
Video | 00:26:00 | French spoken
The Brussels army museum is used as setting, a place where an ordinary fire extinguisher takes the shape of a canon or a gun, or where a drill turns into a machine gun. A place where memories fade, where the past is never quite the past, where we navigate with all our war images, highly manifested and cinematic in themselves, with the souvenirs of the Elder or simple children's games.
pdoa - public display of affection
by Graux, Guillaume
2000
Video | 00:24:00 | English spoken
A fragmented narrative about intimacy in private and public spaces in the contemporary city. Slowly the camera slides through a supermarket, a park, an apartment…
LOST NATION, January 1999
by Grimonprez, Johan
1999
Video | 00:15:00 | English spoken
The average American spends 5 years waiting in line, 2 years trying to reach people by telephone, 1 year searching for misplaced objects, 8 months opening junkmail and 6 months sitting at traffic lights. Part of the installation 'Lost Nation, a library' by Herman Asselberghs and Dieter Lesage. 'The COUGER MARCHING BAND' directed by David jr. Law Dianna Heddinger. 'WELCOME TO LOST NATION' by Jim Schroeder, Mayor of Lost Nation, Iowa.
1/2 Mensch
by Guido'Lu
1999
Video | 00:02:32 | non spoken
Close-up of a breast, heavy, tired, motionless, eye-catching… Beyond any doubt touched by the lips of an accomplice, the irregularly jolting breast is gradually embellished, masked, marked, and sealed with kisses. Because of this it gradually and inevitably turns red until the making-up/camouflage is completed… Sumptuous, illustrious, flamboyant, lifelike… A final slow-motion unveils a tranquil respiration. Real moments in unreal time.
Il suffit de tourner 7x
by Guido'Lu
2000
Video | 00:10:14 | silent
A chaotic succession and repetition of 7 sequences of varied length presented as tableaux in which the game of approaching between man and woman invariably ends in an embrace, loving, or violent at times, in surprise or out of love of teasing, culminating in the gluttony of a French kiss, alternatively situated in a variety of locations (tawdry backgrounds) and dressed in carnival attire.
Une minute d'artistes parce que
by Guido'Lu
2000
Video | 00:02:35 | non spoken
A speedy succession of images of various length of artist's mouths in close-up, passing from the sigh to the pout, from the kiss to the appeal, from sensual invitation to immobility, from onomatopoeia to a veritable scream of rage… (this video was realised within the framework of 'Brussels 2000 TELENICC', to be included in a programme that is offered to (inter)national television companies.)
De 'la Mosaïque Multicolore' à '30m2 de Peinture Blanche'
by Guillaume, Jean Lucien
2000
Video | 00:13:00 | non spoken
We view video-fragments of an urban art project which started in 1999 in the 'troublesome' quarter Anneessens in Brussels and takes of that part of the city that is a complete example of 'abrusselisation'. The moviemaker came up with the idea to make a fresco on the facade of a building. This multicoloured mosaic is composed of the census and a colour code for each age category of the quarter.
DEPARTEMENT DES LUNETTES. Section sanitaires
by Guillaume, Jean Lucien
1996-2000
Video | 00:05:00 | non spoken
A collector wanted to know how he could frame and protect his photogravures. The moviemaker proposed to use two toilet seats. It was meant as a joke, but the idea got a life of its own. Guillaume even tested it and was surprised to see it worked. In 1996 he playfully started a new industrial partnership based on the idea of the toilet seats. From the factory OLFA in the Ardennes to the Mecca of sanitary in Frankfurt, he presents some fragments of this work in progress.
Treize à la douzaine
by Guillaume, Jean Lucien
1984-2000
Video | 00:20:20 | non spoken
He presents a new compilation of claps, fixed camera images, sequences, short fictions, a stroboscopic series or simple videofragments.
Les mouches
by Guns, Patrick
2000
Video | 00:01:00 | non spoken
In the middle of space: the beast-with-three-backs. Caricature of human relations and passions. The colours do not mingle.
Autoportrait
by Hamaide, Stéphanie
1999
Video | 00:01:07 | non spoken
The teacher said: 'Today we will be making a self-portrait.' And he also said: 'That's an important topic in art history.' And he added: 'Did you ever hear about Rembrandt?' That evening, when I came home, I remembered that Rembrandt loved to draw windows. From time to time.
Expérience
by Hamaide, Stéphanie
1999
Video | 00:01:34 | non spoken
The teacher said: 'Today we are going to film a scientific experiment.' And he also said: 'Science, I'm fascinated by that!' And he added: 'How rigid!' That evening, when I came home, I went tot see my cousin, who is a ballistics expert.
La rencontre
by Hamaide, Stéphanie
1999
Video | 00:03:05 | non spoken
The teacher said: 'Today we will be making a video about an encounter.' And he also said: 'That's not an obvious assignment.' And he added: 'It's not a simple matter, this encounter.' That evening, when I came home, I tried to figure out why everybody keeps saying: It's not simple.
Maintenant
by Hamaide, Stéphanie
1999
Video | 00:01:04 | French spoken
The teacher said: 'Today we will be reflecting on the meaning of the word 'present.' And he also said: 'That's hard, because everything is moving so quickly these days.' And he added: 'What a chaos!' That evening, when I came home, I wanted to clean my room. I stumbled on a game of dice from my childhood, a time when I did not ask all these questions.
Une craie sur un tableau noir
by Hamaide, Stéphanie
1999
Video | 00:03:20 | non spoken
The teacher said: 'Today we will be making music with images.' And he also said: 'Ah, music.' And he added: 'Ah, Bach.' That evening, when I came home, I remembered that Bach had also been a teacher with some chalk in front of a blackboard.
A Coutaux tires me
by Hendrikx, Dirk
2000
Super 8 - video | 00:05:00 | silent
A man with two jungle knives in his hands performs a ritual dance. He breaks his way through a dense jungle, through life. A dance paying attention at tradition, shot on different locations and with movements that merge into each other.
Dimi Dium Me/Duet
by Hendrikx, Dirk
2000
Super 8 - video | 00:06:00 | silent
A tango, a love duet between a man and a woman shot in a ballroom. A duet wherein two people explore each other: repulsion, fear, desire, acceptance, love.
Shaman me
by Hendrikx, Dirk
2000
Super 8 - video | 00:10:00 | silent
A man seated on a chair does a meditative performance. Filmed on different locations. The same movement is retaken from one location to the other. Shaman me looks for a moment of rest in a too fast paced world.
Mitte und Ropa (Zwillingsschwestern)
by Huberlant, Renaud
2000
Video | 00:30:00 | non spoken
German and French titles
Ever since the German unification the centre of gravity in Europe shifted to the East, to MittelEuropa. New attitudes are taking shape who are leaning towards either archaism or cynicism. In former Eastern Germany the people that were once divided are now re-divided, this time there is an opposition between those who want to adapt and those who, mentally or ideologically, refuse to. These forms of attraction to and repulsion for the new socio-economical conditions are questioned, and treated metaphorically by simple gestures, firmly based in everyday reality, and conjugated in the female form: from fratricide to sororicide.
Mindspaces
by Hugo, Doctor
1995-2000
www.doctorhugo.org
We embark on a journey into Doctor Hugo's museum of mind. On the site we find digital art projects, like a simulation of the memory processes of the sleeping brain with sonic loops, flashbacks, music, sounds and voices. Doctor Hugo, Belgian new media artist and researcher introduces the new screen culture: early and recent net art, new media research and theory, fuzzy dreamz, post-ego, tele-synaesthesia, digima, miniDVD, netcetera,…
Post Ex Sub Dis
by Jacobs, Steven
2000
Video | 00:50:00 | English spoken
A compilation on urban fragmentation, making use of film classics. The attitude of Hollywood towards suburbs is shown in Suburbia Triumphant, the first part. In Mapping films are shown in which mapsand statistical data about the city and its inhabitants play a siginificant role. The third part highlights the theme of the empty or desolated city. Then we observe them from the air in Bird's-Eye View. Finally we ride through the streets in a car.
Les Enfants
by Jadin, Philippe
2000
Video | 00:12:00 | French spoken
'Dear parents, As you probably know our school organises a number of activities during the school year. Among them are: a carnival, a religious ceremony, puppet shows, games, making noise, handiwork… For this reason you are cordially invited to our open house, tomorrow at 3pm'.
Shopping Center Wijnegem, 2000
by Kempenaers, Jan
2000
Video | 00:30:00 | silent
A succession of stills relating to the Wijnegems Shoppingcenter (architecture as well as the situations that occur within). Jan Kempenaers objectifies the photographed image and approaches it with strict esthetical and technical rules. The world in his landscape pictures is a symphony of green and grey, a hybrid of idyll and concrete.
Strombeek, 2000
by Kempenaers, Jan
2000
Video | 00:50:00 | silent
An image of Strombeek through a large number of stills.
AUS / Schnitt
by Kosmopoulos, Kosmas
2000
Video | 00:40:00 | French spoken
AUS / Schnitt plays with some stereotyped ideas we have about life and death. It allows us to look at the surface of reality from different points of perception, and it invites the viewer to scratch this surface. It is a very intimate portrait of somebody living in a shadow world composed of images and words, where the borders between the cliché and the genuine permanently dissolve. AUS / Schnitt is based on a dance theatre performance by Susanne Mueller and Kosmopoulos. The soundtrack includes original music by Jalalu-Kalvert Nelson and a monologue written by Kai Pichmann.
The Swing
by Lafontaine, Marie-Jo
1999
Video | 00:10:00 | non spoken
A nine-minute black and white video about the state of being as embodied in little girls. The object used to do this a swing. It's a kinetic film that structures the time and movement of the swing against the rhythmic and arrhythmic movement of the bodies, treating the spectator as a voyeur confronted with these sequences of ecstasy, obsession, fear and silence. Between the different sequences breathing falters, images arise of a half-sleep, in which dreams and reality merge.
Contre la peur
by Laï, Tamara
2000
www.lettrea.com/contrelapeur
Fear is the most frequent reaction of man against what he considers as a threat (the unknown, the foreign, aggression, competition…), fear which causes such attitudes as cowardice, submission, silence, violence… and feelings of impotence, self-culpabilisation, frustration… On this site fear is the subject of illustrated texts, of animations, web objects and discussion spaces.
Corps absent
by Laï, Tamara
2000
www.users.skynet.be/thalamus/corpsabs/corps.htm
A multimedia installation and web-site with a theme of absence of the body in a virtual environment and, in a broader sense, the symbolism of the human body. A series of international artists answer the question: 'If it were possible to materialise a single body-part of your virtual correspondent, which would you pick?' The artists illustrate their answers with images and texts. The different body-parts can be assembled into an animated androïde of impossible moving shapes.
I am lies
by Laridon, Fjoor & Declerck, Lies
2000
Installation demo | 00:00:05 | Dutch spoken
Loop
The video-installation displays the impossibility of a strict separation between identity and alterity. On the stage of the ego, the prompter is the protagonist.
Que qui peut puisse
by Legrelle, Geoffrey
2000
Video | 00:52:00 | French and English spoken
On April 1st the first symfolium was opened in Montreal, a symposium that brought together crazy artists from various disciplines. They all were bound by the same liberating aspiration : committed art, resistance through the absurd, mediatic farce and burlesque terrorism. Montreal was also the place where the cake throwers stood trial. Noel Godin, an expert in the matter of ballistic pastry, appeared in court as a witness for the Court, he was also an honorary guest at the symfolium. With his accomplice Robert Dehoux he soon went from theory to practice.
Devoirs quotidiens
by Lennep, Jacques
1999-2000
CD-ROM
On 18th February 1996, Jacques Lennep started to keep a kind of diary, constituted of texts, drawings or photos on A4 sheets. To this day, this diary totals about 1.700 sheets. The whole lot is transcribed on CD-roms with a subject index, which enables an easy consultation but also establishes a statistical frequency of these subjects. An exhibition at the Botanique, from the 1st December 2000 to 7th January 2001 reassembles all these 'daily home-works'.
Hot Rats
by Leus, Bart
1997-2000
Video | 00:10:00 | non spoken
A short travel film on Spain and Morocco, along with a tiny bit France. This film is an experiment in impulsive shooting. What where his impressions on that trip? The result is Hot Rats, with music from Frank Zappa and Captain Beefheart.
Stolen Moment
by Libens, Daniel
1999-2000
Computer film | 00:06:00 | English spoken
Television sends us off to sleep with a soft erotic movie. Daniel Libens, however, offers us an alternative TV evening. With his computer he created the better late night show: a nature film, the weather forecast, a quiz and, as a clincher, Stolen Moment. Stolen Moment proposes a shooting script: it only gives text and sound.
Sculptures génétiques, remake 2000
by Lizène, Jacques
2000
Video | 00:03:00 | French spoken
Since 1971 Jacques Lizène wanders around in the world of genetic arts. He walks along various paths. Among others he composes genetic music sized to a person. This is realised by replacing the letters of his genetic code by musical notes. Nor does he avoid the mixing of artistic and cultural genres. The combination of an African artwork with a Greek sculpture, or a white face with a black one, is part of his work.
Basket match – Strombeek
by López-Menchero, Emilio
2000
Video | 00:10:42 | non spoken
It's by articulating collective memory and personal recollections that he intervenes in urban environment. The statute of the artist is the centrepoint of the debate. The cliché regularly helps him to create new rules for the game or to simply reveal those who exist in our daily life. A solo game of basket on the field of the town square at Strombeek.
Friterie (série): made in B. – B. by night – going to B. – B to me
by López-Menchero, Emilio
2000
Video | 00:18:50 | non spoken
A series of video sequences on Emilio López-Menchero's favourite chips shops. First presented at the Bergen 2000 'FOODART-PLACES IN BETWEEN' exhibition in Norway.
Hey! Het is… hm… dinges… Tarzan
by López-Menchero, Emilio
2000
Video | 00:10:00 | non spoken
Hey! Het is… hm… dinges… Tarzan gives an account of the intervention realised for the 'over the edges' exhibition by the S.M.A.K. in April 2000.
Pare-brises
by López-Menchero, Emilio
1999
Video | 00:02:00 | non spoken
A series of video sequences recorded at various locations, filmed with a steadycam through the windowpane of a stationary car. The sound mainly comes from the radio.
Vu'cumpra? Biennale de Venise 99
by López-Menchero, Emilio
1999
Video | 00:30:00 | non spoken
A report of a performance realised at the Venice Biennial in 1999 and the city of Venice. The title is a reference to the name the Venetians give to their street-sellers.
LUM Bruxel
by Lum (Christophe Terlinden, Henry Bounameaux - BOUNAMEAUX sprl, Chan Geeroms, Natalie Mertens & Frédéric Deswattines)
2000
Super 8 - video | 00:23:18 | French spokendirected by Louis Troberg, Vincent Pinckaers, François Pirotte, Leila Albayati & Uské
On a particular weekend of february three filmmakers have open space to cross Brussels in all parts and from bottom to top. During three nights they film the city, the light, the sound and 18 Brussels buildings. For all to see, absolutely.
G/G [Gottard-Godard]
by Luyten, Mark
2000
Video | 00:16:45 | non spoken
Marc Luyten takes us along on a drive through the Gottard tunnel. On resurfacing a truck of a firm called Godard passes by.
J'aimerais mieux pas
by M'nasari, Chade
2000
Video | 00:11:10 | non spoken
Chade M'nasari visited autistic children in order to get to know them better, to discover their universal sensitivities. This results in a series of portraits, recording the relations these children have with the world.
Now Here Nowhere
by Maes, Annemie
1999
16 mm - video | 00:04:00 | English spokenNOW HERE
NOWHERE
Figures of absence
tracing a
pattern
that is
never drawn
leaving reflections behind
no looking back
This is a last time
every moment
is filled with moving
moments out of time
some remain
some disappear.
The abstract and the real
they explain each other.
I feel like floating
I want to stay here forever
I feel "now"
a strange feeling
the silence
when all stops.
Holding the line
from one point to another
A to B turns into an unexpected journey
the tide of life.
Nothing can be said
nothing needs to be done
nothing is that simple
everybody has a new story to tell
there's something in the air calling
Here
Now Here
Sleeping
like the waves of the sea time covers me
set the course for the coming years
from Here
to Nowhere
Now, Here, Nowhere
Is een film die het "fin de siècle" – millennium gevoel tracht te vatten
Ophelia
by Maes, Annemie
2000
Super 8 - video | 00:02:30 | non spoken
The images are telling us the mad scene and the slow death of OPHELIA after she lost Hamlet's affection… They are filmed in a voyeuristic but poetic erotic way. He loved her. But not enough. His obsession with his father's death was more important. Her passion pounded against him like the waves against the cliffs and fell back, defeated. And so she died, her frail body too small to contain the heart within the heart she could not share with her beloved. With what she had within she could have shifted the stars, moved mountains, and parted seas… but she could not touch that one heart that would have meant the universe to her.
People database
by Maes, Annemie
2000
Video | 00:18:00 | English spoken
People Database is an interactive project that makes use of passport Polaroid backflaps gathered from all over the world. People can write a line next to the face of their choice: every picture evokes a memory, an impression, an emotion. Camouflaged by 'the glance of the Other' they reveal highly personal emotions. In this way the identity of the world we live in and the area of tension between public and private are investigated. The project encompasses installations at exhibitions, videos, newspapers, posters, lectures and a web-site (www.unamas-projects.org).
Derrière la porte d'Emilia Mirar
by Marenne, Karine
2000
Installation demo | 00:06:00 | French spoken
Loop
The work is part of a video installation consisting of a door, a Judas's eye and a monitor. It can only be seen through the Judas's eye (for the deformation !), placed in the middle of the screen. The video is divided in four sequences (the strip-tease, the passage, the mouth and the sea), separated by what is really happening behind the door. In doing this Marenne creates a game between fiction and reality. The deformation leads to something unreal, a dream.
La valise d'Emilia Mirar
by Marenne, Karine
2000
Video | 00:09:00 | French spoken
Loop
She walks around with a suitcase containing a camera, within reach at all times. Five minutes a day she films the people and the things that surround her, the varnishing days, from close by or from afar. Then comes the editing, with 9 minutes of absurd, banal and laughable voyeurism as result. After each sequence a sound announces the arrival of another event or another day. This film was combined with a fictitious character, mixing fiction with reality. This character is Emilia Mirar, security agent.
Marcia chocolat
by Marenne, Karine
2000
Video | 00:05:00 | non spoken
Life can be like a piece of chocolate (self-portrait).
Sage comme une image
by Marenne, Karine
1999
Video | 00:01:00 | non spoken
Loop
Karine Marenne appears in close-up. A sticking plaster keeps her mouth shut, serving as a screen for projected images. The film is an interpretation of a past situation. Her eyes look at us, we see her, but they do not see us. With soft, obsessive and repetitive music changes the situation and the images. Sometimes the arm of the record player gets to the end of the track and the needle shudders in the last tracks. Then the image comes to the foreground, and the atmosphere of the whole situation evokes a feeling of discomfort.
La maison de carton
by Martin, Isabelle
2000
Video | 00:13:00 | French spoken
'I not only had to pose before a Christmas crib like most children; I also posed before cottages, dolls houses, music box houses, lamp houses, cake houses, money-box houses and china houses.' In the same house, a mother wonders if she will eventually have a place of her own; a daughter sticks to her little world; a father is satisfied with building castles in the sand. But will they finally dare to leave?
Un et un à présent ça fait deux avant ça ne faisait qu'un
by Martin, Marie-France & Patricia
2000
Video | 00:04:46 | non spoken
Loop
The video is the result of a performance that took place during the exhibition 'DONNER CHAUD' in Antwerp. The title is a phrase from the novel 'Adam and Eve' by the Swiss author C.F. Ramuz. The video presents a scene in which four women –the artists included- pull stockings on and off one another, in an endless attempt to make a pair. The images are set in rhythm to excerpts from Helmut Oehring and Iris Ter Shiphorst's play 'PRAE-SENZ', performed by the Ictus company.
Le foot me passionne - Surface de réparation (I am a Foot 'Fun – I
am a
football fan)
by Mesmaeker, Jacqueline
2000
Video | 00:10:25 | non spoken
An incredible football match: two players are literally kicking next to the ball. The filmmaker recorded the players and the flying balls separately. She then joined the images and made them fit. This gives the film an air of documentary. Though she is creating a fake reality the game seems real: with a temporary effect one of the players makes a good shot.
Sans titre
by Mesmaeker, Jacqueline
1995-2000
Video | 00:02:30 | non spokenThe eye of the camera is focused on an industrial goods lift in a cold-storage room. We are moving up and down with the elevator on the rhythm of moaning metal. Daylight simultaneously appears and disappears, resulting in unexpected colour effects.
Des Faits et Des Gestes
by Messieurs Delmotte
2000
Installation demo | 00:10:30 | non spoken
Fragmented video installation, 2 tables mounted on a socle, wood, paint, flat screen monitors
Le Parapluie (The Umbrella) mm delmotte is crossing a shopping street, opens his umbrella and tosses it over his shoulder onto the street. The camera stays on the object, letting us admire the reactions of the passers-by. La Flottaison (The Float) mm delmotte (fully dressed) drifting away with the current of a river. L'Arbre – Ficelle (The Tree) mm delmotte holding on to a tree branch. The pulling force of this branch allows the protagonist to jump up feebly. Le Tas de Pierres (The Stones) mm delmotte slides, rolls, and tumbles around in a large heap of rocks. Le Veston dans l'Arbre (The Jacket) mm delmotte takes off his jacket and tosses it into a tree. Sous l'eau (Under Water) mm delmotte tries to get a grip on a rock under water, his face heading up stream. Parking d'Autoroute (Parking) mm delmotte runs along a motorway, and ends up in a collision with a traffic sign. Les pigeons dans ma Veste (The Pigeons (2)) mm delmotte unbuttons his jacket and suddenly opens it, which allows some pigeons to escape. La Clôture (Barbelés) (The Enclosure) mm delmotte climbs onto a barbed wire fence, tries to keep his balance, but ends up in a pasture. Les Jets de Galets (The Pebbles) mm delmotte filmed from the back, launches pebbles into the water of a river. La table de jardin (Garden Table) mm delmotte, hidden under a table (laid out for dinner), stands up and throws about the table. Courir autour et dedans les Vaches (The Cows) mm delmotte runs around amidst a herd of cows Les Poissons sautillants (Jumpy Fish) mm delmotte pushes along a carp until it reaches a pond. Le Lancer de la Poule avec la Bouche (Red Chickens) mm delmotte tosses around chestnut chickens with his mouth.
Flying Chickens
by Messieurs Delmotte
2000
Installation demo | non spoken
Fragmented video installation, 2 tables mounted on a socle, wood, paint, flat screen monitors
Les Poules volantes (Flying Chickens) (1998) With a chicken in each hand the protagonist is launching himself off a sloping surface. The flight ends in a tumble, pulling along the two Galliformes. Voiture ! (1999) mm delmotte sitting on the hood of a car, every now and again it brakes, forcing the protagonist into a pirouette. Some incidental actors appear into the sequences, creating a confusion between reality and fiction. Pas en arrière (Steps backwards) (2000) mm delmotte dashes forward and then backwards again in order to throw herself into a pond. Les Feuilles mortes (The Leaves) (1999) The protagonist is cycling in the street. He slows down with his right foot, scraping on the dead leaves along the kerb. Collecting a small heap of leaves he comes to a halt. SAPIN ! (1999) In a public park the protagonist approaches a pine with a small ladder. He unfolds it, takes a run up, and jumps into a tree, desperately trying to clench on to it. Le Ballon (1999) The protagonist tries to keep his balance standing on a beach ball. After several falls without any success the exploding of the ball ends the sequence. L'Echelle (The Ladder) (2000) With his head between two rungs mm delmotte tries to balance a ladder. Tête De Seau (Buckethead) (2000) mm delmotte makes a somersault, tumbles in a bucket of water with his head, and ends up on his behind, totally soaked, with a bucket for headwear. Vélo (Bike) (2000) mm delmotte jumps onto his riding bike. The bicycle rolls on for a couple of more meters (without a cyclist), and ends up on the road. Arbre-Front (The Front) (2000) mm delmotte balances stiff as a rod, on the tips of his toes, with his forehead leaned into a tree. Le Banc (The Bench) (2000) mm delmotte lying under a bench. Suddenly he rises, making the piece garden furniture turn over.
Methareana (video shift)
by Meunier, Olivier
2000
Video | 00:09:30 | non spoken
On the occasion of an Artem concert organised in the Brussels space 'Les Tanneurs' Meunier was asked to accompany an acousmatic musical piece with videotape. The movements, the sonorities and the crossover character of the tape allowed him to explore the video image from a more abstracted point-of-view. The video makes use of the urban background, of the night, as primary matter, like a painter uses colour, effectively merging with the music, yet simultaneously keeping some space to himself.
Europa von weltem
by Meyer, Eva & Schaerf, Eran
1999
Video | 01:13:00 | German spoken
Through a number of conversations Europa von weitem relates the Levantine projection of Europe as it is found in the book by Jacqueline Kahanoff 'Vom Osten das Licht' to other projections inside the continents as well as outside them. While the conversations take place the mobile character of the projections transcends their search for a location and unfolds the inherent capacity of the projection surface to record distinctive projections. Sometimes it is a ghostlike whisper during an exhibition on Coptic art in Paris, sometimes a world exhibition, which, between the protection of our country borders and the technological crossing of borders, marks the start of a future Europe. Image and sound abandon their role as a carrier of identity in order to become the publicitary media that commercialise their projections.
ArteKino
by Michiels, Inez
1999
CD-ROM
ArteKino is an experiment in sound, colour and movement. The work is based on a study of contrasts, for instance contrasts in sound, such as high or low pitch, or in posture like bent or stretched limbs. These distinguishing features were systematically compared with each other. By means of the genetic code the material was divided into eight groups. The experiment was first performed live at the Fnac-Forum, Antwerp, Belgium in January 1999 in co-operation with the dancer Veerle Bakelants.
Muzikaal experiment Kuifje
by Michiels, Inez
2000
CD-ROM
A fragment from the adventures of Tintin (Hergé), 'The Crab With The Golden Claws'decoded and transformed into music. Keywords that are related with the characters and what they go through are decoded with the help of the Semantic Lexicon (F. Alpaerts) and transformed into sound and music via the synesthetic table. The characters and their feelings are represented in the colour of the sound (Tintin has a high pitch guitar string sound), the environment of the characters is reflected in melody (rhythm and tone). Although the structure of the music is mathematically built, and in spite of the limited quality of the used instruments, the applications show a remarkable similarity between what you see and what you hear. The experiment was first performed live at Literair Café Den Hopsack, Antwerp, Belgium, in November 1993.
Symbotrom
by Michiels, Inez
1999
CD-ROM
Symbols evoke an atmosphere, colours intensify that atmosphere: each year again white snow on green pine-trees with red balls evokes a feeling of Christmas. Symbotron is an attempt to incite emotions. The project consists of a poster and 8 interactive 2D-animations. Symbotron is based on a comprehensive and elaborated classification (Semantic lexicon, F. Alpaerts). The symbols intensify the meaning of eight basic colours: blue, black, green, purple, orange, red, white and yellow. The programme shows eight animated groups of symbols. Symbols with a strongly related meaning and with the same colour fade into each other. The programme allows the user to combine the animations freely and play them simultaneously. The poster shows 8x8 colour combinations and combinations of symbols that form 64 emotions (words).
CHAT BOX
by Mirtl, Walter
2000
Installation demo | Different languages spoken
Loop
The installation evokes the moments missed in the course of the continuous flux of information and images and shall also put in question the wish to communicate. Ten people of different origin tell us a story in their mother-tongue. The installation consists of three video-players and three monitors. Each unit presents another person's image and story. Whilst the stories are continuously and simultaneously told, the monitors show the images of the speakers during a very short instant. The blank screen leads via the oversupply of information and the people's stories to one single question: which is these people's origin?
Poem for Gertrude Stein
by Morel, Julie
2000
Super 8 - video | 00:03:30 | silent
Somebody is rubbing his eyes and his glasses fall down. This gesture causes some images to appear, fragile and furtive, without really knowing which temporality they can be related to. The gesture is repeated, becoming the physical sign of the brain activity: a memory in constant tension between a reinvented past and a future one is forced to imagine. From the reading of these texts by Gertrude Stein the will arises to make use of repetition without having to call upon the looping of a sequence. The gesture repeats itself, yet it never returns to its original starting point.
32 Vlaamse kortfilms
by Morrens, Peter
2000
Video | 00:10:00 | English spoken
Film becomes drawing becomes film.
91.arrêter de penser (catalogus+CD)
by Morrens, Peter
1999
CD-ROM
On the CD (more specifically tracks 8 to 12) we hear the collaboration between Peter Morrens and the composers Jerome Noetinger and Lionel Marchetti. The starting-point was 'De Les, 91 pogingen om te werken' by Peter Morrens, a serious as well as hilaric enumeration of all the verb forms an artist uses on a regular basis (see catalogue g2). The CD and the catalogue are part of the intermedia project AO3, that occurred in 1999 in Vienna: for the period of one month visual artists improvised together with musicians.
Dans le brouillard (Blurred)
by Moulin, Olivier
2000
Video | 00:08:05 | French spoken
In his pocket, a black hole where his keys made 'big-bang' while walking.
Rage dedans
by Moulin, Olivier
1999
Video | 00:09:30 | French spoken
When the turtle became unbearable, he gave it a sheet and it dreamt up lies.
'Les reste ici' - 11 visages - 11 histoires
by Moulin, Stéphane
2000
Video | 00:24:00 | French spoken
Les reste ici: All those little things we keep of someone. All those little things which make them alive.
Au coeur de la ville
by Moury, Jean-Sébastien
2000
Video | 00:07:00 | silent
A day in his life in the heart of an unreal town of an imagined microcosm… the boredom of a person in a simulated, recreated world… while this one is subjected to the course of time.
Yoyo
by Moury, Jean-Sébastien
1999
Video | 00:08:00 | non spoken
Yoyo is a self-portrait occurring in a station in Spain. The artist, insensitive to his environment, is playing with his yo-yo. Passers-by are sometimes curious, at times uninterested. The object, going up and going down, seems to reflect the rhythm of life… In Spanish, yoyo means: 'me me'.
Dogma Machine
by Mwe-Di-Malila, Lionel & Lazare, Roger
2000
Video | 00:17:00 | French spoken
The making of the first African Dogma film, realised by the Belgian coast side. A portrait of a young megalomaniac video artist: Roger Lazare.
Pool
by Nys, Sophie
2000
Video | 00:10:00 | silent
A swimming pool study of space, lines, distance, direction and speed.
Video Show I
by Nys, Sophie
1999
Video | 00:08:00 | silent
Video Show II
by Nys, Sophie
1999
Video | 00:06:47 | silent
A series of images with a regular interval. The images emphasise the seductiveness of the formal in our surroundings. Our gaze is focussed on lines, planes, textures, surfaces and colours.
Video Show III
by Nys, Sophie
2000
Video | 00:05:00 | silent
A third video-show with nightly recordings of trees, shown with regular intervals.
Video Show IV
by Nys, Sophie
1999
Video | 00:05:06 | silent
A series of images with a regular interval. The images emphasise the seductiveness of the formal in our surroundings. Our gaze is focussed on lines, planes, textures, surfaces and colours.
Disparue
by Nölle, Annick
2000
Video | 00:05:00 | non spokenA phantom dancing in a bar.
Compilatie – selectie videowerk 1996 – 2000
by Op de Beeck, Hans
2000
Video | 00:30:00 | non spoken
Hans Op De Beeck describes himself as a multidisciplinary artist. Apart from autonomous video work, sculptural installations and photo series, he regularly combines monumental elements with video projections or video screens. These combined installations are not on the compilation tape. It just offers a selection of video fragments.
Situatie
by Op de Beeck, Hans
2000
Video | 00:08:00 | silent
A moving camera takes us along an endless row of cash registers in a desolate supermarket. The cashiers are waiting behind their empty desks and it's quiet as a mouse… The contrast between the inert location on the one side, chaotic and lively in normal circumstances, and the moving camera on the other, makes this absurd sequence into a kind of dream image. This is opposed to the realism of the setting, the cashiers, the colours and the typical, hardly aesthetic lighting. The result is a perceptual maze, a strange mix of absurdity, realism, sociological aspects and an intriguing rhythm of the image.
Time takes a cigarette
by Op de Beeck, Hans
2000
Video | 00:08:00 | non spoken
Time takes a cigarette offers a voyeuristic perspective on an older man, who is sitting in his kitchen. The man, surrounded by a biotope of small objects, is staring aimlessly. Only the cigarette smoke, the ticking of the wall clock and the slightly pallid sound of a transistor radio inject this image with time. We see a 'live' photograph, in which the man is perhaps mainly portrayed by the setting and the props. The spectator needs the duration of a single cigarette to uncover the underlying stories.
Document for the right to the everyday
by Pacquée, Ria
1999
Video | 00:30:00 | non spoken
This is a recording of a performance, a protest by the faceless, anonymous artist, in the city of Ghent, in reaction to the position she finds herself in, due to the attitudes of the state toward artists in general and to herself in particular.
Back from Cambrai
by Parouty, Antoine
2000
Video | 00:19:00 | French spoken
Ben is enlisted by the French State to go to Cambrai for military aptitude tests. In order to pass his aptitude tests he takes an attitude of inaptitude. The director followed him on this mission to Cambrai. The shooting had an intimate side to it, there was only Ben, the camera and Antoine Parouty. The scenes are often face-to-face. The film is the portrait of a friend, but the subject, Ben, is trying to be an other person than the director knows.
Une cicatrice derrière la tête
by Parouty, Antoine
2000
16 mm - video | 00:20:00 | French spoken
Super 8 - video
After a first trip to Mali, Antoine Parouty returns to make a film there. He shows images of travel memories: passing landscapes and the portrait of a woman he met on his first trip.
Panique à la cuisine
by Patar, Vincent & Aubier, Stéphane
2000
Video | 00:04:00 | French spoken
Horse has prepared cake - he places it in the fridge to eat the next morning - Cowboy and Indian like to eat right a way - Horse does not agree... A 3D animation.
Lettre d'un cinéaste à sa fille
by Pauwels, Eric
2000
16 mm - video | 00:50:00 | French spoken
Lettre d'un cinéaste à sa fille ('letter from a filmmaker to his daughter') is a playful, free and personal film in the form of a letter, a film interwoven with a thousand stories knit together with different textures, a book of images where a filmmaker shows the images and the stories he wants to share.
Esprit de bière
by Pazienza, Claudio
2000
35 mm - video | 00:52:00 | French and Italian spoken
English subtitles available
Inside of you, beer gets transformed and it transforms you on its turn. It creates tiny utopian ideas, all night long. In a way, it also typifies the strange relations you've got with things, with the world around you: you drink it without really knowing what's inside it and what it is. Esprit de bière is a kind of attempt on an archaeological liquid. It makes its own investigation around this golden drink, as a police officer would do around some trivial event. Beer is first analysed as a matter (real, chemical, physical,…). Then its own cycle will be carefully studied. The Cycles remind us that even beer can be a matter to think about.
1995-1999 (New York – Paris – Venise)
by Penders, Anne
2000
Video | 00:08:00 | French spoken
Through still images (about fifty prints and B/W slides) this film tells us the story of a city, perhaps even several cities, perhaps as a metaphor. He alludes to feudalism and the intimacy of staying there, he recognises the memory of the location and of the people that live there. A sense of movement arises out of the sound (an off-voice addressing an interlocutor, rhythmically guided by station noises or a background musical), as well as out of the narrative content. Ideally the full title (New York-Paris-Venise) should not be discovered until the very end, as a surprise to the audience, casting the shadow of a doubt on what he saw. (Paris? Venice? The sound, coming from New York, leads us to believe that the images were shot in the same city.) All sound recordings and pictures were taken in subways, trains and boats leading from the centre to the airport.
Wandeling rond het huis
by Penninckx, Lucia
1999-2000
Video | 00:20:00 | non spokenFrom P. P. Pasolini's 'Theorama' Lucia Penninckx takes the theme of the angel whose presence makes people act beyond their conscious awareness. The angel is embodied by a child, the public takes the parts of the characters in the novels. The artist combines this theme with the importance of the setting for the story. The house, centrally situated on an island in a lake, is surrounded by a couple of villages who want to make their location known by the chiming of bells. The child walks around the house, the constant repetition of this image wakes up a sense of infinity in the viewer.
Street Vibrations
by Pereira Eires, Joaquim
2000
Video | 00:23:00 | non spoken
A ride through the Antwerp streets, filmed with a camera fixed on a wheelchair (78cm high) and turned 45º to the right. As a result: a constant registration of the different visual elements that are situated at this height. The speed at which the 'camera bearer' moves around plays a significant part in this. At the same time all the bumps in the road will also automatically be transmitted to the camera.
Autostrade
by Persyn, Veerle
2000
Video | 00:03:20 | non spoken
Passing street lights gradually become more abstract, fading into light flashes letting the viewer dream away and gently rock in a repetitive movement.
Wachten op de trein in India
by Persyn, Veerle
2000
Video | 00:03:00 | non spoken
The artist tries to catch the atmosphere in a Indian station. It's about time, the clock is ticking and nobody seems to care; but once the train is entering, there isn't time enough, everybody rushes.
Untitled
by PHYLLOXERA Performance: Walter Mirtl, Beatrix Fife & Maroru Katagiri
2000
Video | 00:12:00 | non spoken
Poetical reflection of a city – in this case, it's Brussels, but it could be anywhere. The city – presented through three persons of different language and expression.
Eurovision
by Piccinato, Enzo
2000
Video | 00:17:00 | French spoken
This video film presents the artist's attempts to take part in the Eurovision Song Contest.
Dissolve of sorrow
by Piccu, Lynn
1999
Video | 00:30:00 | non spoken
Dissolve of sorrow shows a slowly changing green-and-white image, in which we perceive a landscape after some time. The rugged granularity of the image creates the illusion that shapes are melted together into pixels. The image does not allow itself to be caught by this, escaping conventional ways of perceiving a landscape.
Untitled
by Piccu, Lynn
2000
Video | 02:00:00 | Dutch spoken
Starting point is the tension that may arise because of the confrontation of a common situation. By forcing the spectator to face the tiny actions of some characters in an observed space, he is confronted with superficiality, emptiness and rigidity in which these characters are caught. The long duration of this recording and the loud music mix accompanying the image, enforce this feeling of suffocation.
ktron website
by Reggers, Steve
2000
www.ktron.t2u.com
The story of a firm on the planet Quork in the Zok system, the employees (totalling 202) are all cloned in the legendary brain tissue remains found by Bobby Fuck, repo agent, in 2113. Is Ktron Inc a concoction by an alienated screen potato, a humoristic SF story or a real company, striving for world domination? Steve Reggers assembles his site like a comic strip. Design comes first: in essence the web-site should become a portfolio.
mr8bit screensaver
by Reggers, Steve
2000
When making a gameboy-stylee video clip for electro artist Thee Vaporizer, this screensaver was derived from the clip for web-based promotion.
PICTURE START
by Reuzé, Sébastien
1998
Super 8 - video | 00:08:00 | non spoken
Picture start is a contemplative movie on the encounter of two people in New York. It shows the essential part of the individual imaginary and of a sensual approach of life. The scenery and its discovery constitutes a metaphor for the birth of a great love, we as spectators witness all that. This film is to be understood and appreciated with pictures that introduce the different characters.
Dicht
by Robijns, Gert
2000
16 mm - video | 00:02:45 | silent
Gert Robijns filmed an apartment. His recording was projected in real size on its walls. Between the rooms are projection screens, cut up to fly curtains. Every now and again an inhabitant walks from one room to the other. The resulting environment is neither a reconstruction or a magical scenario, it's a pictorial doppelganger; film as wallpaper, each detail of which makes the mechanical film transport unstable. The whole is intangible, and realises itself in slow motion as a souvenir.
CAMPOS SAGRADOS
by Rosell Abear, Lazara
2000
16 mm - video | 00:28:00 | Dutch spoken
A mixed cinematic triptych that shows the extent of migration in all its means of expression. Migration as escapism, as a lure from a specific environment, and as a single source of creativity in art, as a systematic shift of boundaries.
YU-'TREKT'
by Rosell Abear, Lazara
2000
16 mm - video | 00:37:00 | Dutch spoken
This documentary drama about six youngsters living in digs in the city of Utrecht who are maintaining the illusion that they aren't bored. In a direct as well as an abstract manner the future migration of these young adolescents is brought to the surface. Gradually the real lead character of this film becomes apparent: the city of Utrecht itself, pulling at the characters until reality gets through to them again.
Furor Teutonicus
by Rousseau, Jean-jacques
1999
16 mm - video | 00:26:00 | French spoken
Furor Teutonicus is Jean-Jacques Rousseau's new epic achievement. This 'Hainaut Ed Wood' has to be the most long in the tooth cinematic artist on the near side of the Atlantic Ocean. Since 1976 this man his been making films of variable length, with esoteric connotations, with actors and actresses that were recruited in bistros, asylums or prison's exits. He never makes a public appearance without a hood (out of fear of aliens who might – understandably - rob his soul). In short, more than a film this is a spiritual experience that just might damage your mental health.
A-Z ohne 1+1
by Ruegg, Ilona
2000
Audio CD | 00:24:39
A continuous text consisting of titles out of the Library of Contemporary Art in Leipzig, is spoken once by a woman and a child, and once by a man and the woman. The titles remain in their archival alphabetical order, however they seem to drift away from this system through alternation of the voices and repetition. They open associations on different levels, within and beyond their original field. On the basis of an endless text which came about through an endless process of art production, language provokes a negation and opening of this context. It may produce a double-filling of the situation without saturation and a shifting sense without adding something to the existing signifying elements.
Slow motion
by Ruegg, Ilona
2000
Video | 00:01:00 | non spoken
For one minute the screen is lit in the same grey of the television when it is not lit. A child reads the titles of the daily ongoing program. The slow-motion is provoked on two levels: the real ongoing program is interrupted and indeed delayed through the text production of the child, which is delivered with precipitation and 'slow-motion' due to the incapacity of the child's giving meaning to the titles.
Some moving things
by Ruegg, Ilona
1999
Audio CD | 00:12:00
A man and a woman talk about some objects and the way they respectively used them. Both talk in the language of the others origin, using similar sentence structures, but adopting them for different objects. In a second part both give in their mother-tongue approximate indications about some clear locations and some statements about uncertain locations. As the talking goes on, the delivery of the speakers drifts away from the original sentences by their own choice, though they constantly use the same words.
Klaprozen
by Saman, Geert
2000
Video | 00:04:30 | non spoken
Klaprozen (poppies) takes place in the Cartoon's cinema. Two people come in and wait for the film to start, the beginning of an interaction between man and woman. The images, made from a photographic point-of-view, does not adhere to a strict story-line. The story arises more out of the imagination of the spectator. In order to stimulate audience participation no dialogues are used. The images, as well as image and sound end up playing a game with each other.
Entropy8Zuper!
by Samyn, Michaël & Harvey, Auriae
1999-ongoing
www.entropy8zuper.org
Entropy8Zuper! is committed to delivering full-blown interactive multimedia to the web. The network is a social place. A place where people live and love and cry and play. Entropy8Zuper! makes digital environments for people: emotional, engaging, entertaining. Information technology is not the future. We are.
Green stress
by Schillings, Paul
2000
Video | 00:09:25 | non spoken
Sure, there is the rage of the daisies, the disillusionment of the sunflower, the furor of the petunia, the seclusion of the tulip, the concentration of thoughts, the alienation of geraniums, but also the urbanism of the flowerbeds, the solitude of the flowerpot, the revolt of the weeds, the delinquency of the dandelion, the paranoia of the lawn, the integration of the flower-box, the bonsaisation of green spaces, without mentioning the castration of the hedges and the trampling of flower-plots. In short, a landscaped urban bureau of botany, a fiction created with muck-racking journalism.
If (n)ever there was will be
by Serneels, Stefan
1999
Video | 00:10:00 | non spoken
Loop
A mechanically controlled brush is making circles in the sand: Serneels is following it around, and sometimes it threatens to overtake him. The brush erases his footsteps. The whole is presented as a video installation: the circulating brush and a monitor with images of the artist running behind it. The work was realised in an unfinished basement of a building on the former Antwerp Hippodrome grounds.
Pieces of Barcelona
by Sessa, Alberta
2000
Super 8 - video | 00:03:30 | non spoken
Walks around a city; movement, people. A variety of moving and motionless objects. The gaze tries to catch up with what the city has to offer but the perspective is constantly crossed by passers-by, from left to right and right to left. For a moment they're caught in the frame, a moment later they continue their journey and life outside the frame. Their permanent route, horizontally, vertically and diagonally, becomes an obsession.
Un échange d'air 1999-2000
by Skivée, Laurence
1999-2000
Video | 00:32:00 | French spoken
A series of small moments catch our attention. The camera blows bubbles, stares at a lizard, films an echogram, scrutinises a microscope…
Sad Disco Fantasia
by Steve Reinke
2001
Betacam SP | 00:24:00 | Betacam SP spoken
Which gives the piggy bank more pleasure: the insertion of individual coins
into the little slotted notch in its head or the unplugging of the round hole
in its bottom that lets them all drop out? Or possibly the slow build of
weight and pressure as the coins collect in the huge, hollow gut.
The making of… 'James Ensor'
by Straetling, Chris, Factor 44 & Bijl, Guillaume
2000
Video | 01:00:00 | Dutch spoken
A reportage of the shooting of the 'Ensor' fragment exhibited recently in the 'Mouvements' show (KMSK / NICC) by Guillaume Bijl. Recorded while shooting in Ostend in April 00, it runs more or less 'in'-congruently with the actual film, due to the fact that the cameraman in this case was also taking part in the 'fragment' as an actor… it can be seen as a 'souvenir / home-movie', 'reportage brut / cinéma vérité' or 'hand-held archive / behind-the-scenes peek' style document… even more interesting would be to place the rough-cut of 'camera I' and this film (camera II) next to each other simultaneously…
Flaques
by Struyf, Jean-Louis
2000
Video | 00:17:00 | non spoken
Performer Aï Suzuki is moving around on water surfaces. Struyf recorded her rambu-performances on film. This documentary is also part of Pascal Baes' installation for the 'Non-Lieux'-project.
Histoires de terre
by Suermondt, Robert
2000
Video | 00:05:10 | non spoken
354 villas and other constructions, 1365 holiday makers parade past on screen, framing themselves as manyvisual and acoustic signs.
I've been here before
by Suermondt, Robert
2000
Video | 00:05:00 | English spoken
Two women are speaking, their movements coincide with the intonation of the song 'I've been here before', the song of which Borges (in his foreword 'L'invention Moaral' by Bioy Casares) attributes the parenthood to the pre-Raphaelistic English painter Dantes Gabriel Rossetti.
L'orchestration hermétique d'un Instrument-Relais
by Tardif, Aurélie
2000
Video | 00:15:00 | silent
This animation is situated on some kind of fake TV set. Three characters, a scientist, a young reporter and a presenter, introduce a 'relaxation device' and have a debate on it.
Sweet Voodoo
by Taxi Val Mentek (Scherrer, Dominik & Hefti, Christoph)
1999
Video | 00:02:41 | non spoken
The pop-duo makes use of collage to give new meaning to clippings from mail-order catalogues, lifestyle magazines and postcards. The result is a surreal, colourful animation film, which takes the viewer along on a trip through a dream world. A terrible gang of toothbrushes attacks the duo in their dreams. When they wake up it turns out that this strange world took over their apartment.
Une minute d'artiste
by TELENICC
Video | 00:48:00
Compilation
The rising trend to use audio-visual techniques in contemporary art inspired NICC Television. This alternative TV station wants to create a stage to artists before a wider audience by snatching airtime in the existing media landscape. The first project, TELENICC 1, assigned the artists to make one-minute works. These were sampled in between existing shows on the TV stations. NICC television purposes to acquire a certain regularity in the broadcasting of this new art form.
Jacqueline Mesmaeker (2x1'), Berend Hoekstra (1'), Emilio Lopez Menchero (1'), Filip Francis (1'), Laone Dos Santos Lopes (1'), Laurent Point (1'), Patrick Guns (2x1'), Anna Krimerman (1'), Michal Gilboa (1'), Michael Dans (1'), Gwendoline Robin (1'), Lieve D'hondt (1'), Jonas Wille (1'), Bruno Wajskop (1'), Jacques Lizène (1'), Guido'Lu (1'), Tamara Laï (1'), Carina Gosselé (1'), Delia Duna (1'), Leónidas Martín (1'), Wendelien van Oldenborgh (1'), Pierre Clemens (1'), Guillaume Bijl (1'), Sophie Whettnall (1'), Michal Bentovim (1'), Ariel Yannay (1'), Lennaart van Oldenborgh (1'), Delphine Charrueau (1'), Koen Theys (1'), Dimitri Van Grunderbeek (1'), Claudia Radulescu (1'), Peter Lagast (1'), Maria Blondeel (1'), Maria-Julia Bollansée (1'), Peter Schoutsen (1'), Dominique Van de Vorst (1'), Philippe Tonnard (1'), Ben Dierckx (3x1'), Cyril Verrier (2x1'), Marco Poloni (1'), Frédéric Tolmatcheff (1'), Mikael Crest (1'), Jean Lucien Guillaume (1')
Allez les mauves
by Theys, Hans
1993-2000
Video | 00:02:00 | non spoken
The movie shows a sculpture made by the artist Damien De Lepeleire.
De sprekende koffiepot
by Theys, Hans
1999
Video | 00:13:00 | Dutch spoken
The movie shows a boy of six trying to 'read' a cartoon.
Garage Furka
by Theys, Hans
1990-2000
Video | 00:22:00 | non spoken
The movie shows the Belgian artist Panamarenko working on his flying car 'K2 Flying Jungle and Mountain Machine', which has been exhibited at the IXth Documenta in Kassel.
Op stap met Luc Deleu. Aflevering 1. Jimi in Vip-city
by Theys, Hans
1999
Video | 00:50:00 | Dutch spoken
'Op stap met Luc Deleu' is the story of the construction of a building in the Rotterdam area. For two years this filmmaker followed all persons who were involved (either closely or from afar) in the realisation of this building. It also offers an oversight of Deleu's other activities, next to being an architect he is also a famous plastic artist.
Op stap met Luc
Aflevering 4. Dirk & Dany
Deleu.
by Theys, Hans
2000
Video | 00:37:00 | Dutch and French spoken
'Op stap met Luc Deleu' is the story of the construction of a building in the Rotterdam area. For two years this filmmaker followed all persons who were involved (either closely or from afar) in the realisation of this building. It also offers an oversight of Deleu's other activities, next to being an architect he is also a famous plastic artist.
Pixie
by Theys, Hans
2000
Video | 00:07:00 | non spoken
The movie shows a pixie.
The Portuguese Man of War
by Theys, Hans
1990-2000
Video | 00:07:34 | Dutch spoken
The movie shows Panamarenko and Bedrich Eisenhoet trying out a diving suit in the Indian Ocean.
sans titre (de l'installation ADOstories)
by Thirion, Dominique
2000
Video | 00:09:15 | French spoken
Malicious chaos and joyous battle… A tumultuous and mischievous game without losers is created as a context to catch adolescent faces. The natural beauty of their gestures and expressions does not stop impressing us… This video is part of an installation 'ADOstories', in which it is shown as a loop together with a series of adolescent self-portraits (drawings and paintings).
(e)spaces(1)
by Thomaes, Monique
1999-2000
Video | 00:19:30 | silent
The video work of Monique Thomaes can be considered as an observation of/and reaction on spaces/light/time/movement. Meditative, slow, poetical works alternate with works that use-or abuse-editing techniques, in which image and sound are converted into dynamic choreography. This work shows a filmed space, lighting up and disappearing within a certain time period. The minimal shifts in time and light tax the patience of the spectator: the shifts can only be observed if you spend enough time in these (real and projected) 'spaces'.
a capella
by Thomaes, Monique
1999
Video | 00:08:40 | non spoken
A group of talking and playing children is on a visit to the museum. Images and sound were manipulated into a rhythmical choral dance and then reduced into the acoustic signals appearing on an oscilloscopic display.
Blue Motion
by Thomaes, Monique
2000
Video | 00:09:30 | silent
A meditative submersion in space and colour in a fluid rhythm.
De L'Eau
by Thomaes, Monique
2000
Video | 00:02:40 | non spoken
A short observation converted into euphoria of colour and manipulated rhythm.
femmes/messages/femmes
by Thomaes, Monique
1998-1999
Video | 00:14:00 | silent
In this video installation French adjectives describing female characteristics merge into one another on several monitors in rhythmic intervals. The concentrated sequence clarifies the image behind the inventory of words. Inevitably the consequence of these pithy stereotypes is a critical and alienated distance.
flux (2)
by Thomaes, Monique
1999
Video | 00:04:00 | non spoken
An observation of water in close-up, edited as an explosion and reduced to its oscilloscopic signals.
midi
by Thomaes, Monique
1999
Video | 00:05:00 | non spoken
For this work people were filmed in a sunny situation, on top of this she made use of over-exposure. The film was manipulated through reduction and repetition of their movements. For the first time people are recognisable AND made into actors. The situation, the location, the action are kept unspecific. A dramatic story? Again image and sound define the rhythm.
still/search/still
by Thomaes, Monique
1998-2000
Video | 00:09:20 | non spoken
The subject is a guard, turning his face from left to right in one minute. In the video making use of slow motion stretches the movement out. First his face is divided into small parts, then the slowly moving image tries to reunite these parts.
Eyes wide opened
by Thomas, Ivan
2000
Video | 00:07:00 | English spoken
…I only have one eye, you probably have two but it does not matter. The cat has two. He looks at you, You look at him. The cat looks at me, you don't see me. Forget me. Just look at the cat. What is he thinking about? What could he be thinking about?… Look carefully in his eyes… Very carefully… Let yourself dive in his eyes… Maybe you have seen something? Maybe you think you have seen something? Is the cat thinking about what you believe you have seen? Maybe you think he is thinking about that. Maybe I want you to think he is thinking about that… Are you sure you have seen something in his eyes?… Maybe the cat makes you think about that… Maybe… it's just a bird's nightmare… Ideally this video should be shown on a big screen.
Parallellogram
by Thys, Harald & De Gruyter, Jos
1999
Video | 00:20:00 | non spoken
A parallelogram is a deformed rectangle. Its two oblique sides look as if they are about to collapse but the other two stop that from happening. This fixed state of collapse applies to the characters in the minimalist video Parallelogram –they fall down on their horizontal foundation because the structure to which they subscribe, their family, is a deformed plane. Lost, they try to communicate or avoid one another, using a language of impenetrable banality. This oblique structure is their mental space, in which the characters slip into each other.
sans titre X
by Timmermans, Reggy
2000
Video | 00:10:00 | non spoken
Sans titre X was conceived as a 'sampling', a heterogeneous whole of images and practices that arose from or were inspired by television syntax techniques. The images are derived from a variety of sources: television documents, personal videos, experiments and images from the TELENICC-project (which confronts artists with televisual space).
Wayn Storm
by Traub, Wayn
2000
Video | 00:52:00 | French spoken
This multimedia theatrical performances is made up for 70% by the video sequence. The characters are standing on scene, as a scenery to the performance and the video. The piece is a story about a soldier who wants to crown himself an emperor, and to this purpose he drums up an army of the most beautiful women in the world. The video shows his quest and his encounters with these women. Once they have been selected, they also appear on scene.
L'homme qui compte ou Ferraris étude
by Tuerlinckx, Joëlle
1997-2000
Video | 00:38:19 | non spoken
This film takes as a setting the Ferraris administrative building, the Ministry of the Flemish Community. An actor, dressed in a grey suit and a tie, mingles with this background. He is equipped with some white-painted sticks, and for several days his assignment is to count everything he points at with his sticks: people and objects, different items in the canteen, countless records,… All of this during office hours, which means his activities, will cross with the activities of the personnel. All these calculations result in a film of 40 sequences, lasting several hours in the full version.
My Beautiful Astronaut
by Van Campenhout, Ophelia
1999
Video | 00:05:45 | French spoken
A movie in three parts with a recurring feeling of detachment. At first, mathematical reflection in image and sound of a morning ritual in a living room, in which the previous moment can always be seen as a shadow. Then, a second image, in which organised chaos and noise take control. The samples of body parts, cut off at the screen's edges, ultimately bring us to the final redemption: freedom and volatility, the feeling of an astronaut in an endless space.
Notebook
by Van Cutsem, Philippe
1998-2000
Video | 01:00:00 | non spoken
Making a video with the clear absence of a project. Does this mean absence of hope, expectations, and future projections? No, rather being in the here and now, and living life to the full. In fact it is an improvisation. Certain plans have a degree of consistency, which allows them to become a movie, something autonomous. Other plans are to be found in the notebook. Moving from one thing to the next s more important than the things themselves. In short, a movement that disperses everything.
Tryptique portugais
by Van Cutsem, Philippe
1999
Video | 00:13:30 | non spoken
Making a video with the clear absence of a project. Does this mean absence of hope, expectations, and future projections? No, rather being in the here and now, and living life to the full. In fact it is an improvisation. Certain plans have a degree of consistency, which allows them to become a movie, something autonomous. Other plans are to be found in the notebook. Moving from one thing to the next s more important than the things themselves. In short, a movement that disperses everything.
Video Multum in Parvo
by Van Cutsem, Philippe
1998-1999
Video | 00:01:35 | non spoken
Video Multum in Parvo was recorded during the elaboration of 'Multum in Parvo' by Pierre Droulers. This exceptional project intended to gather a large number of dancers, birds of various feathers, 24 on the whole, to work together. During a 3 month period the director observed everything that happened in this microcosm environment. This is not a dance video, however, nor is it a video on the development of a performance. The dance itself only comes in second place. His interest is caught by something else entirely: the form of the film as the result of a slow process of sedimentation.
La Sortie
by Van Den Broeck, Hans
1999
Video | 00:15:00 | non spoken
La Sortie treats the claustrophobia of a waiting room, where people are whiling away time. The 'Exit' light is burning, but this does not really imply that there is a way out. Eight characters are looking for a gateway to another existence for themselves. This video short was based on the theatrical dance play with the same name, and was filmed during various performances at the Paris Theatre de la Bastille. The editing and the creation were a process in themselves, without being tributary to the actual scene.
Our circumscribed days
by Van Den Broeck, Hans
2000
Video | 01:16:00 | Russian spoken
In 1999 Hans Van Den Broeck made this rhythmical portrait of Moscow. He did not focus on the real Moscow, but rather on the myth of the metropolitan city, with its inhabitants as actors. He wanted to capture the Russian spirit, in all its absurdity. Conflict situations, incongruities, funny or absurd situations, however minimal, drew his attention. He acted as a voyeur: in public places he set up his tripod and zoomed in from afar on the events. His recurring source of inspiration was the literature of Daniel Charms, more specifically the short stories, which were written in a highly rhythmical yet almost conjuring style.
Site, een topografisch portret
by Van Dienderen, An
2000
Video | 00:09:00 | French spoken
What's identity? To what extent does the origin determine the work of an artist? An Van Dienderen analyses the matter by means of a visual anthropological portrait of José Besprovany. This choreographer of Mexican-Jewish-Slavic origins tests out his multiple identity through the personal trajectory of his work. The mechanism of cultural exclusion proves to be active in the arts as well. Besprovany delivered works according to the current forms in order to find a link with the existing art scene, thereby ignoring his own, rich cultural background.
Insomnia
by Van Dijk, Bart
1999
Video | 00:02:00 | non spoken
Loop
A lamb of around one month old plays the lead in Insomnia. The animal holds the position it is put in precisely. Bart Van Dijk took short snapshots of the lamb, each time in another posture, and juxtaposed these. The result was an animation-like effect, and a remedy for insomnia.
On, on, on… Jamafaïdo
by Van Dingenen, Filip
2000
Video | 00:04:59 | English spoken
A man in a costume with a suitcase steps into sea at dusk. As he disappears into the water, the sun is shining above him like an aura. The scene is inspired on the work 'Window' by the romantic painter Kaspar Friedrich. On, on, on, … Jamaïfado was a projection on wall 8m wide. Along with a wine sprinkling fountain and bubble-blowing lo-fi beach cabin it constitutes the installation 'Wie gaat er mee naar cocagne' (Who will come with me to cocagne ?)
Sleep out
by Van Doren, Kaat & Van Den Berghe, Dorothée
2000
Video | 00:30:00 | French and English spoken
A portrait of Brussels as a metropolitan city of passage, with the hotel as a place of encounter and confrontation, of arrival, stay and departure. They picked the perspective of a Brussels' chambermaid, often migrated herself. She enters the intimate world of the traveller, and gathers the tracks he leaves behind in his room. Through her personal story and her own reality Kaat and Dorothée want to paint a picture of Brussels' versatility. This portrait was realised as a video installation with a large number of photos with linking texts.
Boom ophalen/Buigende bomen/Standbeeld/Voeten
by Van Gestel, Kristof
1998-1999
Super 8 - video | 00:04:00 | non spoken
The four works arose in the period between 1998-2000. Dancing feet, the bowing of two trees, the raising of a tree with a piece of rope, these are simple actions Kristof Van Gestel records on video. The film is the only tangible remainder of the action, thus acquiring the status of an artefact. Here video serves the purpose of interpretation, of a manipulated action.
'Even Geduld…'
by Van Ingelgom, Ignace
2000
Video | 02:00:00
Dutch text
With the video 'Even Geduld…'('Intermission') the filmmaker aims to: - create an expectation - cause an interruption, camouflaged by music - delay people's looking (slow attention) - visualise the concepts of time and waiting - stage a universal living room engage in an interactive viewing and listening experience with the visitor.
Gelieve niet op het kunstgras te lopen!
by Van Ingelgom, Ignace
1999-2000
Video | 02:00:00
Dutch text
This video and installation 'Gelieve niet op het Kunstgras te lopen!'('Please do not step on the Artificial Turf') can be read as -a visual and spatial pictogram - an artwork (installation) that determines the space and environment - a conceptual painting ('Le déjeuner sur l'herbe'remixed) - a caricature of 1), 2), and 3) (a caricaturist is a practice-based thinker). This video and installation is about such concepts as re-mixed media (artificial turf versus video), the sacred and the banal, irony and earnestness, putting people to the test, Real and Fake, and 'PLEASE DO NOT TOUCH'notices.
Achterover
by Van Kerckhoven, Anne-Mie
1999-2000
Computer film | 00:05:00 | non spoken
A woman on her knees surrenders and leans over backward. Changes in colour and abstract shapes reflect her hysterical thoughts or monologue extérieur. The changes in colour also refer to past phases in the history of art. The sound material consists of recorded noises from the workspace of the artist and of distorted music of Anton Webern.
Still live (Perdre un peu de temps)
by Van Obberghen, Vanessa
1999
Video | 01:00:00 | non spoken
Vanessa Van Obberghen shows a still life on a tiny LCD-screen, nothing seems to change about it. Every moment seems similar to the previous one and the next, like a kind of waiting for something that does not come. Time passes and gradually small changes become apparent, events in the margin. These tiny interruptions of the image do not offer a story line or a sense of direction to the sequence, and they do not allow the spectator to localise the image in time and space. This leaves him frustrated.
Bewegend portret – installatie
by Van Riel, Els
2000
Installation demo | 00:13:00 | non spoken
Moving portrait / Installation is a result in the research on portrait making as a view on reality. In her search for the authentic human being in relation to its image, Els Van Riel explores the borders between image and reality, fake and real. 15 filmed portraits of anonymous people doing nothing in particular constitute the installation. People eat, sleep, read. The portraits are filmed in a very simple way, a strict frame and a strict design. The looping 16mm films are not edited, they are shown from beginning to end, and again, simultaneous next to each other. Out of this juxtaposed projection appears a 3-dimensional, filmed parallel world in which incidental communication becomes unpredictable and ever changing.
Inasmuch
by Vandekeybus, Wim
2000
16 mm - video | 00:14:26 | non spoken
In a waiting room a few characters are attending their own birth and death.
"14 minutes" / "Your present – my movement of absence ou comment transformer l'odeur en mémoire."
by Vanden Abeele, Maarten
2000
Video | 00:14:00 | non spoken
Two cameras are rendering two versions of a happening during an exhibition opening at the MUKHA.
Sur le désir
by Vanden Abeele, Maarten
2000
Video | 00:47:13 | English spoken
A man and a woman in a Paris apartment in November 1998.
Operatie consumptie/Operation consumption
by Vandenbergh, Kim
2000
Video | 00:17:00 | Dutch spoken
It's better to regret something you have done, than to regret something you haven't done. Especially when you ever get to spend a night in the Palace of Primary Needs: a supermarket.
B000
by Vandeput, Bart
2000
CD-ROM
A poetic and 'aerial' approach to the city: a navigation through tree tops and tips, clocks and antennas, the world of the birds and the wind, a scarcely visible texture over the city.
no title (not even no title 1)
by Vandeputte, Stijn
1999
Video | 00:13:00 | non spoken
It's based on desolated places and disabled people. It's an atmosphere that isn't created to please, although it might. It was meant to be its own universe. The music guides you through a range of images that become more and more distorted, it is a natural electrical disfunction, no computer generated effects.
Tijdigheid
by Vanderbeke, Katrien
2000
Video | 00:06:00 | silent
Loop
If there is a movement or a change, time can be perceived. But does time always need to go towards to the future?
Les soeurs lumière
by Vanderborght, Karen
2000
Video | 00:27:13 | English spoken
Coming out of the fascination by astronomy, close encounters of the third kind and the brightly lit highways of Belgium, Les Soeurs Lumière has scripted a fable about light and its mysteries. Two friends, Stella and Lucia, who know each other only through their correspondence, are separated by death. Lucia, the surviving friend, drives off at night, heading for Belgium, searching for her friend's angel which should have become Lucia's guardian angel. With an empty heart, she drives, accompanied by strange light phenomena around her to find a light and enlightenment of her loss.
A day at the European Parliament
by Vanderstichelen, Loïc
2000
CD-ROM
A day at the European Parliament allows the spectator to watch 102 video sequences that were registered on 27 March 2000 in the seat of the European Parliament. The CD-rom proposes 3 possibilities of navigation: by image, by duration, build-up and number of the file and through the means of a 3D representation of the Parliament. The guidelines concerning these registrations did not allow recordings higher up than the 7th floor, all checking points, restaurants, cafeterias and other rooms were reserved to the functionaries.
'11-juli'
by Vanhoe, Reinhaart
2000
Video | 00:06:00 | English and Dutch spoken
If something needs to be commemorated or celebrated, than we should do that, no matter where we are at the time. Because of today's internationalisation identities either fade away or mutate. An establishment takes place.
Les déplacements sans raisons
by Vee, Stephan
2000
Video | 00:05:00 | non spoken
Across the vagueness we are a 'before', and we are an 'undefinable afterwards.' We are constantly situated in a moving 'one-two'. We are moving, therefore we are changing. And the gages, the boundaries are diluting: body and matter, attraction and representation… everything is confused.
Fourche (Discord)
by Verhaeghe, Ria
1999
Video | 00:15:00 | non spoken
A collection of newspaper pictures, showing a discord in the background, was digitally transformed into a slow gesture, accompanied by the rhythm and sound of two tuning forks.
Diachroon landschap
by Vermeir, Katleen
2000
Video | 00:30:00 | silent
In rural scenery of fields and pastures a figure is strewing around chalk, thus 'drawing' large, white lines. These lines span the whole surroundings, and reflect the past, as well as future, layouts of paths and pastures. They alter the composition of the landscape in reality and on video. The passing of time is indicated by the time necessary to make the drawing, watch the video, AND by the ever changing game light, wind and water, unexpected events and the growing, weeding and harvesting of the crops. Surprisingly enough these images seem to be stilled landscape paintings.
Hortus conclusus
by Vermeir, Katleen
2000
Video | 00:30:00 | silent
The blueprint of the buildings and gardens of the former Groenendaal convent are 're-drawn' onto the original site at the Zonienwoud. From a bird's-eye perspective the images reflect how the drawing takes shape by the strewing of chalk lines. The different layers of the convent's history, the way it looks now and the plans for its future are written one through the other, resulting in a timescape. Architecture and gardens are intertwined, they constitute a time diagram, a manifestation of unlimited possibilities.
Document F098
by Vidéoconférence
2000
16 mm - video | 00:07:50 | Russian spoken
Vidéoconférence is a research team made up of video makers and historians. Their purpose is the recovery, restoration and display of documents that link up poetical truth with beauty. Document F098 is the last reel of rushes shot by a Russian journalist during autumn/winter of 1942. It was dug up from Soviet archives in the summer of 1998, then to be restored and subtitled.
Flowering wound
by Wachtelaer, Geert
2000
Video | 00:32:15 | non spoken
The world as a perpetual motion machine, while humanity is fading away. A constant repetition of images provokes a conflict situation. The maker conceived this work as an installation: two images projected onto two screens. In the centre of the space a metal globe is turning around its axis.
Sweet intoxication
by Wachtelaer, Geert
2000
Video | 00:08:00 | non spoken
Sweet Intoxication is about failure, about loving each other like in sexuality. An attempt to explore gender & sexuality, which is doomed to fail.
Chico Salvak
by Watelet, Marilyn & Zaleski, Szymon
2000
Video | 00:59:00 | French spoken
Dutch subtitles available
Marilyn Watelet and Szymon Zaleski take a look at the interviews D'ici et là-bas. 'These people and their lives touch us', explains Marilyn. 'They share the fact that they where born elsewhere, but each has his own intuition and experiences. These vary from one generation to the next. These were interviews with individuals. We would like to create conversations between them, let them breathe freely in the open air in Brussels. I have the feeling that Brussels is a privileged place in which to 'be', wherever you come from. Rather than being a servant to French culture, the town is close to Germany and England. To live in the heart of it is to come into daily contact with other cultures and communities. This town makes me fantasise – in the positive sense of the word.
Man
by Weinberger, Daniel
2000
Video | 01:00:00 | non spoken
Everything white – too much light Man laughs – wears pig jewel – man does not laugh 3x Man smokes cigarette – wears 7 abortus jewels Man eats 2 litres of ice cream – wears Walter Van Beirendonck jewel Man drinks 5 litres of champagne – wears 20 boomerang jewels Man wears aids jewel.
Corniche
by Whettnal, Sophie
1999
Video | 00:01:00 | non spoken
Loop
This video consists of a succession of still images. The camera goes through a distance X and ends in a manner decomposing mouvement and image.
Course
by Whettnal, Sophie
2000
Video | 00:08:00 | non spoken
The moving camera tries to catch a scene taking place on the bank: a boy running behind the donkey which his brother and father are sitting on.
Circumscriptions
by Wishart, Stevie & DiLillo, Lisa
2000
Video | 00:05:30 | non spoken
Video and sound are everywhere. But DiLillo and Wishart play one against the other - video with its soundtrack, concert with images, silent film, and EScape to find what's in between. They perform live, mixing and processing in real-time - playing pre-produced pieces and impulsive improvisations. The piece Circumscriptions is a music and video mix that enlists the circle as a template and access point to probe the concepts of perception, image making, and collective memory. The circle sometimes is a metaphor for the viewfinder and at other times a tunnel-like vehicle transmitting ancient texts and icons. The sounds are played on the hurdygurdy, the player turning the wheel which makes the strings vibrate against the circular bow. Images splatter out rhythms, sounds colour the drama of the image. Wishart's hurdygurdy is played raw and medieval. Her sampled beat patterning, live-signal processing, and vocals then infiltrate the string timbres. Or she moves into purely digital zones mixing, processing, and spacially playing sounds as backgrounds/foregrounds to DiLillo's escapades of blinking video-cutups and image sensations.
La vie est un amalgame d'impressions
by Yespers, Yo
2000
Super 8 - video | 00:20:00 | non spoken
A profetical film evoking the state of things. The film consists of 3 chapters, and tries to prove the contrary of the title.
- Golf-/ - Wave-
by Zaman, Fanny
2000
Video | silent
Loop
A moment disappears in time never to come back. The video-installations of Fanny Zaman try to visualise moments. In these installations they are eternally repeated. At times his repetition is nervous and obsessive because it doesn't seem to be able to catch the moment. Then it is tranquillising, melting together with the moment in a kind of trance. To Zaman the human subject and the moment are two inseparable issues. Mankind is the basic theme of her video work. Pushed to the side, into the background, partly or scarcely visible, her subjects never loose their central focus, it even strengthens their position. The themes are universal and timeless: waiting, standing up, looking up... They are moments in between, like the instant between sitting and standing, an unconscious moment. Zaman calls these "potential moments". To her these moments are the most interesting and she tries to capture them. A person on the beach stops to stare at the repetition of the waves. Still images are juxtaposed, a mechanical process through which every movement is (merely) suggested.
- Stoelen - / - Binaire beweging-
by Zaman, Fanny
2000
Video | silent
Loop
Chairs – a projection showing a group of chairs standing under a tree. The image does not stop shaking. Binary motion- a woman appears as she stands up. These works are projected next to one another, completing each other. This combination (constant and suddenly simultaneous) meets the jumping eye of the spectator.
-Luchthal-/-Airlounge-
by Zaman, Fanny
2000
Video | non spoken
In the hall of an airport several people are discovered, going on with and consumed by their own business. This projection should be shown as large as possible: it is spatial, rare and silent.
-Try out / Moving Image –
by Zaman, Fanny
2000
Video | silent
The camera is aimed at a fragment of somebody who is undressing. The image is abstracted because of the detail, but the familiar gesture can still be recognised. Two still images are digitally edited into a movement: a person who is looking up.
Gesprek in de ruimte
by Zaman, Fanny
2000
Video | non spoken
Loop
The projection is about presence, being present, taking action… or almost? Rhythm and sound set the tone.
Ce tant bizarre monsieur Rops
by Zéno, Thierry
2000
Video | 00:56:00 | French spoken
Through various letters by painter and engraver Félicien Rops and fragments from the book Camille Lemonnier devoted to him, we penetrate the artist's work: an often gruesome, at times amused account of 19th century morals.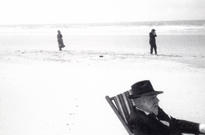 Wed 15.11.2000 - Sun 19.11.2000

Practical info

Location:
argos

Opening hours:

Entrance fee:

Artists