NAM JUNE PAIK - SATELLITE TELECASTS
SCREENING - ÉCRAN D'ART
Good morning Mr. Orwell: 1984, 38', video, colour, English & French with English subtitles
Documenta 6 Satellite Telecast: 1977, 30', video, colour, English & German with English subtitles
Nam June Paik (1932-2006) is seen as the inventor of video art. In the spirit of the Fluxus movement, he sought to connect art with everyday life. In his installations, monitors, video players and televisions play a major role in a characteristic mix of art, entertainment and trans-culturalism.
Good morning Mr. Orwell is an edited version of a video installation that Paik completed on New Year's Day, 1984. Refuting the anti-utopian vision in George Orwell's 1984, he created satellite connections between the United States, France and Germany. The event was broadcast on American public television and was seen by 25 million viewers worldwide.
During Documenta 6, in 1977, artists presented their first live, international television broadcast. The Documenta 6 Satellite Telecast included performances by Nam June Paik, Charlotte Moorman, Joseph Beuys and Douglas Davis, and was broadcast in more than 25 countries. This Ecran d'Art is introduced by Jochen Saueracker, who for 20 years was Nam June Paik's assistant at the Düsseldorf Art Academy.
The Ecran d'Art series is a monthly screening of artists' film and/or video jointly organised by argos and Cinema Arenberg, in collaboration with La Cambre Academy.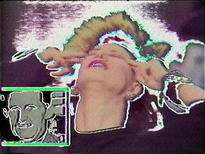 Thu 12.6.2008
21:30 - 21:30
Practical info

Location:
Cinéma Arenberg
Koninginnegalerij 26
1000 Brussel

Entrance fee:
8 / 6,6 Euro

Artists