XXXIII BIENNALE INTERNAZIONALE D'ARTE VENEZIA (1966)
In 1966 the thirty-third edition of the Venice Biennial took place, with the participation of artists such as Henri-Etienne Martin, Lucio Fontana, Robert Jacobsen and Roy Lichtenstein—all of whom appear in this creative documentary that was originally intended for television. Jef Cornelis and his team visited the most important international art event some days before the official opening, when only the press and VIPs are allowed in at the exhibitions and in the national pavilions.
Cornelis portrays the goings-on at these previews: the public parades in designer outfit through the exhibition halls, while in some pavilions the last details are being finished. At the same time he illustrates and analyses with a sense of humour some of the mechanisms of the contemporary art world. And sometimes he goes rather far in this. "Rumour has it that everything is decided at that very moment," he claims, suggesting that the money prizes for the artists are decided by a small in-crowd, and not by the official jury. But there follows no answer as to whether this is true or not. We hear a variety of different opinions about contemporary art and the art scene of that time. "L'art est terminé," Lucio Fontana claims.
Even by Cornelis' usual standards, 'XXXIII Biennale internazionale d'arte Venezia (1966)' is a particularly ironic report. "Indeed the crisis continues, but the show must go on," the voice-over comments.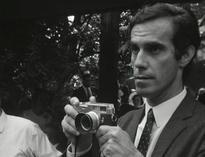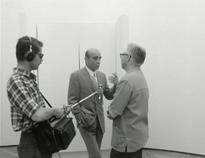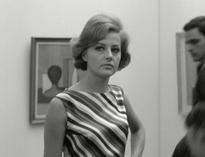 Format 16mm(16 mm.)
Color b&w
Year 1966
Duration 00:24:11
Languageinfo
Subtitles: English UK
Spoken: Dutch/ Flemish, German, Italian, English US, French, English UK

Artists

EVENTS