MARIAGE D'ART ET ENTREPRISE
A recording of the performace written and directed by Benoît Eugene and Angel Vergara in collaboration with the collective plus tôt te laat (camera & editing) during the Lille 2004 festival. Art and Entrepreneurship are getting married by Europe (Imbal Yalon). Attending the ceremony are Industry and Insurance Institute, father and mother respectively of Entrepreneurship. A European flag is draped over the altar, referring to the financial benefits accruing from being the European cultural capital, and to Euralille, Lille's new commercial center. Running through the performance are images of the newlywed couple, reposing in a park or in the shopping centers and streets of the city. The actual performance in the church consists of lectures by the Divine Market. He is reading 'Aux Bourgeois' by Charles Baudelaire, a text dating from 1 May 1846.

Le Mariage d'Art et Entreprise (2004)
An intervention by Bendy Glu and Straatman in the frame of Lille 2004.

Venue :
Maison folie (Tourcoing) - Chapelle d'Havré in the frame of the exhibition Amicalement vôtre (Musée des Beaux Arts de Tourcoing, Lilles, France).

With :
The Goddess Europe : Inbal Yalon;
Art : Angel Vergara;
Entrepreneurship : Benoît Eugène;
Singer : Laone Lopes;
Mrs Insurance Institute : Marie-Jo Caraggi-L'Hostis;
Mrs Fine Arts : Laetitia Yalon M.;
Industry : Izzy Weisman;
Witness 1 : Cecil Ameil;
Witness 2 : Bernard Mulliez;
Shooting : PTTL (Nadine Abril, Marc Meert, Emmanuel Tête);
and the students of ERSEP (École régionale supérieure d'expression plastique, Tourcoing).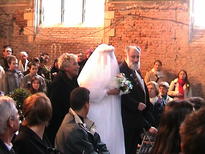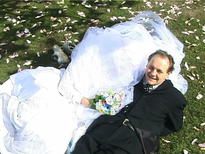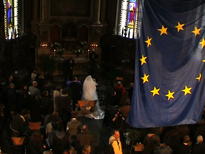 Format miniDV(miniDV)
Color system PAL
Color col.
Year 2004
Duration 00:20:27
Languageinfo
Spoken: French

Artists