JAN VROMMAN - HET MUSEUM VAN HET LOKALE EN HET UNIVERSELE
ARTIST PRESENTATION - LECTURE
20.03.2019 – 18:30 & 20:00 - Lecture in Dutch.
On the occasion of the exhibition Poetas sin alfabeto, Jan Vromman is investigating the uncertainty of man (and artist) about his existence. In that respect, all of us seem to be poets without an alphabet, searching for language to generate meaning. A lecture will produce texts and images that attempt to express this train of thought. Texts will be pronounced but also projected 'as they are being written'. They will be interspersed with imagery from Vromman's rich archive. Vromman is supposed to master the arts of language and writing, but it will become clear that he does not. In the end, we look at existence and the future just like a poet, painter or composer might as they stand before a landscape with ruins: impotent and filled with doubts. In this lecture, characters progressively become 'poets without an alphabet'.
This lecture is a collaboration with PERFORMATIK 2019. The exhibition Poetas sin alfabeto is part of Jan Vromman's doctoral research at the VUB and the RITCS. Vromman will defend his PhD in the Arts in the spring of 2019.
Related events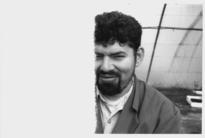 Wed 20.3.2019
18:30 - 21:00
Practical info

Argos
Werfstraat 13 rue du Chantier
1000 Brussels
info@argosarts.org
+32 2 229 00 03

Opening hours:
Wednesday to Sunday, 11:00 to 18:00

NEW: Open late night until 21:00 every first Wednesday of the month - Free entrance all day!

Entrance Tickets:
6 € Individual visitor

4 € Students, seniors (+60), unemployed

1,25€ Ticket Article 27

0 € -18, teacher, ICOM card members, press, IKT members, SUBBACULTCHA members

NB: The entrance ticket is a personal pass that gives you unlimited access to the exhibition.

Artists