MUSEUM NIGHT FEVER 2019
PERFORMANCE - SCREENING - SPECIAL EVENT
MUSEUM NIGHT FEVER !
Are you ready for an evening full of discoveries? Argos together with 29 other cultural venues in Brussels and 1000 young talents invite you to an unforgettable experience. Check the program !
Êtes-vous prêt pour une soirée pleine de découvertes ? Argos ainsi que 29 autres lieux culturels à Bruxelles et 1000 jeunes talents vous invitent à une expérience inoubliable. Regardez le programme !
Bent u klaar voor een avond vol ontdekkingen? Argos nodigt u samen met 29 andere culturele locaties in Brussel en 1000 jonge talenten uit voor een onvergetelijke ervaring. Bekijk zeker het volledige programma!
********* FR
Au programme :
FotoFabriekFysiek (un projet mené par un groupe de jeunes de Brusselse Jeugdhuizen)
Inspirés par la thématique du portrait illustrée dans l'exposition "Look at Me", les jeunes de Brusselse Jeugdhuizen ont préparé une série d'interventions artistiques. Ce soir, leur talent s'exprimera à travers un projet multidisciplinaire unique intitulé FotoFabriekFysiek. Du selfie à l'autoportrait, des guides audio au silent disco, et bien plus encore : plein les yeux, plein les oreilles.
+ Visites guidées en trois langues : 19:30 FR / 20:30 NL / 21:30 EN
- Exposition « Poetas sin Alfabeto » de Jan Vromman et Vincent Dunoyer
- Exposition « Look at me »
+ Bar & bio snacks !
********* NL
Op het programma :
FotoFabriekFysiek (een project van jongeren uit Brusselse Jeugdhuizen)
Geïnspireerd door het portretthema van de tentoonstelling Look at Me, bereidden de jongeren van de Brusselse Jeugdhuizen een reeks artistieke interventies voor. Tijdens de avond komt hun talent tot uiting in het unieke multidisciplinaire project FotoFabriekFysiek. Van selfie tot zelfportret, van audiogids tot stille disco, en nog zoveel meer: eye- en ear opening!
+ Rondleidingen in 3 talen : 19:30 FR / 20:30 NL / 21:30 EN
- Tentoonstelling « Poetas sin Alfabeto » van Jan Vromman en Vincent Dunoyer
- Tentoonstelling « Look at me »
+ Bar & bio snacks !
********* EN
Program :
FotoFabriekFysiek ( a project by youngsters from Brusselse Jeugdhuizen
Inspired by the theme of the portrait illustrated in the exhibition Look at Me, young people from Brusselse Jeugdhuizen (Brussels youth centres) have prepared a series of artistic interventions. This evening their talent will be expressed through a unique multidisciplinary project called FotoFabriekFysiek. From the selfie to the self-portrait, from audioguides to the silent disco, and much more besides: plenty for your eyes and ears to absorb.
+ Guided Tours : 19:30 FR / 20:30 NL / 21:30 EN
- Exhibition « Poetas sin Alfabeto » by Jan Vromman and Vincent Dunoyer
- Exhibition "Look at me"
+ Bar & bio snacks
INFO :
FR /
https://www.museumnightfever.be/fr/musees/argos/
NL/
https://www.museumnightfever.be/nl/musees/argos/
EN
https://www.museumnightfever.be/en/musees/argos/
👉 https://www.museumnightfever.be/en/tickets/
Related events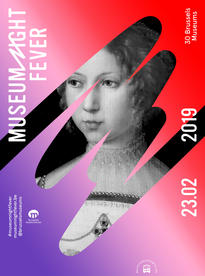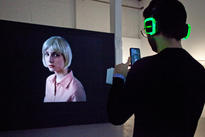 Sat 23.2.2019 - Sun 24.2.2019
19:00 - 01:00
Practical info

Location:

Argos

Werfstraat 13 rue du Chantier

1000 Brussels

info@argosarts.org

+32 2 229 00 03