BRING US TO OURSELVES, MIKHAÏL
In an airport somewhere, a puppet of Mikhaïl Gorbatchev gives a monologue in the dark, gripped by the threat of the catastrophe erupting outside. Powerless and unable to react, he awaits the creeping collapse of his world.

Bring us to ourselves, Mikhaïl is a video-essay, somewhere in between a fiction-documentary and a filmed puppet-show.
At the origin of this project is a Louis Vuitton promotional photograph showing Mikhaïl Gorbatchev in a black limousine passing by the Berlin Wall. Literally derived from the text of the advertisement, which presents the imaginary scene of Gorbatchev coming back from a historically important conference, the story freezes the exact moment when the picture was captured, and brings it to a parallel scenario enabling to reflect on the relationships between History, tragedy, representation and subjectivity through the animation of a full size Gorbatchev puppet by two professionals puppeteers.
The Russian voice-over (with English or French subtitles) articulates pieces of a fictitious conference, built from authentic texts written or read by Gorbatchev.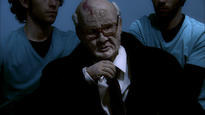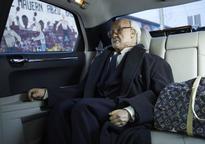 Format DIGITAL FILE(DIGITAL FILE)
Color system PAL
Color col.
Year 2009
Duration 00:16:29
Languageinfo
Running text/titles: English UK, French
Subtitles: French, English UK
Spoken: Russian

Artists

EVENTS