EMMANUEL VAN DER AUWERA
SCREENING - BLACK BOX
In his videos, photos and installations, Emmanuel Van der Auwera unravels notions such as making the invisible visible, loss or emptiness. A cryptic perception of reality emerges from the political, historical or scientific context and references he includes in his work. The things he interacts with are on the verge of change. Engaged in metamorphosis they are phenomena that question the multiple dimensions of reality. They produce situations in which the logic is deconstructed and laid bare. Argos screens an anthology of recent video works that invite us to reflect on our relationship with the world and others. (Screened at 11:30, 13:30 and 15:30).
PROGRAM
A certain amount of clarity -2014, 29'12", colour, sound.
Armageddon Valley - 2017, 20'4", colour, sound.
Arrangement in Grey -2013, 32'52", colour, sound.
Bring us to ourselves, Mikhaïl -2009, 16'29", colour, sound.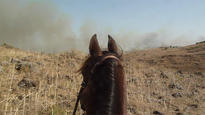 Thu 15.3.2018 - Sun 15.4.2018
11:00 - 18:00
Practical info

Argos
Werfstraat 13 rue du Chantier
1000 Brussels
info@argosarts.org
+32 2 229 00 03

Opening hours:

from Thursday to Sunday, from 11am to 6pm

NOCTURNE: Open late night until 9pm every first Wednesday of the month.

We are always open on public holidays (except Winter holidays).

Entrance Tickets:

6 € Individual visitor

4 € Students, seniors (+60), unemployed

1,25€ Ticket Article 27

2 € Paspartoe aan kansentarief


0 € -18, teacher, ICOM card, press, IKT members, SUBBACULTCHA members and every 1st Wednesday of the month

We are partners with Paspartoe (www.paspartoebrussel.be), dynamoPROJECT & dynamoOPWEG

NB: The entrance ticket is a personal pass that gives you unlimited access to the exhibition.

Artists
Works