UNTITLED 2015
As most of Peter Downsbrough's films, UNTITLED 2015 starts from a pure fascination for a particular location, in this case Louvain-la-Neuve, a university town about twenty kilometres southeast of Brussels, Belgium.
This fairly recent town is one of the few planned towns in Belgium: Louvain-la-Neuve owes its existence to the division of the historic Leuven University into a dutch speaking and a francophone university as a consequence of the language "wars" at the end of the 1960s.

Founded in the seventies, this planned town primarily consists of a campus constructed in the middle of the fields, on a large concrete platform covering the original valley. Cars are mostly absent and circulate through an underground network of roads. Parkings can be reached via the many elevators throughout the town, and stores are stocked via this underground network.
During his first visit to Louvain-la-Neuve *, Downsbrough became intrigued with the filmic qualities of this newly built city, and eventually went back to film in 2015. UNTITLED 2015 consists of a tightly edited series of footage shot in various locations. Beginning with the opening shot of an underground connecting road, Downsbrough records the space with restraint and distance: the black and white image consists of a pan from left to right until it hits a column in the middle. There is no sound. Th next sequence consists of a pan from right to left, this time shot above ground: a central square in the car-free town center with a movie house and s series of fixed shots of pedestrian shopping streets used by the occasional passers-by strolling through. Their clothes tell us it isn't very warm. Striking is the low viewpoint of the camera, as sometimes the images were shot from the bottom of a stairway, as well as the accurate/ well-chosen use of individual words and interjections which appear on the bottom and through the image: AND, AS, SET (in mirror image). These contrast with the apparent objective and neutral camerawork and editing which accurately measures the public space of this new-fashioned, seemingly unfinished town.
* in 2009, prior to the double exhibition "Peter Downsbrough/ Artsists and Photographs" curated by Alexander Streitberger at the Musée de Louvain-la-Neuve October 8 - December 6.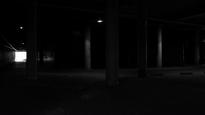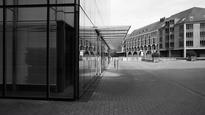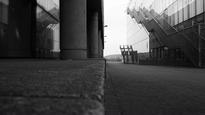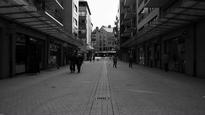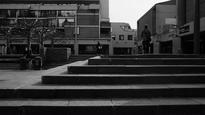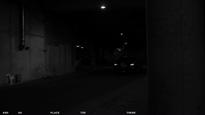 Format DIGITAL FILE(DIGITAL FILE)
Color system PAL
Color b&w
Year 2015
Duration 00:03:07
Artists

EVENTS