JACK THE DRIPPER (PSYCHOPAINTER)
Three short video sketches made with minimal means and based on samples from various media (mainly the internet and pop music), creating a form of 'garage- video', with no other ambition, according to Bernier himself, than the generation of specific emotions which might also pop up when listening to loud rock music or watching pornographic films. Because there too beauty submerges: in the brutal, unpolished and obscene, underneath the rough and non-committal surface of internet-eroticism, virtual shootinggames and punk rock. The video fragments, visibly filmed in real-time from a computer screen, situate themselves on the borderline between allegory and silent objectivity. Mixed in with pop and rock songs, the raw media lumps evoke a polarized universe in which game and death, sex and voyeurism, the extreme and the commonplace, imagination and reality are reflected into each other. Art, according to Bernier, turns into a possible way of redemption, liberation from a tragic-comic world in a phase of implosion.

Un jeu vidéo filmé avec un téléphone portable. Un admirateur psychopate de Jackson Pollock (surnommé Jack the dripper à cause de sa technique de la peinture) copie son maître en utilisant le sang de ses victimes pour peindre les trottoirs.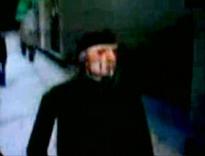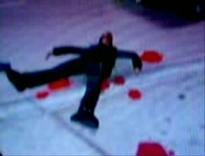 Format DIGITAL FILE(DIGITAL FILE)
Color system PAL
Color col.
Year 2004-2005
Duration 00:02:34
Artists