DOUGLAS PARK'S 'READING ALOUD'
Douglas Park's 'Reading Aloud' was set up as a performance and collaboration between Cel Crabeels, Douglas Park and Nico Dockx. The video was shot at and produced by Cel Crabeels for the show 25 JAAR LOKAAL 01: 'PAULO POST FUTURUM', 16 June 2007 to 2 September 2007" at Breda The Netherlands.
This video is part of an ongoing and expanding archive project. Cel Crabeels presents the work 'Nearly present, just past' (2004). Consisting of various materials about the installation and destruction of a public sculpture by Dan Graham in northern central Antwerp's Sint-Jansplein, Crabeels has documented the allegorical metamorphoses of Graham's piece 'unhouse for Children' (1998), which was especially designed for the Sint-Jansplein, but hardly survived its inauguration. The glass pavilion was severely damaged by agresive public and while restoring it, destroyed beyond repair. The battered remains of this minimal construction were removed and, in time, rebuilt on the green lawns of the Middelheim museum. The context has changed from a busy city square to an idyllic museum. 'Funhouse' has become a different work. It even carries a new title: 'Belgian Fun'.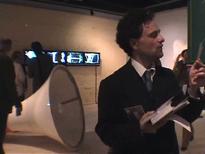 Format DIGITAL FILE(DIGITAL FILE)
Color system PAL
Color col.
Year 2007
Duration 01:00:00
Languageinfo
Spoken: English UK

Artists