ICH WAR HITLERS BODYGUARD
In the media, security experts often expressed their amazement at the fact that Adolf Hitler was never shot at during his excursions and many speeches. Compared with current protection systems and technologies, or the ways in which heads of state are escorted by hordes of bodyguards, the security measures surrounding Hitler were rather poor and often improvised.
Manfred Pichota, played by Peter Berling, tells about the period in which he was the Führer's bodyguard in Ich war Hitlers Bodyguard.

Currently living in the Caribbean, this peculiar figure also describes the partly unknown – and as controversial as vague – circumstances of Hitler's demise. Did Hitler shoot himself through the head on 30 April 1945, after having swallowed a cyanide pill? And was his body, on Goebbels' orders, indeed burned together with a number of others?
In Ich war Hitlers Bodyguard, Kluge brings, in a pseudo documentary style, a portrait of a character that would normally be considered nothing more than a mere footnote, even in the margins of history. In this way he juxtaposes a lengthy 'interview' with the fictitious Manfred Pichota with tons of archival material in which we can see Hitler parade, drive through Paris accompanied by slapstick-esque music, or in his headquarters – staring startled into the camera.
In Ich war Hitlers Bodyguard, Kluge again employs an ironic style through which he questions and disproves the validity of material that is generally considered as historically 'factual'.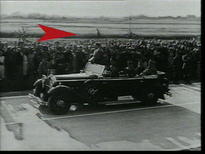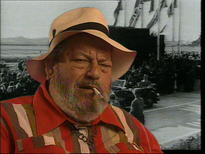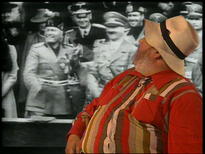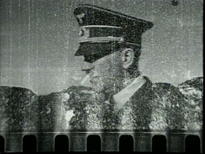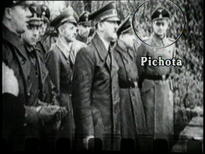 Format DIGITAL FILE(DIGITAL FILE)
Color system PAL
Color col.
Year 2000
Duration 00:45:00
Languageinfo
Subtitles: English UK
Spoken: German

Artists

EVENTS