UNTITLED PART 7: THE HEART THAT HAS NO PAIN/ LOVE/ GENEROSITY IS NOT A HEART
In April 2008, Jayce Salloum and Afghan-Hazara artist Khadim Ali travelled between Pakistan and Afghanistan. Arrived at the Bamiyan Valley - the famous area where the two 6th century monumental statues of standing Buddha carved into the side of a cliff were dynamited by the Taliban – they focused on observing the situation of the local and persecuted minority, the Hazara people. The result of this trip and field research is a collaborative installation consisting of photographs, miniature paintings, collected ephemera (e.g. objects, notes, maps, ...) and a body of six audiovisual works.
In this on-going installation, every elements mediate each other like in Salloum's previous projects. Conceived as an archive, the installation untitled part 7: the heart that has no pain/ love/ generosity is not a heart is designed to engage the viewers and confront them with their individual experiences.
Salloum recorded an intro video that gives a general view on the Bamyan area, but, among the audiovisual works, we encounter three main themes. First at all, it's the role of education: for the Hazara, education is perceived as a means to achieve justice, social equality and human rights. This aspect is present in the sound piece school assembly song and the video school. In this video, Salloum portrayed a school where young students sing the national anthem and school song, and then make their way to the classrooms. Another aspect, it's highlighted in the video work Shahnameh. This epic eleventh century poem is a literary masterpiece and of a central importance in Persian culture: Salloum filmed a local farmer while he recites from the story of Rustam and Sohrab. The story deals with the futility of war, and the tragedy of misplaced heroism, within the larger context of an epic poem concerned with the ideals that constitute a model form of nationhood.
Finally, in cave interiors and Fragments, Salloum recorded the ruins and the labyrinthine caves of the Bamiyan Buddhas. This material documents a specific moment in history, a time of transition between destruction or possible restoration that would reconstruct a symbolic order, a dignity, a sense of being.
The installation includes the audiovisual works:
untitled part 7: school assembly song
untitled part 7.1: intro
untitled part 7.2: school
untitled part 7.3: Shahnameh
untitled part 7.4: cave interiors
untitled part 7.5: Fragments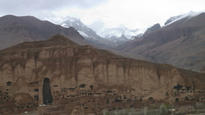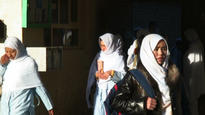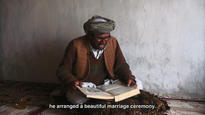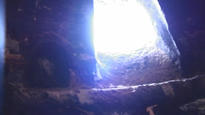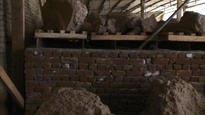 Format HDV 1080i(HDV 1080i)
Color system NTSC
Color col.
Year 2010
Artists