CENTRAL ALBERTA
Bestgore.com (BG) was created by Slovak-Canadian Mark Marek in 2008. The website hosts explicit photographic and video material of events including murders, suicides, torture, mutilation and horrific accidents. With an estimated 40 million yearly visits, BG is currently the biggest shock site in the world. Through authored opinion and user comments, the website exalts extreme ideas. Marek was arrested and charged under Canada's obscenity law for corrupting public morals. He portrayed himself as a whistleblower before pleading guilty. Central Alberta investigates the underground society of BG, a space beyond taboo, moral, ideology and facts. The mostly young audience attracted to the website, has various motivations (the war in Syria and the horrible new trend of execution video, conspiracy theories, misery, drugs, and an apocalyptic approach to the contemporary world) that eventually lead them to become "desensitized" by the website. By reflecting on the extreme microcosm of this « reality » obsessed website, the play tries to grasp something of the spirit of our time.
This performance for 9 actors brings to life the atmosphere of the digital forum by reenacting actual exchanges posted by young members of the BG community. It features 9 actors, each of whom delivers a monologue. The characters in the performance are obsessed with images of an extreme nature, yet the only images to be seen are their own. Through a camera on stage, their testimonies are streamed and projected onto a screen. The camera is mobile and the actors frame each other in sequence. They are seated, or placed within the audience, and one after another are brought to the screen, filling the room with their presence. Central Alberta can be adapted to be played in a theater or in a dark exhibition space. The performance has resulted in a video piece of 46 minutes, Central Alberta (2017).

The performance Central Alberta has been shown at Cinema Galeries (Brussels), Centre Pompidou (Paris), Campo (Ghent), Workplace (Brussels) and LLS387 (Antwerp).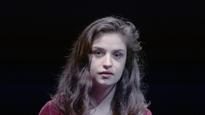 Format DIGITAL FILE(DIGITAL FILE)
Color system PAL
Color col.
Year 2016
Duration 00:46:29
Languageinfo
Spoken: English UK

Artists

EVENTS