MULTIPISTES
EXHIBITION
The exhibition Multipistes, curated by Jean-Christophe Royoux, is fully dedicated to the work of a generation of French artists who in the beginning of the 1990s set out on a wayward exploration of cinematographic form, its history, language and presentation. Barely aware of the canon of experimental cinema and video art, this generation searches for new presentational modalities. These post-cinematographic propositions show narrow connections with classic cinema, as if the 100th anniversary of its birth (1895) is used, consciously or unconsciously, as a catalyst.

In their own way, the four selected installation works create new narrative environments, not based purely on the basic principles of 'montage', but rather on an archival paradigm. Beyond the deconstruction of existing narrative forms, a kind of poetry arises which is based on relational networks, which act as multilayered tissues out of which a multitude of stories can be extracted. In their research these artists do not focus on language or the image itself, but rather on its presentation, its registration and selection, always leaving room for coincidence.

Between representation and presentation the spectator himself is granted a fundamental role, as a signifier of various associative lines of thought. The four installations each develop idiosyncratic post-cinematographic surroundings, reaching beyond the familiar motifs of projection and identification. They propose new narrative forms, in which relations are explored between image and sound, voice and a character, one image and another, one voice with another.


Subevents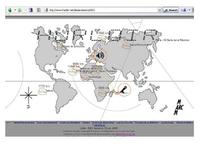 Thu 13.10.2005 - Sun 06.11.2005

Practical info

Location 1:
argos - White Cube

opening hours:
Tuesday to Saturday, 12:00 to 19:00

Entrance fee:
free

Location 2:
Etablissement d'en face projects
Antoine Dansaertstraat 161
1000 Brussel

Location 3:
BOZAR
Ravensteinstraat 23
1000 Brussel

Location 4:
Maison d'art actuel des chartreux (MAAC)
r. des Chartreux 26-28
1000 Bruxelles