ORLA BARRY - PRESENTATION OF THE BOOK & DVD 'FOUNDLINGS'
BOOK PRESENTATION
Orla Barry. Foundlings
isbn 90-76855-11-0
30 x 23cm / hardcover, sewn binding, 112 p.,
english accompanied by the DVD of the video Foundlings
texts by Orla Barry, essays by Cherry Smyth, Jon Thompson
To coincide with her solo exhibition at argos, Brussels and Temple Bar Gallery, Dublin, Orla Barry has produced an exquisite book of photographs and text, and a DVD. The book follows a lone girl in a red swimsuit who returns to the sea to locate herself in the shock of cold waves, the afterglow of immersion. We become her guests, taken into a rich intimacy of word, memory and image. Barry pushes language into crevices and rock-pools with an energy as invasive as the incoming tide, then as gently seductive as its ebb. Her muscular, poetic text, printed in seawater blue, competes and holds its own with the startling, colour-saturated photographs. In some images, the drama of the fickle sky is central, the sea a quiet lip at its loquacious edge, while in others, the barnacled rocks stand in for the stubborn insistence on belonging where ocean meets land. This is a beautiful and vigorous archive of a place, of female sensuality and autonomy. It gives 'strong holly kicks' to Ireland's nostalgic landscape tradition and the romanticised figure of the woman in Irish art. Underhand feminism at its best. (Cherry Smith)
45 euro
Both book and artist will be introduced by Cherry Smyth.
Related events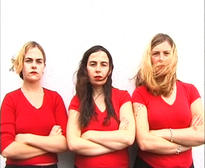 Sat 07.9.2002
19:00 - 19:00
Practical info

Location:
argos

Entrance fee:
free

Artists
Works
ARGOS PUBLICATIES