GRACE SCHWINDT - ONLY A FREE INDIVIDUAL CAN CREATE A FREE SOCIETY
EXHIBITION
The work of Grace Schwindt (1979) explores aspects of historical events with an emphasis on social relations blurring the borders between fiction and non-fiction. The German born, London based artist attempts to clear institutionalized spaces from meaning and to deconstruct narrative structures, well knowing these spaces will always stay loaded witfh social connotations.
In the context of 'Performatik 2015', the Brussels performance art biennial, Argos presents the premiere of 'Only a Free Individual Can Create a Free Society'. This text, which appears in various forms throughout the conceptual film, is based on an interview with a political activist of the left-wing student movement in Frankfurt late 1960s, early 70s. Integrating a tightly scripted choreography, Schwindt once more coordinates her newest production with great care designing both the content and visual elements including all the costumes.
Recent works from Argos' collection accompany the new piece.
Discover the full program of Performatik 2015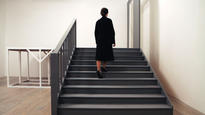 Wed 18.3.2015 - Sun 29.3.2015
11:00 - 18:00
Practical info

Location:
Argos
Werfstraat 13 rue du Chantier
1000 Brussels
info@argosarts.org
+32 2 229 00 03

Opening hours:
Wednesday to Sunday, 11:00 to 18:00

Entrance Fee:
5 / 3 euros

Artists
Works