TELEVISIONISM SYMPOSIUM AT BEURSSCHOUWBURG
SYMPOSIUM
This programme will culminate in Beursschouwburg during a symposium where not only the relevance of Cornelis' work for Belgian television will be discussed but where his oeuvre will also be put in an international context.
Dutch - English spoken
Screening 13h00 - 15h00:
Ijsbreker 08: Carte Blanche aan Franz Marijnen (NL)
Container 03: De puntzak van Heine (NL with EN subt)
Lecture 15h30-18h00:
Bart Verschaffel (introduction: Geen 'reality-TV', maar televisie-werkelijkheid!)
Andreas Fickers (Television and Art - Television as Art? Some historical reflections on a awkward relationship)
Marc Holthof (Container Revisited of hoe wij nog altijd naar televisie kijken)
Container-over-Container (Een nageprek over Container en wat zich daarna heeft afgespeeld), 18u30-20u00.
with Lieven De Cauter, Paul De Vylder, Bart Verschaffel, Rudi Laermans and Paul Vandenbroeck.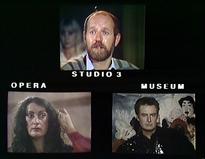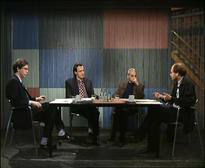 Wed 16.3.2016
13:00 - 20:00
Practical info

Location:
Beursschouwburg (Golden hall)
Auguste Ortsstraat 20-28 Rue Auguste Orts
1000 Brussels
www.beursschouwburg.be

Tickets: €10/13

Works