DISSENT ! EYAL WEIZMAN
DISCUSSION
In collaboration with erg - ecole de recherche graphique and Aleppo.
"Consider the term "shooting back" that connects the visual field and the field of combat, the camera and the gun. One might say that all these kinds of techniques of extended testimony and mapping should be abandoned because these are techniques born to serve power; but I think we should rather extract them from the mouth of the beast and radicalize them."
"Give a voice to the voiceless" is one of responsibilities that is traditionally associated with political and humanitarian activism: to provide testimony of the concerns and struggles of those who all too often remain silent and invisible, those who are regarded within the global socio-political order as "outside" or "surplus". Yet the status of testimony has undergone some remarkable shifts in the past decades. First of all, the field of humanitarianism and human rights that served as an independent form of engagement with the pains and sufferings of this world in the 1960's and the 1970's, has been gradually pervaded by other kinds of forces and strategies: political-military in the 1990's, legalistic in the 2000's. In this context, the role of testimony, whether oral, literal, visual or audiovisual, has been superseded by the use of medical and forensical data, which provide another kind of testimony, one without witness. These entanglements and shifts are all part and parcel of what Eyal Weizman has called our "humanitarian present", a present characterised by a growing ethical indistinction between fact and law, where all judgement is subsumed to an economy of violence and a logic of "lesser evil", and all division is replaced by a rationale of negotation and calculation. In this Dissent! session we will talk to Eyal Weizman about this condition in which technologies of humanitarianism and human rights collude with military and political power, with a focus on the role of audiovisual technologies in relation to the paradigm of victimisation and the politics of lesser evil, and the status of forensic aesthetics as site of interpretation and contestation.
DISSENT ! is an initiative of Argos, Auguste Orts and Courtisane, in the framework of the research project "Figures of Dissent" (KASK/Hogent), with support of VG.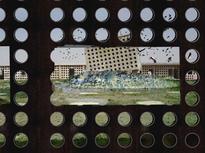 Mon 08.12.2014
20:00 - 22:00
Practical info

Location:
Aleppo
Rue de l'Ecuyer 50 Schildknaapstraat
1000 Brussels
www.aleppo.eu

Entrance fee:
free entrance

Artists