VIDEOZONE 2016
EDUCATIONAL
Opening: Friday May 6th 2016 // 18:00 - 21:00 // MAISON FOLIE (Mons)
The third edition of VIDEOZONE presents artworks created by students of video and sound design departments of ARTS2 school of arts in the frame of the REWIND project. The students enthusiastically participated in the project and were inspired by the following 5 video works from the Argos Collection :
Bernard Gigounon - Prélude n°3
2003, video, 2'37", colour, sound.
Joëlle de La Casinière - Vidéo à la chaîne II - Mondrian
1984, video, 3', colour, french spoken
Nicolas Provost - Long live the new flesh
2009, video, 14', colour, sound.
Ria Pacquée - Entre nous quelque se passe...
2006, video, 16'24", colour, sound.
Lukas Marxt - Reign of silence
2013, video, 7', colour, english spoken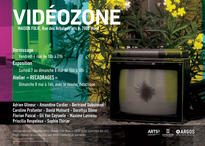 Fri 06.5.2016 - Sun 08.5.2016

Practical info

Opening: Friday May 6th 2016 // 18:00 - 21:00 // MAISON FOLIE (Mons)

Exhibition from 7th to 8th May from 2pm to 6pm

MAISON FOLIE

rue des arbalestriers 8
7000 Mons

Artists
Works