SCREEN #1: KATRIEN VERMEIRE
Location: Cinema Rio, Monicastraat 11, 8420 De Haan. Info & Revervation: www.bildnis.be
Argos, Bildnis and Cinema Rio team up for Screen, a selection of artist's films from the Argos collection. Four Tuesday nights, at 8 pm, Cinema Rio in De Haan presents a medium-length film by a renowned Belgian artist. The series ends with an anthology from the Argos collection.
Der Kreislauf, Katrien Vermeire, 2013, 28'
In her short film Katrien Vermeire depicts a unique game that is played on Belgium's beaches in the summer months. When the weather is good, one can find colorful flowers for sale in small, impromptu-built shops. But these flowers hate being watered or rained on, as they are made of paper. Der Kreislauf takes an intimate look at the young players.
Related events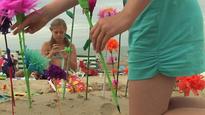 Tue 27.1.2015
20:00 - 22:00
Practical info

Location: Cinema Rio, Monicastraat 11, 8420 De Haan

Info and reservation: www.bildnis.be

Artists
Works