OVER HAVEN- EN TEXTIELARBEIDER
SCREENING
The program presents two films in which Cornelis investigates the working class situation of two specific, and typically Belgian, sectors as port and textile workers. Cornelis never judges, he merely shows the workers and explains their precarious situation. This implicit comment turns these films into a strong historical pamphlet, but also into a silent social complaint.
Van bassengwerker tot havenarbeider (Antwerpen)
1965, 47'49", b&w, Dutch spoken.
In 1965 more than 13,000 labourers set to work every day in the port of Antwerp and even then, every day there was a shortage of workers. In 'Van bassengwerker tot havenarbeider (Antwerpen)' ("About Stevedores and Port Labourers (Antwerp)") we see stevedores loading and unloading ships that carry a variety of cargo: sand, oil, packages, sacks, crates and even cars. During their break we hear them talk about their pay, which consisted of a fixed wage and extras, depending on the number of goods moved. A voice-over then continues to explain the complex remuneration system, including all numbers and percentages involved. A little later we see how the workers are paid daily in the room near the exit and we hear the bosses talk about their workers' position.
De klok slaat vijf: textielarbeider
1974, 44'35", b&w, Dutch spoken.
Some 200 years ago, spinning and weaving used to be a domestic industry. With the invention of the flying shuttle in the eighteenth century, weaving became industrialized. Some time later, in England a semi-mechanic spinning machine was invented. In Belgium, the town of Ghent was the main centre of the textile industry. 'De klok slaat vijf: textielarbeider' ("The Clock Strikes Five: Textile Worker") not only tells the story of tensions between the cotton and linen industry, and the later emergence of synthetic fibre, but also about the growth and evolution of the population in a town, the living conditions of people, the social unrest and countless problems with hygiene. Turning points were the founding of the first Belgian textile unions and the strikes: universal suffrage, the shift system and the right to strike resulted in a certain social mobility.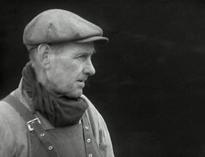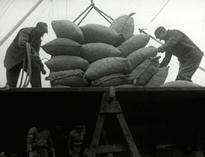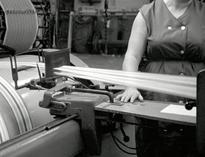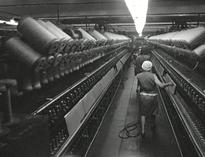 Tue 09.2.2016
19:00 - 21:00
Practical info

Location:
CINEMATEK
Baron Hortastraat 9 Rue Baron Horta
1000 Brussels
www.cinematek.be

Entrance fee:
€ 4,00

Artists
Works