GENERAL IDEA
In 1968, AA Bronson, Felix Partz and Jorge Zontal founded the Toronto based artists' group General Idea.
Their subjects came from mass culture's consumerism, celebrity, glamour, and from the art world. Their artworks participated in mass culture, rather than oppose or work outside it. They enjoyed creating ambiguous artworks that blurred the distinction between art and popular culture. In a multitude of forms – for instance performance, video, photography, installation and works on paper – the group researched social phenomena ranging from the production, distribution and consumption of mass media images to gay identity and the AIDS crisis.
Also central in their work was an often humorous critical gaze on art world structures, for instance the gallery, the museum or – ahead of their times – big manifestations like Documenta or the Venice Biennial. One of the tactics was to intervene in and control the production and distribution of their own artworks. One of their strategies was their long running project 1984 Miss General Idea Pavilion, or their boutiques: installations in art spaces that functioned as stores selling their prints, multiples and other works. General Idea liked to work through the channels of the mass medias. For instance, in 1972, they launched File magazine. It looked so much like Life magazine – "file" is an anagram of "life" – that the publisher of Life threatened legal action. Another example is the semi-legendary video Test Tube, made for the Dutch television, but never broadcasted there "because it looked too much like television".
In the late 1980s, General Idea launched their infamous AIDS logo based on Robert Indiana's Love painting from the late 1960s. They hoped this would translate into AIDS awareness, but would also enable different interpretations for the piece which took many forms including a poster, screen-saver and T-shirt. General Idea produced art in many media that would infiltrate and be inspired by popular culture over 26 years.
The group dissolved in 1994 when Partz and Zontal died within months of each other of AIDS related illnesses.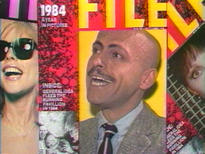 ° 1968 Toronto (Canada).
† 1994 Toronto (Canada).
EVENTS

At view in the media library

WORKS