CAP.MAX, CF. E.NEUFERT - STATION 2 STATION
In a series of projects called CAP.MAX, Emilio López-Menchero started from the fundamental rules that Ernst Neufert (1900 – 1986) - a German architect who is known as an assistant of Walter Gropius, as a teacher and member of various standardization organizations – elaborated in his essential handbook Architects' data (first published in German in 1936). By using a 1:1 scale of human beings transferred on vinyl screen printings, López-Menchero applies the standardized measures conceived by Neufert in order to verify the maximum capacity of an art gallery, a truck or a public space. Actually, this capacity corresponds to six persons per square metre.
Taped from a car, CAP.MAX, cf. E.Neufert - Station 2 Station is the recordings of the truck – where the human silhouettes are applied – driving along Flemish national roads and highways. Realized in the frame of the exhibition Station 2 Station which took place in Bruges 2002, this truck from the transport company De Sauter is still driving in local and international highway.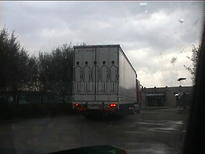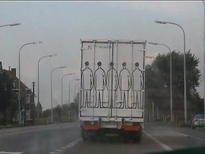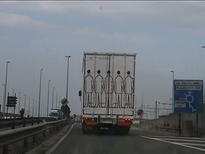 Format miniDV(miniDV)
Color system PAL
Color col.
Year 2002
Duration 00:16:09
Artists