FRITERIE (SÉRIE): MADE IN B. – B. BY NIGHT – GOING TO B. – B TO ME
A series of video sequences on Emilio López-Menchero's favourite chips shops. The work was presented in the frame of the exhibition FOODART-PLACES IN BETWEEN (2000) when the city of Bergen, Norway, was European Capital of Culture. In this context, several artists were invited to present a work about the notion of food and their oeuvres were displayed along the ferry stops of the line connecting Bergen to Stavanger.
López-Menchero's intervention was located at the terminus of the ferry, just in front of the Norwegian Petroleum Museum in Stavanger, and it was composed by the video work Friterie (série): made in B. – B. by night – going to B. – B to me and a series of chips shaped benches. These sculptural elements were made of wood and painted in yellow, more precisely the RAL 1023 yellow which is normally a chromatic code to mark temporary modification along the highways and the streets.
The video is composed by four fragments: in made in B., the camera follows the chips makers in their work and the speed of their movements is recorded in a single take. B. by night is a voyeuristic sequence of the chips shop taken from the other side of the street. The third fragment is going to B. and, here, the artist focuses on the hands of the chips makers in order to depict their know-hows. Finally, in B to me, a static close-up shows the chips box on a table while the artist himself is eating them.
Although the symbolic role of the Belgian chips is the starting point of this work conceived to fulfil the theme of the group show, the aim of the work is to enumerate different styles of the use of an handycam.
This work has been digitised in the frame of DCA Project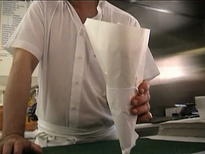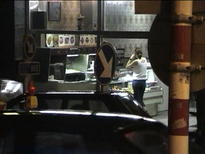 Format miniDV(miniDV)
Color system PAL
Color col.
Year 2000
Duration 00:18:50
Artists