PANIQUE AU VILLAGE, ÉPISODE 3 : LE RELAX
In 'Le Relax', Horse, Cowboy, and Indian are preparing waffles. However, they do not have any eggs. Horse and Indian are going to try to find some on the farm. In the meanwhile, Cowboy unwraps an enormous package indented for Horse (whereas the latter had stressed that no one should interfere with the package), a 'relax' and truly multifunctional armchair.
Following the cartoon series of 'Picpic le cochon magik et André le mauvais cheval' ('Picpic the magic pig and André the bad horse'), Stéphane Aubier and Vincent Patar have created this animated series based on plastic figures. Cowboy and Indian, two inseparable characters that entertain a 'hostile brotherly' type relationship, play the main roles. They are jealous of each other, and constantly argue about everything. Like all brothers, their conniving attitude fully comes out when faced with adversity or silly pranks. They both live with The Horse, a rare moral character in the Panics universe. One may think of The Horse as a surrogate father (or is it mother?) figure to Cowboy and Indian. This moralizing attitude strongly irritates all those living on the farm.
This work has been digitised in the frame of DCA Project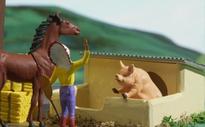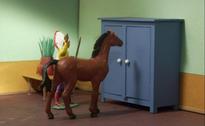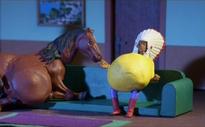 Format Digital Betacam(Digital Betacam)
Color system PAL
Color col.
Year 2002
Duration 00:05:00
Languageinfo
Spoken: French

Artists