TORERO / TORPEDO - LE COL D'AUBISQUE
Torero / Torpedo - Le Col d'Aubisque (2007) is the third video recording of the series of performances by Emilio López-Menchero. The bullfighter is confronted with the hors catégorie stage of the Tour de France, the Col d'Aubisque which is a mountain pass in the Pyrenees in the Aquitaine region of France. The Col d'Aubisque appeared in the Tour de France in 1910 and it was included at the insistence of Alphone Steinès: the rumor tells that Steinès visited the man responsible for local roads who said: "Take the riders up the Aubisque? You're completely crazy in Paris".
This challenge was part of a project organized by S.M.A.K., in Ghent, where each artist had to interpret a stage of the Tour de France to contribute to an exhibition curated by the cycle-coach Frank Maes called Sur la route, een tour van kunstenaars (On the Road, a Tour of Artists).
Each artwork was then shown on the television set of one pub at the occasion of the stage arrival of the Tour de France in Ghent on July 2007. In the video, filmed by the television professional cameraman Kurt Reybroeck, we follow our bullfighter ascending the pass and reaching the peak after an extraordinary climb of 18,4 kilometres with an average gradient of 7,1 in 100.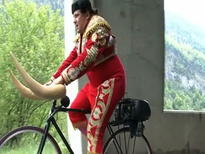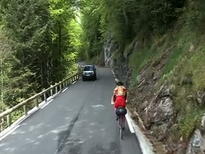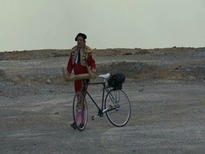 Format HDV 720p(HDV 720p)
Color system PAL
Color col.
Year 2007
Duration 00:32:58
Artists

EVENTS