SAME RIVER TWICE / DEUX FOIS LE MÊME FLEUVE
In 1869, John McGregor, a Scottish adventurer and explorer, set out on a journey along the Jordan River from the river source to the Sea of Galilee. As he gazed down from the northern reaches of the Jordan he wrote: "To say the very least of this scene, it was at any rate pretty. What it would seem if bereft of its holy associations and remembrance of a hundred armies that came this way [...] I really cannot tell, having failed (and willingly) in every attempt to look at the vale of Jordan as a mere river's banks."
In the summer of 2011 Effi and Amir, now a decade in Europe, retraced McGregor's steps. Throughout a land of rented log cabins and kayaks, bustling with Israeli vacationers, they take us with them on a journey down the river's path. With great sincerity and a rare combination of intimacy and distance they gradually transform from traveler-explorers to explored travelers, as the people they meet along the way unabashedly confront them with questions. The varied encounters, view of the landscape and their own interventions raise questions of "natural" and "naturalized", "kinship" and "ownership", "closeness" and "distance", and about the ability - or inability - to see the place through the biographical and ideological veils that have produced us.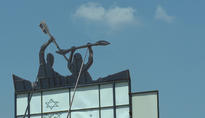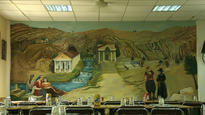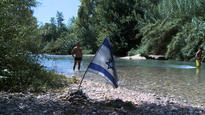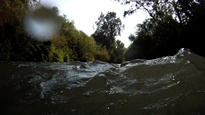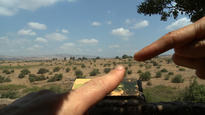 Format DIGITAL FILE(DIGITAL FILE)
Color system PAL
Color col.
Year 2013
Duration 01:51:00
Languageinfo
Subtitles: English UK
Spoken: English UK, Hebrew

Artists