TRANSCITY
Recorded in the frame of Netdays Wallonie-Bruxelles 2002, Transcity (2003) is an experimental silent video that combines repeated observations of passers-by and several recordings of the performances by Baes' life companion Aï Suzuki.
The video uses different kinds of source materials from different cameras, which bring a contrasted ensemble of footages, and it's built around time-lapse sequences. On top of this, Baes includes some fragments where the images have been digitally enhanced frame by frame with the Height Field effect: the end-result is 3D images creating an explosion of light and colour.
The accelerated images show Baes and his companion at the Brussels South Station, buying their tickets and waiting for their train to Antwerp. As in Brussels, after they arrived in Antwerp Central Station, Baes records the outliers and passengers arriving and leaving the station. Among them, Aï Suzuki sometimes carries a blue ballon over her head, an indistinguishable sort of bag, where she hides in order to change her clothes. Her movements are imperceptible and this stillness is underlined by the extreme speed of the rest of the images.
Between motionlessness and fast-forward, Transcity is an attempt to confront the individuality with public space, ordinary routine and time.
This work has been digitised in the frame of DCA Project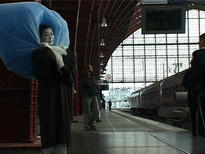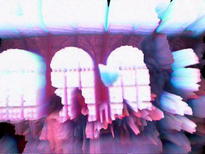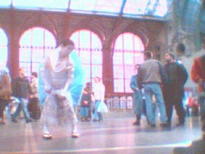 Format miniDV(miniDV)
Color system PAL
Color col.
Year 2003
Duration 00:31:17
Artists