CONCRETE & SAMPLES I: WOTRUBA WIEN
Concrete & Samples I, II, III is a series of 16mm films on sculptural architecture. What the buildings and site in all films have in common is the idea of 'architecture as sculpture' and a very distinct use of concrete that seem to depart from the free form of the whole in a sculptural manner. In the absence of a traditional narrative, it is the space itself, that takes the role of the protagonist, while the camera proposes a narration through its travel and observation.
The church of Fritz Wotruba, in Vienna looks like an enlarged piece of abstract sculpture, a kind of three-dimensional synthetic cubist arrangement of 152 concrete blocks arranged vertically and horizontally, but asymmetrically, in which the narrow spaces produced in-between are made use of as windows and doors.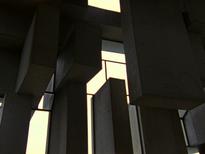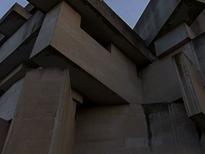 Format DIGITAL FILE(DIGITAL FILE)
Color system PAL
Color col.
Year 2009
Duration 00:13:37
Artists