GENTLEMEN TROUBLES
This video was realized for the performance 'Problem Child' in 2013. Messieurs Delmotte worked together with Mark Bombastik as a performer and Jessica Broscheit for the realisation, which resulted in a series of performances that were acted out in public space in and around Hamburg, Germany.
In the first untitled part, Messieurs Delmotte and Mark Bombastik perform a minimalist piece in the heart of the city. Both dressed in a dandy costume, they slowly descend a staircase in open air, side by side.
In the following parts 'Trailer' and 'Track', both gentlemen balance carefully on a car-trailer, respectively on train-tracks. Often the title of the pieces immediately and deliberately gives away the concept of the piece and the idea of the action. In 'On Sculpture (A & B)' they climb a statue in a public park (from the back and front-side) for instance, while in 'The Elevator' they pop up in transparent elevators.
As a whole, 'Gentlemen Troubles' is a multi-layered compilation of performances with an often bitter-humorous aftertaste. While after quite a while passers-by sometimes remark their action, these gentlemen seem to exist in a world of their own, a microcosm where little or no emotions are in order.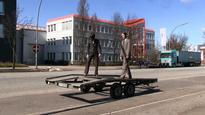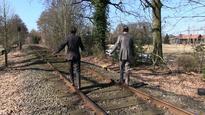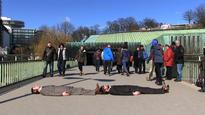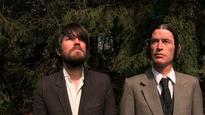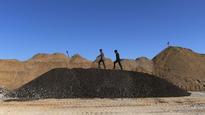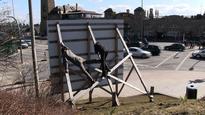 Format DIGITAL FILE(DIGITAL FILE)
Color system PAL
Color col.
Year 2013
Duration 00:21:32
Artists