L'ANIMATION À L'ÈRE DES MÉDIAS
Enrique Ariman reads from an essay by futurist artist Derrick de Kerckhove, on the cultural and social impact of the electronic media. Inspired by the ideas of Marshall McLuhan, de Kerckhove describes a new electronic reality, in which television plays a central part. At the same time the visual language also reflects on television, his visual language and genealogy. De la Casinière and Bonnemaison question the conventional way of watching, creating a minimal, yet dense visual structure, in which nothing but the text and the face of the reader appear on screen.

This video is part of a series of four texts about media ('Sermons') by Michel Bonnemaison. 'L'animation à l'ère des médias' is the fourth episode.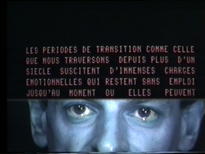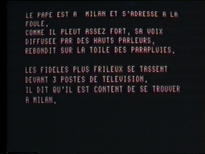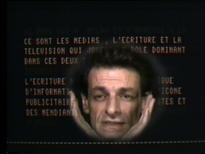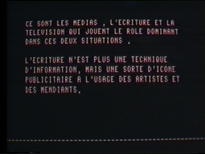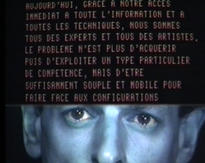 Format U-Matic(U-Matic (LoBand))
Color system PAL
Color col.
Year 1984
Duration 00:16:30
Languageinfo
Spoken: French

Artists