DEATH FUCKING METAL
This video is the third and final part of a trilogy, in which Fanfare, Calme & Volupté (2007) was the first part and PATRIA (2008) the second. In all three video works a group of people in uniform are lying around in a state of depression in a spectacular setting. In the first part they wear the frivolous uniforms of majorettes; in the second the official uniforms of riot police; and in this third part they wear the anti-uniforms of rock stars.
The scene was shot in a velodrome next to the Museum of Contemporary Art in Ghent (S.M.A.K.), during the opening of Home-made Victories, Koen Theys's solo show at the museum, on 29 March 2013.
In the middle of the velodrome, a three-tier circular stage slowly turns. On it some thirty old rock stars sprawl amidst their instruments and amplifiers. The costumes, guitars and drums glitter in the spotlights, piercing the smoke on the stage. All the elements for a spectacular concert are there but the musicians lie tired and depressed, scarcely able to manage a guitar riff, keyboard note or drum beat. Once in a while a singer mutters a line from a famous rock, punk, or heavy metal song.
As the stage slowly turns, the musicians pass across the screen in different close-ups. The image of a skull predominates in the tattoos, stickers and jewellery, giving the rock concert all the appearance of a still life.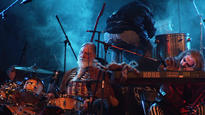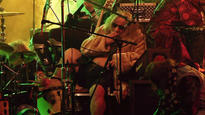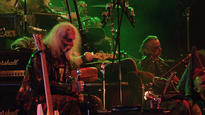 Format DIGITAL FILE(DIGITAL FILE)
Color system PAL
Color col.
Year 2013
Duration 01:50:24
Artists

EVENTS