HEARING THE SHAPE OF A DRUM
It was the end of April 2008, when the sleepy Austrian village of Amstetten was shocked by the news about the so-called 'Amstetten Monster'. It turned out that for years villager Josef Fritzl had sexually abused his daughter and that he had locked her up—together with three of the children he had father by her—in a cellar he had built especially for this purpose. The affair sparked a true media circus. In March 2009 hundreds hundreds of journalists started to gather around the court in Sankt Pölten for a long trial. But no one would be able to glimpse Fritzl himself, nor his wife, children or grandchildren, let alone catch them on camera: the trial would take place behind closed doors and the only images available would be the official ones provided by the authorities.
What can journalists and cameramen/women record for a broadcast, when in fact there is nothing to be seen or heard? In Hearing the Shape of a Drum, Marie Voignier analyses the media construction of an 'invisible' event that is supposed to conjure up its own image object. We see hordes of journalists and technical teams filming mainly each other and their material (as well as bystanders and protesters). The work questions the creation at all costs of images and subjects in the media, and at the same time raises the issue of the presence of the artist. Indeed, Voignier is present in the same place as the journaille and furthermore, she uses the same means of production. For over a month Voignier collected behind the stage and off-screen media noise and non-news.
For all the true 'news', we mainly see journalists that prepare for their broadcast—an absurd (media) theatre in the tradition of Samuel Beckett. The journalists rehearse their text, are looking for a suitable place to present their lines, or for a suitable background or frame. Instead of showing the deliberate and formatted discourse that we see in the news, Voignier confronts us with the journalists' doubts, quirks and hesitations with regard to their upcoming report. (IS)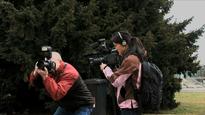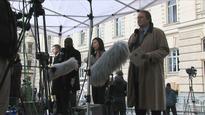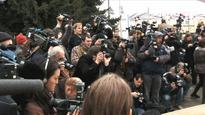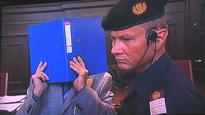 Format DIGITAL FILE(DIGITAL FILE)
Color system PAL
Color col.
Year 2010
Duration 00:17:00
Languageinfo
Subtitles: English UK, French
Spoken: German, French, Italian, Swedish, English UK

Artists