LUNDI DE PÂQUES
The Trying to be … series by Emilio López-Menchero is a series of photographs and video-performances where the artist embodies a mythical figures. Among them, López-Menchero already tried to be Ramirez Sanchez alias "Carlos", Yasser Arafat, James Ensor, Bin Laden, Frida Kalho, Rasputin or even Rrose Sélavy.
At the occasion of the exhibition POWER TO THE PEOPLE curated by Pierre-Yves Dessaive (aeroplastics gallery, Brussels, 21 november 2008 - 17 january 2009), Emilio López-Menchero presented a replica called LET ME BE (2007 - 2008) of the famous cover of vinyl album Let it Be (1970) by The Beatles. Let it Be was the first record bought by the artist and he decided to try to be each one of The Beatles as they were portrayed in the front cover of the album.
During these photographic sessions, he once taped with his miniDV handycam the making of the Lennon's picture. The result is the video Lundi de Pâques (Easter Monday) which exists in a shorter and a longer versions.
In the video, we see the artist as John Lennon during the different attempts to get the same position of the record's picture. The camera is both recording the artist and serving as a mirror to guide his postures, but the different trials are commented and instructed by the artist's companion. Suddenly, the performance becomes a family affair where the artist's son and companion comment and stress the artist in order to succeed in his attempt.
This work has been digitised in the frame of DCA Project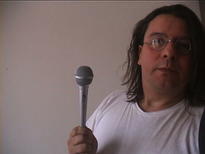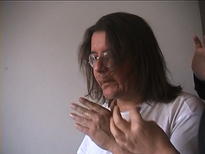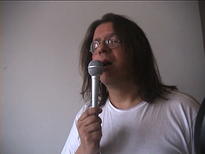 Format miniDV(miniDV)
Color system PAL
Color col.
Year 2007
Languageinfo
Spoken: French

Artists