THE [AS
THE [AS, shot entirely in the airport of Geneva, Switzerland, is both an observation of daily events in a major transportation hub and a study of the characteristics of this building, which serves several Swiss international and long haul routes to North America, China and the Middle East. Overall, the subdued atmosphere in THE [AS breathes serenity and calmness.

The work opens with words appearing on a pitch-black screen: AS, IN, PLACE, _TIME, AND (in reverse). A couple of fixed camera shots of the covered parking and access lanes follow. The fluid movement of taxis arriving and lining up for pick-up and the lack of sound creates a certain feel of weightlessness, a contrast with the following images inside the terminal with the bustle of the traveling crowds.

Throughout the whole film, Downsbrough cleverly uses the many long automated walkways of the building. This simple means of transport becomes a cinematographic tool for shooting long travelings and pans of quite different spaces of this non-lieu, through the movements of the camera and the balanced, optimum montage. Details such as the rolling handrail or passengers on the move alternate with imagery of activities outside on the tarmac: taxiing aircrafts, cars, trucks and other vehicles moving up and down. Downsbrough places them along advertisements for holidays: a couple draped in beach chairs, facing the horizon.

Despite the relative bustle and the various activities in the airport, this collection of images sets off with the atmosphere generally associated with airports. The absence of sound places the viewer into a floating bubble, but this silence is interspersed with short musical accents and live sound: swirling piano tones and the potpourri of sounds from the departure halls create a very lively sparkle.

THE [AS was produced by Mamco - Musée d'art moderne et contemporain, Geneva.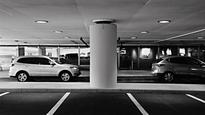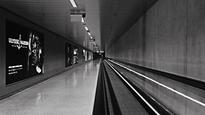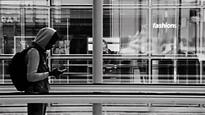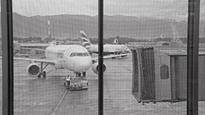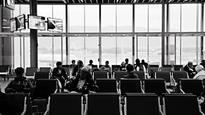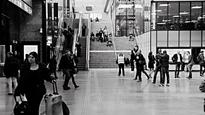 Format DIGITAL FILE(DIGITAL FILE)
Color system PAL
Color b&w
Year 2015
Duration 00:10:11
Artists

EVENTS