DUSKING
The work Dusking, made in 2009, is based on a 4-second clip, set in a gaseous landscape, that Catrysse had seen in the sci-fi classic, namely Alien. As its title already suggests, Dusking is a tenebrous affair – which begs the question: why is the future science fiction so often talks about always so freakin' nocturnal?
An atmosphere of impending doom. The landscape that stretches out before us is scattered with jagged rocks. A gaseous storm rages across the surface of rugged terrain. Wind at gale force. The sky is darkened but blue. A chemical plant rises from the rocks and shows clear traces of decay. Electrical hum and hissing noises of leaking gas cut through an incessant bellowing wind. Searchlights scan the sky. Slow-paced - cutting from one image to the next - we are guided through a series of direct observations that depict a dystopian world under surveillance.
Mise-en-scène: In the studio, a platform is constructed as a table, 8x6 metres, upon which sits a rough, rocky landscape made of diverse materials. A semi-circular tracing paper screen, backlit, acts as backdrop. The camera assumes a fixed position vis-à-vis this setting. A scale-model of a chemical plant is installed in the landscape. A storm is generated using smoke machine and fan. The rock formations and the chemical plant, as seen from the camera's eye, become rearranged for each shot.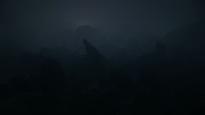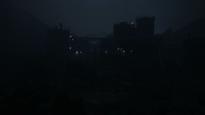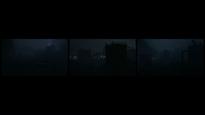 Format HDV(High Definition Video)
Color system PAL
Color col.
Year 2009
Duration 00:08:15
Artists