COLOR WALKS
In recent years, Ria Pacquée has focused in her work on colour in a postcolonial world. She makes us ask: "What is color?" Ria Pacquée does not talk color but lives it, in her travels, her imagination, and in her art. She takes us on color walks, like William Burroughs while staying in the Beat Hotel in Paris in the early 1960s. But in Pacquée's case the walks are more ambitious: they go a lot further in terms of physical distance and, above all, they trace the lines and spirals, the empty spaces and raptures that constitute the attraction and repulsion vivid colors have held for Western culture for centuries.
In his book on color, Goethe noted on various occasions that "people of refinement" are averse to vivid colours and banish them from their immediate surrounding altogether." On the other hand, "men in a state of nature" and children welcome fierce colors.
Yet does not this aversion to vivid colours—like all aversions—mask a deep-seated attraction? Does not chromophobia mask chromophilia? Ria Pacquée's art explores this problem. She travels to East Africa, Yemen, Turkey and India, on her colour walks. Her "essays" on color as conducted with her video camera are studies in the color contrast between Western Europe and these other places—and the contrast is significant. We see the yellows, pinks, lime greens and mauves that exist side by side in Indian streets, the pulsing light blue of house fronts, the almost violent hues on shrines with their deep, deep greens and reds, the rich colors of the food and flowers, and above all the vividly colored saris contrasting with the dark skin such that at times these women in India seem like dressing the world in color. Color for Ria Pacquée means the place of the human body in color and, what is more, her own body in the midst of this color-walk. (from In the Desert with Ria Pacquée, Michael Taussig, November 2007).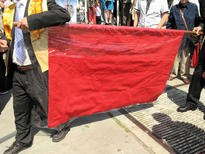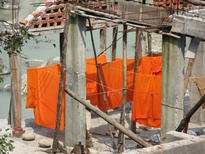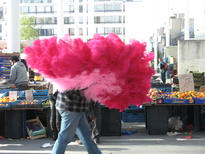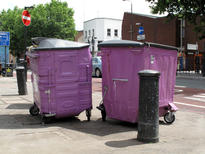 Format DV(DV (consumer standard))
Color system PAL
Color col.
Year 2010
Duration 00:04:07
Artists